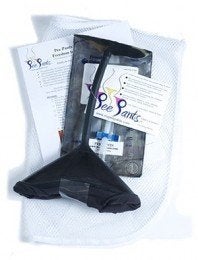 Mushers can now make fewer bathroom stops in Alaska's Iditarod Trail Sled Dog Race thanks to Pee Pants.
The name pretty much says it all: Competitors using the product can literally pee in their pants -- supposedly without getting wet.
John Kicos, the Charlotte, N.C., chiropractor who invented Pee Pants, told The Huffington Post he is marketing Pee Pants mostly to women who work outdoor jobs where a bathroom isn't readily available. However, he said he reached out to dog-sled racers and snowmobile clubs about a year ago in order to test the prototype.
Rookie musher Christine Roalofs told the Daily News she was game for Pee Pants because they allowed her to drink more water and take fewer outhouse breaks.
According to NPR, as of Thursday, Roalofs and another Iditarod Pee Pants-wearer, Angie Taggart, were still in the race, though not on pace to win.
Pee Pants, which retail for $149.99, are made partly of bicycle shorts, a funnel and a tube that runs down the leg to let the urine exit through the bottom of the pants. Kicos told HuffPost he also has a version that allows urine to collect in a bag.
The 48-year-old said he got the idea for Pee Pants when a male friend with spina bifida told him he couldn't drink at parties because he had trouble controlling his bladder. Kicos' fiancee, Tammy, then suggested he might have a large clientele if he targeted the product at women.
Kicos also revealed that he has picked up an unexpected customer base: tailgaters and women who don't want to wait in line for the toilet at beer festivals.
View a video of Christine Roalofs below:
REAL LIFE. REAL NEWS. REAL VOICES.
Help us tell more of the stories that matter from voices that too often remain unheard.
BEFORE YOU GO