One of Pee-wee Herman's prehistoric pals paid a touching tribute to Paul Reubens following his death Sunday at age 70.
Owners of California's Cabazon Dinosaurs, the concrete and steel beasts featured in the 1985 film "Pee-wee's Big Adventure," celebrated the actor's life this week by giving their giant Tyrannosaurus Rex sculpture a makeover in the style of Reubens' beloved character.
On social media accounts for the roadside attraction, photos appear to show the dinosaur painted with a dove gray suit and a bright red bow tie. The sculpture, which goes by the name Mr. Rex, also has a heart and Pee-wee's name on its belly.
Located off Interstate 10 near Palm Springs, the T. Rex had a small but important part in "Pee-wee's Big Adventure."
While making his way to Texas' Alamo mission to retrieve his stolen bicycle, Pee-wee makes a pit stop in a small town where he befriends a waitress named Simone.
In one of the film's sweetest moments, the two watch the sunrise from the inside Mr. Rex's mouth before Pee-wee is chased off by Simone's boyfriend and escapes on a moving train.
News of Reubens' death devastated fans of the madcap actor, who played the impish but lovable Pee-wee for much of his career.
Reubens created the character while part of Los Angeles' improv scene in the 1970s.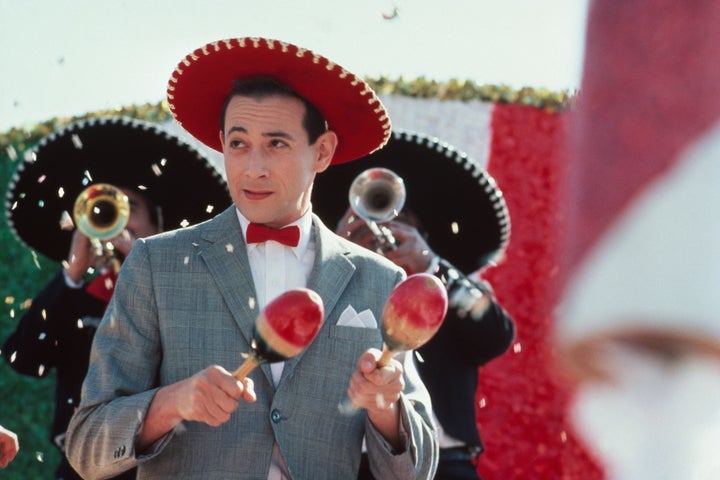 After the success of a 1981 HBO special and his 1985 feature film, the actor starred in the CBS children's series "Pee-wee's Playhouse" beginning in 1986. A second Pee-wee film, "Big Top Pee-wee," was released in 1988.
Reubens' career took a detour after his arrest on suspicion of indecent exposure in an adult movie theater in 1991, but he would return to the role of Pee-wee in the 2016 Netflix film "Pee-wee's Big Holiday."
"Please accept my apology for not going public with what I've been facing the last six years," he wrote of his private battle with cancer.
"I have always felt a huge amount of love and respect from my friends, fans and supporters. I have loved you all so much and enjoyed making art for you."
Support HuffPost
The Stakes Have Never Been Higher
Popular in the Community