Walt Disney World's Magic Kingdom may be the "Happiest Place on Earth," but ask a family who staked out their perfect spot on Main Street U.S.A. 90 minutes before the fireworks, only to have someone hoist their kid up on their shoulders in front of them right before the start of the show, and you may hear a more colorful description. Instead, what if you could enjoy the Magic Kingdom's nighttime fireworks spectacular while soaking in a private pool on the back deck of your personal cabana?
Sound like a fairy tale? It's now possible in one of the twenty bungalows at Disney's Polynesian Village Resort. The Bora Bora Bungalows at Disney's Polynesian Villas & Bungalows officially open on April 1, 2015, and are modeled after iconic over-water bungalows found in South Pacific resort destinations of Tahiti or Fiji. However, magic comes with a price, and expect to pay for these unique, first in the U.S., overwater retreats - starting at $2,137/night, Disney's Polynesian Bungalows will certainly be a Bora Bora bucket-list item. And what does that price give you? Take a photo and video tour below for just what you can expect from these exclusive hideaways a quick boat ride from the Magic Kingdom.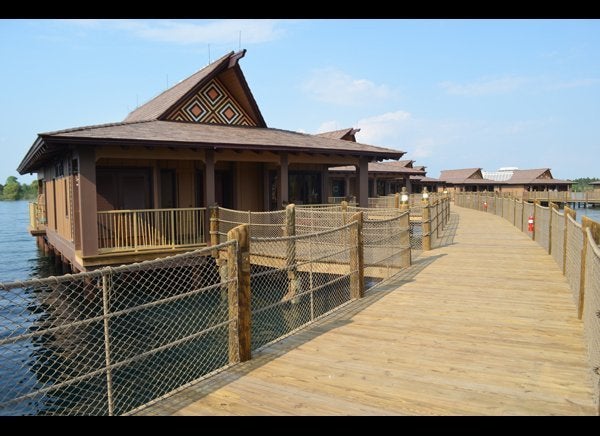 Disney's Polynesian Bungalows
The 20 Bora Bora Bungalows sit over the water of the Seven Seas Lagoon separated from the rest of Disney's Polynesian Village Resort by a private entry walkway (key card access required to enter the boardwalk). Each bungalow contains unique design elements such as handmade art pieces reflecting the spirit of the South Seas.
The Bungalows sleep eight guests max in the two bedroom/two full bath units, with décor featuring a mix of mid-century modern, tropical, and retro-tiki style. The decorations may be reminiscent of a 70's Tiki party, but the technology is 100% 21st Century with flat-screen televisions, programmable mood lighting and electronic doorbell with multiple chime settings including Tiki Room and Holiday.
The guest bedroom faces the walkway to the Polynesian Resort with a queen-sized bed and a fold down stowaway twin bed.
The master bedroom features a king-sized bed, separate entrance to the wrap-around porch, and spectacular en-suite bathroom separated from the sleeping area by sliding door.
The master bath contains art by Disney Legend Mary Blair (of it's a small world fame) as well as a hand-made teak carving displayed over the deep, soaking tub. More high-tech bathroom amenities include an embedded video screen behind the bathroom's double vanity mirror - perhaps a new form of Snow White's "slave in the magic mirror."
Each homey unit contains a full kitchen, dining room with table and seating for 8, living room, and washer and dryer. The living room also has a fold down bed, with adorable artwork of the Electrical Water Pageant one can watch pass by each evening on the Seven Seas Lagoon.
The pièce de résistance is the bungalow's private deck with direct views of Disney's Grand Floridian and Contemporary Resorts, and, of course, the Magic Kingdom itself. The deck includes secluded rattan swings, padded chaise lounges, table and chairs for morning coffee or tea, and the private plunge pool to relax while watching those fireworks (music piped in via outdoor speakers on the deck).
With a price point of $2K+ per night, Disney's Polynesian Bungalows are certainly not for the average middle-class family theme park visitor. Although, if Disney's official Tiki god of vacations looks favorably upon you, all this can be yours, and you can nestle snuggly in your own tropical bed.