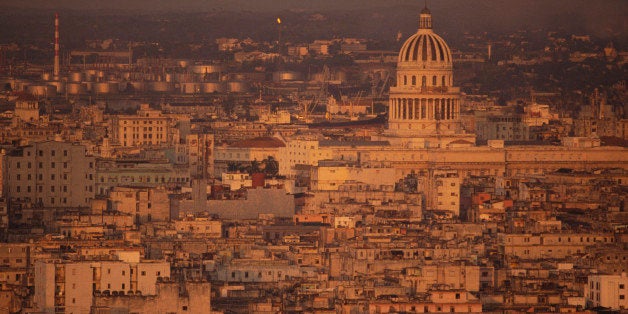 The December 17, 2014 announcement by Presidents Barack Obama and Raúl Castro that the United States and Cuba were initiating a process of normalization of relations generated a great deal of interest in the U.S., including on the part of the US business community. Developments since then have both encouraged and discouraged entrepreneurs in both countries. In his December 17th statement President Obama singled out the emerging non-state sector in Cuba as a prime area for US investment and trade. Subsequent directives by the Treasury and Commerce Departments (1/16/15 & 9/18/15) expanded permissible travel, commercial, financial and export possibilities. Implementation has proceeded slowly, and both U.S. and Cuban officials have described the process as akin to peeling an onion arduously, layer after layer.
Nevertheless, by December 2015 the streets of Havana, Trinidad, Santiago and Cienfuegos were filled with US tourists and Cuban Americans. In mid-December 2015, an eight-story liner disgorged several thousand tourists into the narrow streets of Old Havana. Hotels in the main tourist areas are booked for months ahead, benefitting Cubans who have signed up with Airbnb, which initiated operations on the island in April 2015. The number of tourists visiting Cuba in 2015 was estimated by the Cuban Ministry of Tourism to have increased by 15 percent, while earnings would only grow by approximately 4 percent due largely to the declining value of foreign currencies against the dollar. The Cuban government has prioritized attracting FDI to expand the tourist sector, which the embargo prohibits U.S. corporations from investing in. Tourism is estimated to absorb 40 percent of foreign investment in Cuba with agriculture (7 percent) a distant second. Both are largely part of the state sector. The growth of tourism is regarded as a major factor in the island's 4+ percent increase in GDP in 2015. It has also contributed to an estimated 3-3.5 percent upsurge in inflation for 2015, which is challenging to Cubans given low salaries.
The U.S. embargo of Cuba continues to impede investment in the state sector that constitutes approximately 75 percent of the economy and dominates not only tourism, but also agriculture, manufacturing, mining, and construction. The non-state sector, which is currently the area that U.S. policy is encouraging investment in, has limitations. Among them is that it is composed largely of low-profit businesses including food preparation and sales, bed & breakfasts, transport (both goods and people), repairs, and professional services (e.g., accountants, IT, entertainment, health care). Among the most dynamic sectors are the renowned private restaurants (paladares) and the classic car operators who cater to tourists. Their success has led the state tourism agencies to contract for their services. This has contributed to delays in payments to the private operators whose businesses depend on a steady flow of cash. A good number of businesses in the non-state sector were begun with limited capital obtained from family and friends in Cuba and abroad, which reduces their liquidity. One of the most successful of such businesses is an event planning operation begun with $500.00 that has grown through high levels of reinvestment of profits, a common pattern.
Studies of the self-employed suggest that approximately 7 percent have university training, 10 percent technical, 44 percent high school, 33 percent ninth grade, 5 percent sixth grade and 1 percent less than sixth. Data from a variety of studies suggest that the higher the level of education and access to capital, the greater the possibilities for a successful business. Currently the self-employed constitute approximately 27 percent of the labor force in Cuba -- or slightly over 500,000. Estimates of the failure rate for private sector businesses range from one-quarter to one-half depending largely on location/demand, capitalization, and experience. Havana-based enterprises that cater to tourists or to Cubans with disposable income, much of it derived from tourism, tend to be the most likely to survive. Rural start-ups generally have smaller markets and less capitalization and expertise. Women in rural areas who start businesses face substantial challenges in terms of obtaining capital and balancing the demands of domestic and other work. Overall, the non-state sector does not generate the level of profits that tend to attract substantial foreign investment. Hence, the non-state sector is not particularly attractive to major investors, whom the Cuban government favors given the state's goal of achieving $2.5 billion in FDI per year.
Other challenges to the normalization of U.S.-Cuban economic relations include Cuba's laws, regulations, and policies that, like the US, require modifications to encourage US investment. These include adjustments to Cuba's foreign investment laws, including the repatriation of profits, tax laws, labor laws, as well as mechanisms for the resolution of disputes. An additional issue is competition from other investors including Spain, Italy, Canada, Venezuela, France, the UK, China, and Mexico. All have exhibited an upsurge of interest in Cuba, with Chinese and British interests in developing golf resorts and Spanish, Canadian and Vietnamese companies building hotels.
U.S. agricultural exports to Cuba are hampered by the U.S. prohibitions on offering credit and insistence on pre-payment by the Cubans. These restrictions, together with the Cuban government's efforts to decrease imports of foodstuffs, have reduced U.S. sales to $286 million in 2014--less than one-half of what they had been in 2008. A study by Texas A&M University estimated that removal of US restrictions could lead to $1.2 billion in food sales to Cuba. Currently the U.S. International Trade Commission is reviewing U.S. and Cuban restrictions and preparing recommendations for the Senate Finance Committee in an effort to clarify impediments to U.S.-Cuba trade and commerce.
This is part of the process of peeling away layer upon layer of the laws, regulations, and policies on both the US and Cuban sides that currently impede the normalization of economic relations between the two countries. At the core of the problem, however, is the prime impediment: the US embargo of Cuba that according to a 2015 Pew research poll 66 percent of Americans support eliminating.
Dr. Margaret Crahan is Senior Research Scholar and Director of the Cuba Program at the Institute for Latin American Studies at Columbia University. Crahan is a member of the Policy Council of Engage Cuba, a bipartisan organization dedicated to mobilizing American businesses and non-profit groups to support the ongoing U.S.‐Cuba normalization process.
This post is part of a Huffington Post blog series that is revisiting the topic of U.S.-Cuba relations, one year after the thaw in the long-standing tension between two Western Hemisphere foes. The series, produced in partnership with Engage Cuba -- a bipartisan organization working to end the Cuban embargo and normalize U.S.-Cuba relations -- will feature pre-eminent thought leaders from the public and private sectors, academia, the NGO community, and prominent observers from both countries. Read all the other posts in the series here.
REAL LIFE. REAL NEWS. REAL VOICES.
Help us tell more of the stories that matter from voices that too often remain unheard.