Not every company has faced a major event every five years of its existence. But that's exactly what PEER 1 Hosting (TSX:PIX), had to not only overcome, but in doing so, thrive. And along the way win accolades from their clients.
Take the 2003 blackout that shutdown the Northeast United States and Toronto where PEER 1 was headquartered. In running a datacenter, sure when force majeure -- an act of God -- strikes, it is easy for people and companies to throw in the towel and go home. But when you are running a datacenter where customers 24/7 around the world are accessing clients' data, PEER 1 improvised on the spot to find a way. They overcame the first disaster, helping keep the Toronto Star newspaper running on PEER 1's backup generators.
Then last year, Superstorm Sandy hit New York City hard. PEER 1, like a few other datacenters, have colocation facilities in downtown Manhattan buildings to service their customers with low latency and proximity. Unfortunately for them, they were a direct hit with the worst flooding in New York in a century.
Old New York City building codes -- and they need to be upgraded -- call for backup generators to be installed in the cellars and basements. If not tied down or anchored to the floor, in a flooded room they will float and possibly rupture lines and feeds. In PEER 1's Wall Street location the flooding of the cellar banked the backup generator. With another generator on the roof, Mike Mazzei, the lead datacenter manager, began strategizing. What would it take to keep the rooftop generator running?
The next morning, Mazzei was able to get a fuel truck shipment delivered with some spare parts from Brooklyn. But hauling the 55-gallon drum up 18 stories of stairs was an onerous task. What could they do? One employee spurted out, "What about a bucket brigade?"
With that simple suggestion came the solution. For the next couple of days, PEER 1 delivered the buckets of diesel fuel to the rooftop generator, filling a reserve drum up there to ensure that the generator wouldn't shut down. Amazingly enough, some of their clients pitched in to ensure that their sites could be accesses for their customers.
From Bucket Brigade to Growth
The human story of the "Bucket Brigade" became at 17-minute documentary, showing the spirit and character of the PEER 1 employees who pitched in, sleeping only a couple of hours a day in a storage closet without complaint. They cracked jokes instead of griping. Days later when the water receded, they learned that six people died in their block, which put their resolve and teamwork in perspective.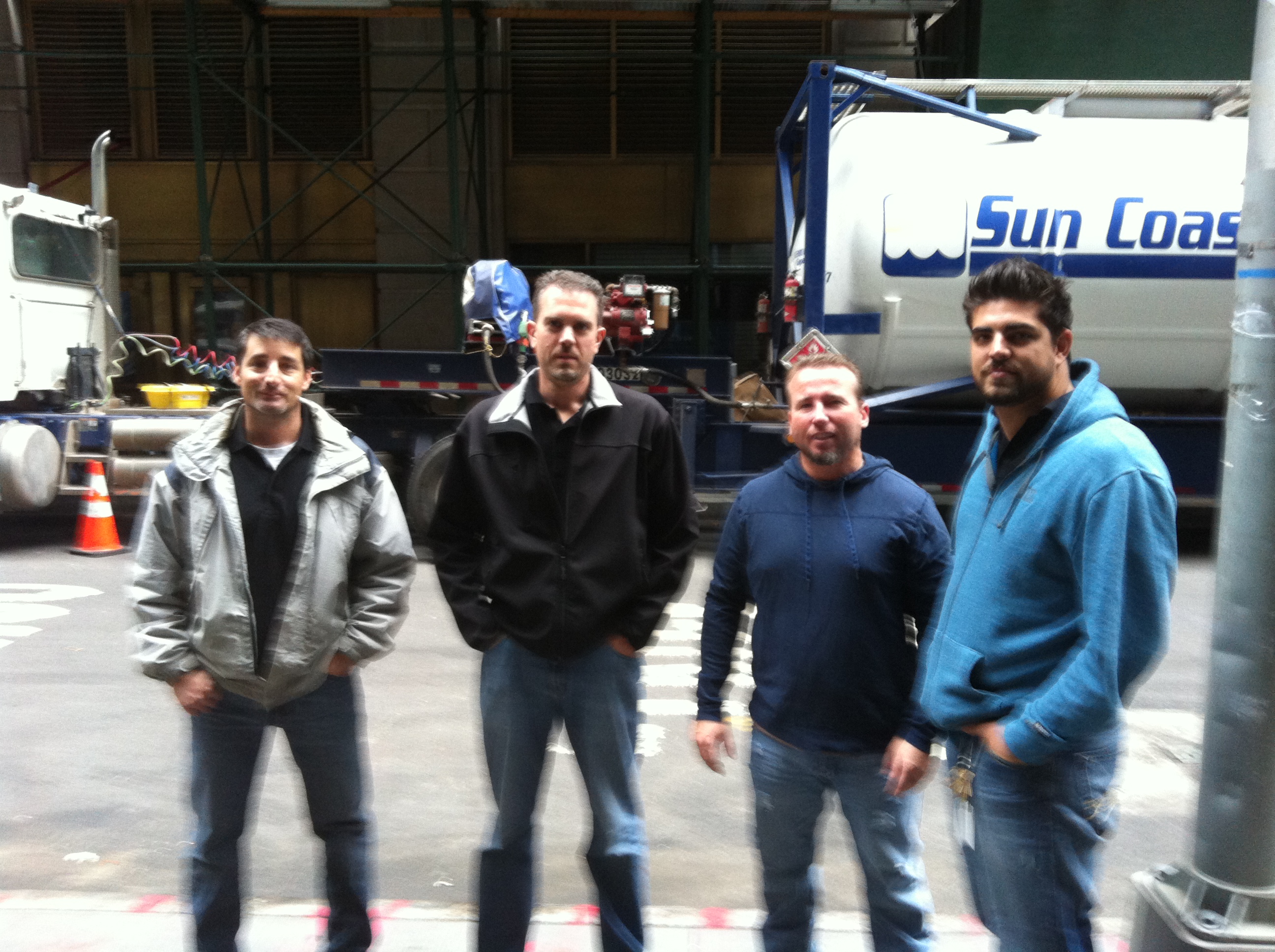 Mike Mazzei (L) and team in front of NYC downtown datacenter after Hurricane Sandy.
Since I met PEER 1 at the 2011 Cloud West Expo in Santa Clara, CA, when they unveiled Zunicore, its "professional-grade cloud built for the enterprise," the hosting company's cloud strategy expanded.
"We folded Zunicore into PEER 1 in order to process all of our minor brands under PEER 1 master brand, so we become clearly branded," said Robert Miggins, Senior VP of Business Development at PEER 1, when we sat down for an interview at this year's Cloud East Expo in New York.
"From our cloud vista, Zunicore on-demand is a do-it-yourself-cloud for emerging companies," he said. "Our mission-critical enterprise cloud is a partnership with Seattle's Tier 3 that we launched in fall 2012. It's a VMware-based enterprise cloud, single tenant, fully managed, high-touch cloud. For our loyal customers we strategically wanted VMware's public cloud to be an offering."
From a September 2012 press release, the partnership of the VMware cloud read: "High availability SLA, automatic backup and offsite replication available on pay-as-you-use basis."
"What Hurricane Sandy showed us the need to be prepared. Yes, Mike Mazzei improvised at the PEER 1 datacenter down on Wall Street. He found a way to keep the bucket brigade going for 18-hours. That story reinforces who we are. We worry about the problems, so you can realize the possibilities of the Internet," Miggins explained.
"The mission-critical cloud today has a fail-over to another cloud. Instead of colocation, the client can choose to use mission-critical with the press of the button. If another event heads their way, they can fail-over to Chicago or another one of our datacenters. So the next Sandy, that kind of backup, becomes a different story about survival," he said.
"When was the mission-critical cloud launched?" I asked.
"April 2 of this year. It was under construction when Sandy hit," Robert Miggins said.
He followed that update with the growth of Zunicore, saying: "It's all Zen-based hypervisor. None of the enterprise class features. It wasn't architected to be a premium to Amazon's AWS cloud, to compete with Savvis Cloud or Terremark."
On Tier 3, he emphasized that the partnership, "Got us to the market a lot faster. Now our public cloud story has two pieces, two offerings."
"The tech entrepreneur can do-it-yourself with a startup's tight budget. And the cloud offering for the IT business professional, the IT department, where downtime is a bad idea. For them, there's a need to mitigate risk, not take risk. Now with two different buyers, we have products to appeal to each one of them."
The other story for PEER 1, besides being the "most human tech company on the web in the cloud, is the story of choice. It's about creating and giving choice to customers. It's about transparent fee structure, where if the customer stays within the PEER 1 ecosystem of 18 datacenters they are not charged for bandwidth. It's about mix environments, too -- a dedicated bare metal or a multi-tenant approach. It depends on the client's needs," Miggins said.
On the subject of the cloud not being as secured as some on-premise servers, he understands the common criticisms of being an insecure, can't-trust-it, multi-tenant, who is on the same hardware. "I refute the notion of security. The cloud turns that argument upside-down. The cloud is even more secure. Today, with fail-over at the click of a button, it's disaster-proof. PEER 1's cloud is far more robust than what you can run in-house. We can turn on disaster recovery remotely and it just happens. We have DDOS mitigation tools, intrusion prevent barriers. In my view, the cloud is even more secure than in-house," he said passionately.
For those foreign entities concerned about running their data in U.S., because of the recent NSA findings, but still want to do business in North America, PEER 1 invites those firms to look at their north-of-the-border datacenters in Canada as an alternative.
Related
Popular in the Community