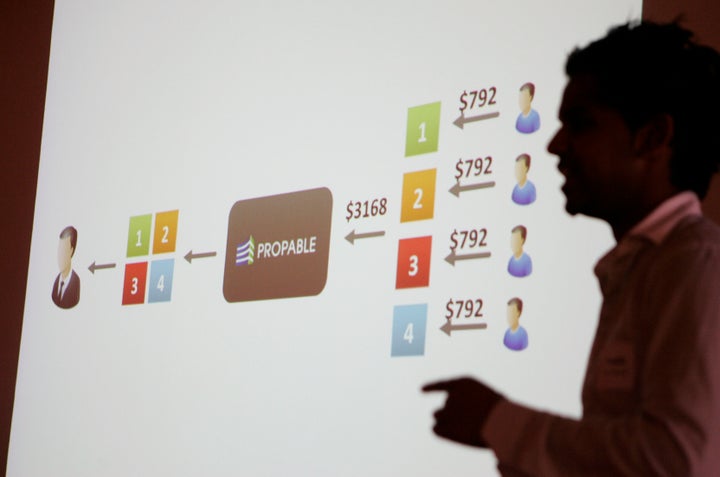 (Reuters - By Darren Dahl) - Chris Mok, like many Americans over the past few years, lost his job in the wake of the Great Recession.
While Wok, 46, diligently sent out resumes trying to replace his Macy's marketing job he lost in 2009, he also kicked in to help his wife, Isha, run Hi'iaka, her Hawaiian-themed florist shop in San Francisco.
It was early last summer, when many florist businesses see a bump in business from graduations, that Wok first heard about a site called Task Rabbit, where people can post jobs of any just about any kind - such as helping with a move, painting a room or even running an errand - or bid to work on a job posted by someone else via computer or on the go with a GPS-enabled smartphone. Mok suggested that his wife try the site out as a way to hire on a few extra hands for the busy season.
His wife's experience with Task Rabbit went so well that Wok, who hadn't worked outside of his wife's business in about nine months, came to a realization: why couldn't he earn some extra money bidding on jobs himself?
"I hit the ground running and have been working almost seven days a week since July," says Mok, who now makes about $3,500 a month tackling everything from handyman repairs to hanging whiteboards and assembling Ikea furniture for the burgeoning number of startup companies in his area.
"It feels great to be your own boss and to pick and choose the jobs you take on."
Unless you have been living under a rock, you know that the hot button political issue these days is the nation's unemployment rate. In January, the U.S. jobless rate was 8.3 percent, on its way down from last summer's rate of 9.1 percent.
That's why the rise of online marketplaces, so-called peer-to-peer job sites like Task Rabbit are so exciting. They promise to generate new employment opportunities, or let just about anyone earn some extra income.
"We're enabling people to invest in and engage with folks in their community in a way that I think we've forgotten," says Leah Brusque, a former programmer with IBM who founded Task Rabbit in 2008, just as the recession was unfolding. "And we've done that by turning them into micro-entrepreneurs."
Online job sites have been around a while, of course, and even sites like e-lance and oDesk have become viable markets to outsource highly-skilled jobs such as programming, design and writing tasks.
But what makes Task Rabbit and the growing number of others like it such as Coffee & Power and Zaarly different is that their jobs vary widely and often involve face-to-face interactions in the real world. Skillshare, for instance, is a site based in New York City that enables people to teach or attend a class on just about anything. A recent search revealed classes ranging from how to eat healthy or how to crochet an Alpaca rug - not online, but in person.
"We are changing the way people think about doing business with the people around them," says Bo Fishback, formerly the vice president of entrepreneurship at the Kauffman Foundation, who founded Zaarly in March 2011. "We're making it possible to ask for and get anything, in real time, from the people around you.
Mechanically, most of these sites work in similar fashion. People can post jobs, or bid on them, while the site handles the payment process - usually taking a small percentage fee of the transaction for itself. Both parties involved in a transaction can then rate each other after the job has been completed. At Task Rabbit, which has some 3,000 registered bidders, some $4 million of activity is reported every month, which, while impressive, is still a sliver of the estimated $473 billion earned by freelancers in 2010.
Those kinds of numbers have given high-profile investors reasons to take notice. Zaarly, for instance, reeled in $1 million from a group of investors that included Ashton Kutcher (while also adding Meg Whitman as a board member). Similarly, Coffee & Power, which was founded by Philip Rosedale, the creator of the virtual online world game SecondLife, recently raised about $1 million from investors like Jeff Bezos.
"Our mission has been to find out how you get people who are interested in working for each other to cluster and find each other in the real world," says Rosedale, whose business plan combines an online market with currently three physical locations - upscale coffee shops in San Francisco, Santa Monica and, soon, Portland, Oregon - where people can meet and make a deal.
There are, of course, critics who point to the fact that it can be difficult if not impossible for someone to earn a living bidding on $100 jobs. But, if the number of people flocking to these sites to not just bid on jobs but also post them continues, we might just see a change in the concept of what a job is.
"We're still early in the game, but we think we're reinventing the concept of how we all go about working," says Rosedale.
Related
Popular in the Community