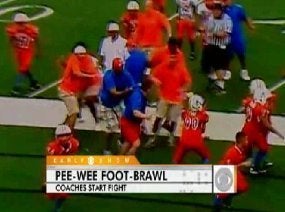 After one of the Patriots scored a touchdown, two players who collided during the play began to shove each other. Once a parent tried to step in, more parents from both sides ran on to the field and a huge fight began between the angry fathers and the coaches.
According to CBS News, a Patriots coach sucker-punched a father in the back of the head as the kids, who are 11 and 12 years old, tried to settle everyone down.
One player named Justin Robinson said he couldn't believe they fought like that in front of the kids because "that's a bad example for us."
The local football league decided to ban both teams from the postseason. One coach was banned from the league for life and others were suspended for the rest of the season. Scroll down to watch the scary scene.
Popular in the Community