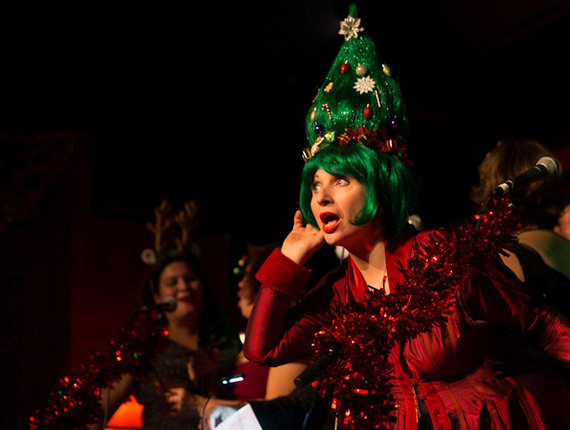 The weather was too beautiful, so Judith Owen was depressed. The Welsh singer-songwriter was living in Southern California with her then-new husband, Harry Shearer, but as December 25th loomed, Santa Monica remained a decidedly un-Christmas-y 78 degrees, and she was homesick for the chill and gray skies of London. "Bad weather means Christmas to me," says Owen. So she and Shearer invited their musician and comedian friends over for some entertaining.
"The show started as a party in our home to try to comfort Judith," says Shearer of the woman he met in Britain during a 1992 Spinal Tap tour (he heard a gorgeous voice singing as he was checking into his hotel -- in Derek Smalls hair extensions, no less -- and followed the sound to where Owen was performing). Talented friends turned that first L.A. party into a triumphant jam session -- irreverent and reverent -- and an annual family tradition was born.
After the flooding of New Orleans in the wake of Hurricane Katrina, their house party mutated into a benefit for NOLA musicians. A couches-and-cocktails-filled stage at L.A.'s Disney Hall doubled for the Shearer-Owen living room as comedy and music royalty entertained a considerably larger crowd than the intimate circles from those earlier festivities.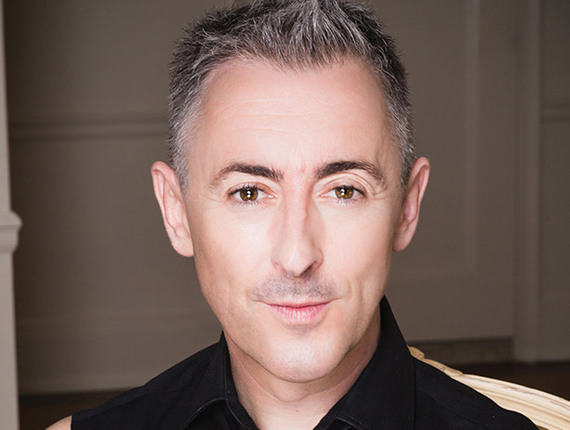 Since that first benefit concert in 2005, Owen & Co. have spread the love across the country annually, in gala spectacles -- concerts seems too small a word to convey the experience -- featuring stellar local talent from each city they visit, with different causes reaping the rewards of the performers' (and audiences') generosity.
If you've caught one of their shows in New York, New Orleans, L.A. or elsewhere, you're likely to have emerged some hours later in a state of euphoria -- and still feel the glow. "Every year it takes me by surprise, in spite of having put it all together," Owen says. "It's authentic and unscripted and I'm always amazed by the performances and the joy on the faces of the audience." This year's Christmas Without Tears tour kicks off Tuesday, Dec. 1, honoring World AIDS Day with a benefit for Elton John's AIDS Foundation at the Brooklyn Academy of Music.
The shows continue to capture the intimacy of that first party, letting audiences eavesdrop on the inspired mischief gifted performers get up to when left to their own devices. Among the treats in store at BAM: Alan Cumming, Paul Schaffer and Fred Willard letting down their hair; Mario Cantone channeling Judy Garland with a scary sorcery that has to be seen to be believed; revelatory pianists Davell Crawford and Doña Oxford, Les Misérables heartbreaker Alfie Boe, banjo legend Béla Fleck, rock royalty Peter Asher, the SongBirds, the Gregory Brothers, silken-voiced Jerry Dixon, invisible-voiced Godfrey Daniels, Artie Lang, Bindlestiff Family Cirkus' Keith Nelson and Bobs alum Amy Engelhardt. Musical director CJ Vanston tears up the (Howard Gilman Opera) house alongside Jim Hines, Oz Noy and the legendary Leland Sklar.
Included in the full-to-bursting program is a chance for the audience to get in on the (second) act. As Owen notes, "I basically shout at you until you join me in singing Christmas standards," a sing-along that has proved surprisingly enjoyable. Even those who tremble at the phrase "audience participation" end up awash in the bliss of communal exhibitionism -- some even clutching one of the special prizes doled out by ringmaster Owen. Just one of the series' many gifts that keep on giving.
Christmas Without Tears plays Dec. 1 at Brooklyn's BAM, Dec. 4 at Evanston, Ill.'s S.P.A.C.E., Dec. 19-20 at L.A.'s Largo at the Coronet and Dec. 23 at New Orleans: Petit Theatre du Vieux Carre.
(PHOTOS: JUDITH OWEN: KEVIN ARBINDER; ALAN CUMMING: COURTESY ARKANJEL PRODUCTIONS)
Calling all HuffPost superfans!
Sign up for membership to become a founding member and help shape HuffPost's next chapter