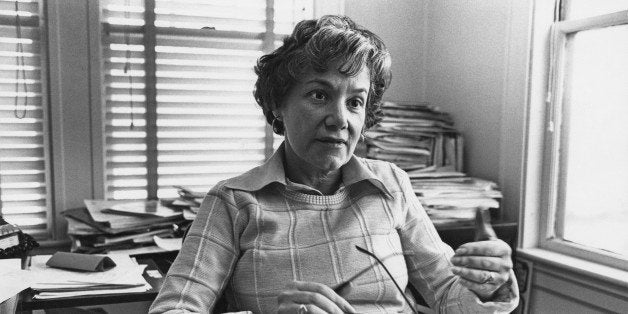 Peggy Charren used to call me up periodically to check on me. "Cookie, are still teaching that class on children's media?" she'd say. "These college kids need to understand that just because they've grown up with media doesn't mean they understand it." No one knew this better than Peggy. And no one knew better Peggy why it was important.
Peggy Charren, sometimes referred to as "the godmother of children's television," died last week. It's a little hard to believe that the New York accented quick witted voice of this indomitable woman will no longer be heard. But it's clear that the many legacies of her words and deeds will be.
I came to know Peggy in 2008, when I phoned her to let her know we wanted to honor her at Tufts with an Eliot-Pearson Award for Excellence in Children's Media. Her immediate and off-the-cuff response was unforgettable: "You know, Cookie, I have a whole shelf of awards at home. But getting one from a department of child development really means something. I think I can make room for it."
Indeed, Peggy Charren's tireless work to try to improve the landscape of children's television had earned her a Trustee's Award from the National Academy of Television Arts and Sciences, an Annenberg Public Policy Center Award, a Peabody, an Emmy and a Presidential Medal of Freedom. As I came to know her, I realized that she hadn't been kidding me - her complete dedication to promoting children's literacy and media literacy meant that a plaque from a department of child development was every bit as meaningful to her as the other extremely prestigious awards with which she had been honored.
The "housewife from Newton Massachusetts," as she was often referred to ("I think that word should be stricken from everyone's vocabulary," she once told the Jewish Women's Archive), found herself frustrated in the 1960s when she could not find either quality or variety in the children's television programming available to her two young daughters. Peggy resolved to do something about it. She wanted to see more book-based programming and more educational programming. So along with a few like-minded moms, she founded Action for Children's Television (ACT). ACT's approach focused on lobbying the FCC and FTC to create regulations that would advance their goals of increasing quality children's programming and decreasing the amount of advertising on when children's shows were aired. They were remarkably effective.
In a tribute written by Boston Globe correspondent Joseph Kahn, Senator Ed Markey (D MA), called Peggy "the principal defender of children's television in America." Markey, a longtime ally of Peggy's in the fight to push through sensible telecommunications legislation that would improve the landscape of children's media, was the principal sponsor of the landmark Children's Television Act of 1990 and the 1996 Telecommunications Bill. These important pieces of legislation limited the number of minutes broadcasters could air commercials in times when children's programs were aired and established the airing of at least three hours of "educational and informational programming" as a requirement for renewing a broadcast license.
To be sure, though these were key acts at the time, they didn't go far enough. There was still a lot of advertising targeting children. Three hours of "E/I" programming wasn't a lot. And the FCC had yet to refine what it meant by "educational and informational" programs, so that some broadcasters could easily get their licenses renewed by including shows such as The Jetsons in their lineup - "educational" because the show would "teach children what life in the 21st century would be like." Peggy realized that these acts didn't go far enough, or as far is she wanted them to go. She acknowledged this when she accepted her Eliot-Pearson Award at Tufts, but said, in her typically feisty manner, "We had to get the big boys to play, and this was a start."
Peggy continued to speak up and speak out for quality children's media after she disbanded ACT in 1992. Though sometimes accused of trying to censor the networks, in fact Peggy was an ardent supporter of free speech. One of the many organizations to which she served as an advisor was the Massachusetts chapter of the American Civil Liberties Union.
Equally passionate about liberal political causes and arts organizations, Peggy was a tireless advocate for all in which she so firmly believed. On the esquire.com political blog this week Charles Pierce wrote, "Almost alone, she stood up against the networks -- Ask your folks, kid -- and hollered to anyone listening that children's television need not be an excuse to use animated idiocy to sell the nation's youth on plastic toys and sugar-bombed breakfast cereal...If you, or your kids, grew up loving Sesame Street, or Reading Rainbow, or even the essential Schoolhouse Rock, you can thank Peggy Charren for forcing the issues that made all of them possible."
And on the Paley Center for Media's website, former ACT lawyer Henry Geller said of Peggy, "She's a fighter who won't give up...she shows that one person really can effect change."
I'd add to that that one person can make an indelible mark on the lives of others in ways she probably doesn't even realize.
The last time I spoke with Peggy was perhaps a year or so ago. She phoned me out of the blue, as she sometimes did, and said, "Cookie, I saw something about Tufts in the news today. Was that about your program?" I told her I didn't think so. "Well it should have been!" she replied, indignantly. "There's nothing that's more important than what you are telling those kids about media literacy."
Thank you, Peggy Charren, for all your work on behalf of children's media. You certainly made a difference in the life of this "cookie," and so many others.
Calling all HuffPost superfans!
Sign up for membership to become a founding member and help shape HuffPost's next chapter