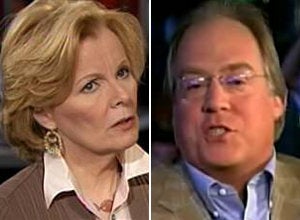 When the segment was over and MSNBC was in commercial, Todd, Murphy and I continued our conversation, talking about the Palin choice overall. We were speaking informally, with some passion -- and into live mics. An audio tape of that conversation was sent, how or by whom I don't know, onto the internet. And within three hours I was receiving it from friends far and wide, asking me why I thought the McCain campaign is "over", as it says in the transcript of the conversation. Here I must plead some confusion. In our off-air conversation, I got on the subject of the leaders of the Republican party assuming, now, that whatever the base of the Republican party thinks is what America thinks. I made the case that this is no longer true, that party leaders seem to me stuck in the assumptions of 1988 and 1994, the assumptions that reigned when they were young and coming up. "The first lesson they learned is the one they remember," I said to Todd -- and I'm pretty certain that is a direct quote. But, I argued, that's over, those assumptions are yesterday, the party can no longer assume that its base is utterly in line with the thinking of the American people. And when I said, "It's over!" -- and I said it more than once -- that is what I was referring to. I am pretty certain that is exactly what Todd and Murphy understood I was referring to. In the truncated version of the conversation, on the Web, it appears I am saying the McCain campaign is over. I did not say it, and do not think it. In fact, at an on-the-record press symposium on the campaign on Monday, when all of those on the panel were pressed to predict who would win, I said that I didn't know, but that we just might find "This IS a country for old men." That is, McCain may well win. I do not think the campaign is over, I do not think this is settled, and did not suggest, back to the Todd-Murphy conversation, that "It's over."
Original Post: Wall Street Journal columnist and former Reagan speechwriter Peggy Noonan and former John McCain adviser, Time columnist, and MSNBC contributor Mike Murphy were caught on tape disparaging John McCain's selection of Alaska Governor Sarah Palin as his Vice Presidential running mate.
"It's over," Noonan said.
When Chuck Todd asked her if this was the most qualified woman the Republicans could nominate, Noonan responded, "The most qualified? No. I think they went for this, excuse me, political bullshit about narratives. Every time the Republicans do that, because that's not where they live and that's not what they're good at, they blow it."
Murphy characterized the choices as "cynical" and "gimmicky."
Watch (the dialogue in question starts 38 seconds in, full transcript is below the video):
Chuck Todd: Mike Murphy, lots of free advice, we'll see if Steve Schmidt and the boys were watching. We'll find out on your blackberry. Tonight voters will get their chance to hear from Sarah Palin and she will get the chance to show voters she's the right woman for the job Up next, one man who's already convinced and he'll us why Gov. Jon Huntsman.
(cut away)

Peggy Noonan: Yeah.

Mike Murphy: You know, because I come out of the blue swing state governor world: Engler, Whitman, Tommy Thompson, Mitt Romney, Jeb Bush. I mean, these guys -- this is how you win a Texas race, just run it up. And it's not gonna work. And --

PN: It's over.

MM: Still McCain can give a version of the Lieberman speech to do himself some good.

CT: I also think the Palin pick is insulting to Kay Bailey Hutchinson, too.

PN: Saw Kay this morning.

CT: Yeah, she's never looked comfortable about this --

MM: They're all bummed out.

CT: Yeah, I mean is she really the most qualified woman they could have turned to?

PN: The most qualified? No! I think they went for this -- excuse me-- political bullshit about narratives --

CT: Yeah they went to a narrative.

MM: I totally agree.

PN: Every time the Republicans do that, because that's not where they live and it's not what they're good at, they blow it.

MM: You know what's really the worst thing about it? The greatness of McCain is no cynicism, and this is cynical.

CT: This is cynical, and as you called it, gimmicky.

MM: Yeah.
Related
Popular in the Community