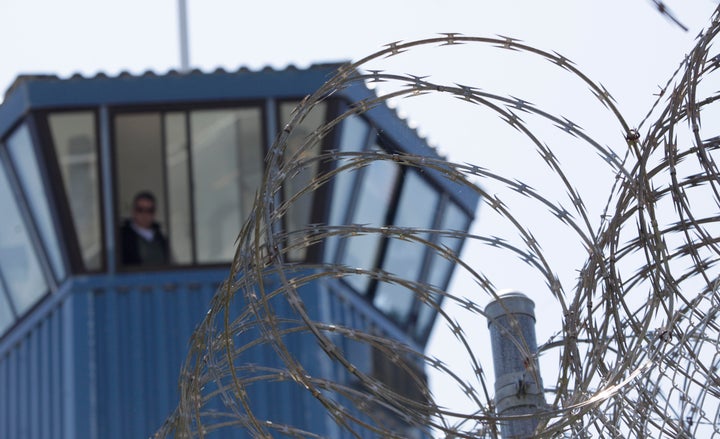 Corrections officials are taking security precautions and gearing up medical staff in response to growing indications that inmates at Pelican Bay State Prison will resume a hunger strike that was suspended July 20.
Strike leaders are calling on state inmates to begin refusing state-issued food Monday to protest conditions in controversial Security Housing Units, according to handwritten letters, Internet postings, and communications with lawyers and advocates.
"Formal and informal sources say they're going to start the strike again," said Dorsey Nunn, executive director of Legal Services for Prisoners with Children, an advocacy group that was involved in mediation efforts during the last hunger strike. "They're tired of being tortured."
In a statement posted on an advocacy website, strike leaders accused officials from the California Department of Corrections and Rehabilitation of reneging on promises for major changes in how they manage the state's four Security Housing Units, the isolation cells that were at the center of the previous strike.
"CDCR has responded with more propaganda, lies and vague double-talk of promises of change in time," the statement reads. "SHU prisoners are dissatisfied with CDCR's response to their formal complaint and ... core demands and therefore will continue to resist via peaceful protest indefinitely, until actual changes are implemented."
Department officials have agreed to allow personal items for Security Housing Unit inmates that were previously banned, such as sweats, wall calendars and art supplies. And they say new policy guidelines governing the special units will be ready for stakeholder review next month.
An internal memo dated Aug. 25 outlines key elements of the policy overhaul, including changes in how inmates are identified, or validated, as gang members and associates; changes in the criteria used to determine how inmates are assigned to a Security Housing Unit; and the creation of a "step-down" program that would allow an inmate transfer to a general population yard without having to "debrief," something many inmates consider snitching.
Corrections Undersecretary Scott Kernan said the department has kept its word and will continue the policy makeover even if the inmates launch a new hunger strike. Kernan had sharp words for many of the strike leaders, whom he accused of being "manipulative" gang leaders.
"Unlike in the first instance where we certainly evaluated their concerns and thought there was some merit to it, this instance appears to be more manipulative, and it certainly has the possibility of being a real disruption to the Department of Corrections and the security of its staff and inmates," he said.
Kernan said officials will treat any new hunger strike as a "mass disturbance" and will take disciplinary action against anyone who takes part. That could include ending commissary privileges and imposing six-month terms in the Security Housing Units for general population inmates who join the action.
Advocacy groups pledged to continue to support the inmates in their demands for change. But some prominent advocates say strike leaders should hold off on another action until the department releases more details on its policy changes.
"If I were the prisoners ... I would wait," said Charles Carbone, an inmate rights attorney who has handled dozens of lawsuits against the corrections department. "But we have to understand these guys have been waiting for decades. Their patience has understandably run out."
Michael Montgomery is an investigative reporter for California Watch, a project of the non-profit Center for Investigative Reporting. Find more California Watch stories here.
Related
Popular in the Community