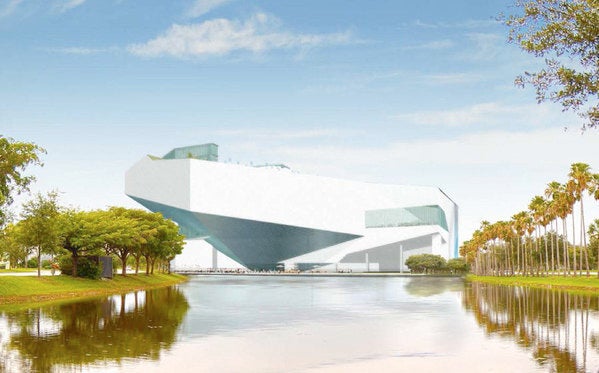 One of the funniest South Florida phenomenons is, on those rare days the temperature drops below 35, the sudden appearance of hilariously out-of-date winter wear: puffy coats from 1993 ski trips, scarves that have clearly been shoved in a sock drawer for a decade, North Face gear no one's touched since college, and even (gulp) Uggs. We're instantly so 12 seasons ago.
But it might be time to upgrade: a local consortium is pitching a massive winter-themed indoor complex in Sunrise that would offer ski slopes, snowboarding, ice skating, sledding, and even snowmobiling, the South Florida Sun Sentinel reports. Named Pelion Sunrise, the 31-degree 'mountain' would boast ski trails at least 2,700 feet long and come complete with lifts and moguls.
"I don't even know if this thing is for real or not," Sunrise Commissioner Sheila Alu told the Sun Sentinel. "I'm not even paying attention to this until I know it's a viable project."
Skiing indoors is a novel experience. There is no wind and the snow has the consistency of a Mister Misty. While Mister Misty has always been one of my favorite non-brazier treats at the Dairy Queen (only second to the Peanut Buster Parfait), it's not a great surface for winter sports. I soon realized that the 5-minute ride on the lift yielded just 4 minutes of actual skiing (I timed it), and even less if you rock some Bode Miller moves.

While all of these factors were disappointing, the true indignity came when I noticed that there was a huge TGI Friday's overlooking the slopes. It was replete with large windows allowing diners to overlook the slope during dinner. Call me a purist, but when I ski, I prefer mountain vistas to the sight of a British tourist eating an order of Zen Chicken Pot Stickers.
Ouch. Don't worry, though: we're sure our indoor mountain will have a Flanigan's instead.
Check out these other indoor skiing spots: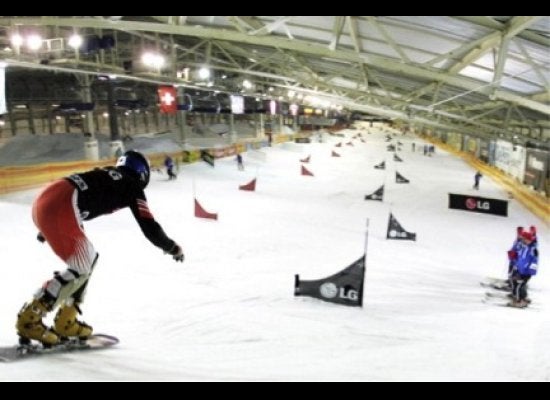 Indoor Skiing
Popular in the Community