WASHINGTON -- House Minority Leader Nancy Pelosi (D-Calif.) and Majority Leader John Boehner (R-Ohio) found themselves on the same side again Thursday, both defending their Wednesday votes to maintain the controversial spying program that lets the National Security Agency collect Americans' phone records.
Both were part of a remarkably slim 217 to 205 majority that voted down an amendment by Reps. Justin Amash (R-Mich.) and John Conyers (D-Mich.) and others to curb the program under section 215 of the Patriot Act.
But there was a difference. Pelosi allowed that the law -- which has become deeply unpopular with civil libertarians on the left and the right since former NSA contractor Edward Snowden revealed the snooping earlier this year -- could use some refinements. Boehner made no such distinctions.
"I voted last night because these NSA programs have helped keep Americans safe," Boehner said, declining to answer whether he though the law should be changed.
The program allows the government to collect and hold onto the "metadata" of all Americans' phone calls for five years. Critics have argued that it violates basic rights to privacy and constitutional protections against illegal searches and seizures.
"There are, in my view, ample safeguards to protect the privacy of the American people," he said. "And I know how these programs have worked. I know how they've worked to protect the American people and I felt very strongly about it."
Feelings in favor of the bill were just as strong among many in Boehner's party, which is why the speaker said he allowed a vote on the measure. NInety-three of Boehner's members voted for the Amash amendment.
"Congress couldn't just avoid the debate," Boehner said. "Members wanted to have this debate. ... We did. The amendment was defeated. I'm proud of my colleagues who stood up for what I think they believe was a program that really is working to protect the American people."
Some observers have raised significant concerns about how effective the program really is, noting that of the few cases of terrorist attacks supposedly prevented by the program that the government has made public, several were actually stopped by other means.
Pelosi was far less enthusiastic about her vote, suggesting that while she opposed the bill to stop the wholesale data collection, she isn't comfortable with how the program is being handled.
"I don't want anybody to misunderstand a vote agains the Amash resolution yesterday," Pelosi said, adding that she was putting together a letter with members who voted both for and against the amendment that will raise "concerns about how the metadata collection is conducted."
She and Conyers have specific questions about how the government defines what material is "relevant" to investigations, and she pointed to a previous letter she wrote inquiring about whether the NSA was using its powers under the Patriot Act as Congress intended.
"As you probably may recall," she told reporters, "I have had longtime, shall we say, candid, ongoing conversations with the intelligence community about how Congress is informed, what we know, who knows what in the aggregate, over what period of time."
She also made a point of noting that she wants to know why the NSA allowed Snowden, a former employee at an outside contractor, to have access to so much information about intelligence gathering.
Michael McAuliff covers Congress and politics for The Huffington Post. Talk to him on Facebook.
Before You Go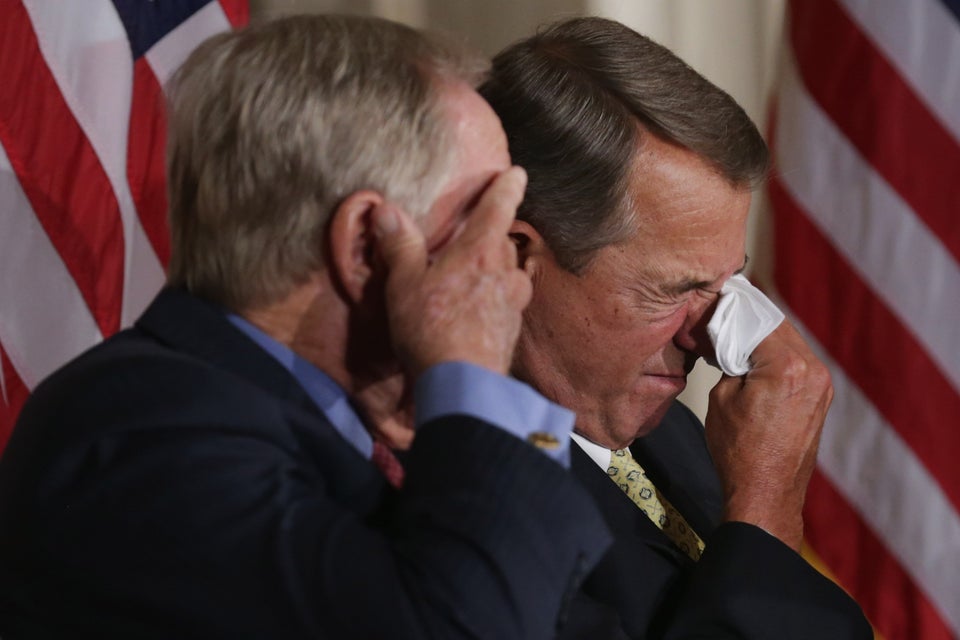 John Boehner Cries
Popular in the Community