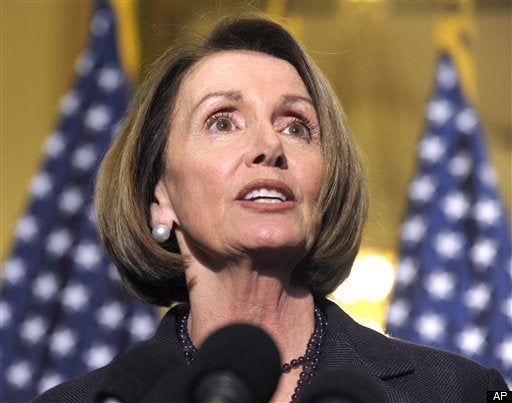 WASHINGTON -- House Speaker Nancy Pelosi (D-Calif.) is unlikely to bring up President Obama's tax cut deal to the floor for a vote in its current form in light of the Democratic caucus' rejection of the package Thursday morning, according to a key lawmaker involved in the discussions.
Members, by voice vote, passed a motion to reject the deal as currently written. The motion had been put forward by Reps. Peter DeFazio (D-Ore.) and Lloyd Doggett (D-Tex.) and was seconded, informally, by Reps. Chris Van Hollen (D-Md.), Marcy Kaptur (D-Ohio) and Jay Inslee (D-Wash.).
"It was a near unanimous vote of the caucus," said DeFazio in an interview with The Huffington Post. "She [Pelosi] was there, she heard the arguments, and I don't believe that she is at all resistant to our position. She was not happy with the package as negotiated."
After the vote, Pelosi issued a statement also indicating that the caucus will alter the package. "We will continue discussions with the president and our Democratic and Republican colleagues in the days ahead to improve the proposal before it comes to the House floor for a vote," she said.
DeFazio said that over the past three days of caucus meetings on the issue, lawmakers have raised a significant number of concerns on the deal worked out between the White House and congressional Republicans: the estate tax reductions, taxes for the wealthiest Americans, and allowing corporations to write off 100 percent of their expenses without ensuring that the products they buy are made in America.
"What we've done is empower our negotiator, Chris Van Hollen, to go back with a mandate to the White House and say, 'Sorry guys, I know you said take it or leave it, and I know you cut the deal while I was out of the room -- or while I was in a different room -- but it's unacceptable to my caucus,'" said DeFazio.
The way the deal was worked out -- essentially without the direct involvement of House Democrats -- has also been a major point of irritation for lawmakers, who viewed the White House as steamrolling them and giving too much of a platform to Republicans.
DeFazio said that in his opinion, it reflects a larger pattern with the administration. "Starting with the stimulus, where they made a concession to get three Republican votes for $300 billion in tax cuts that didn't put anyone back to work," he said. "Also the continued failures of, in my opinion, of Tim Geithner and Larry Summers in the White House and their economic theories, versus real investment, real jobs, and we want minimum cost, maximum impact in terms of helping people in need and putting people back to work, and we don't think this package reflects that."
UPDATE, 2:01 p.m.: In today's White House briefing, Press Secretary Robert Gibbs addressed the Democratic resolution and Pelosi not bringing the deal to a floor for a vote as its currently written: "This is a long and winding process, but I think that at the end of the day, members are not going to want to be in their districts...when their constituents find out on the first of January that their taxes have gone up by several hundred thousands of dollars. ... It was a voice vote...and my guess is if a lot of voices yell one thing, you may not yell the other."
Popular in the Community