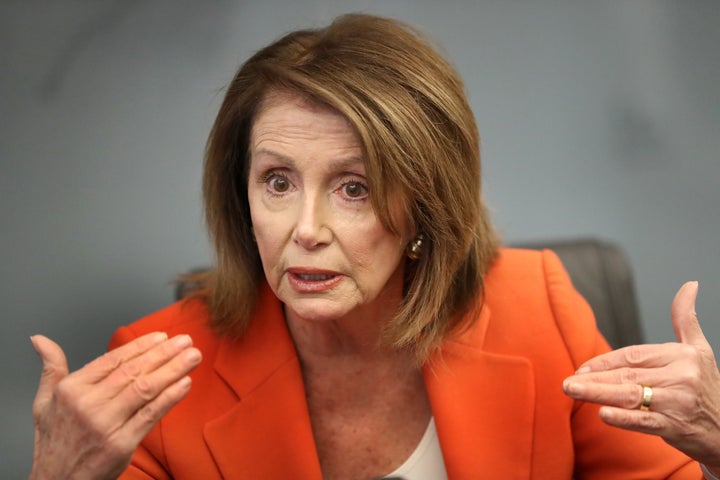 WASHINGTON ― If you listen to Republicans, Nancy Pelosi perfectly embodies the radical left: a tax-and-spend liberal from San Francisco. But in the age of The Resistance, Pelosi is facing the most serious threats of her 15 years as the top Democrat in the House ― this time, from the center and the left.
Nearly two dozen Democrats last week were able to force Pelosi into delaying Democratic leadership elections until after Thanksgiving, giving potential challengers to the current slate of Democratic leaders more time after the midterms to build support for their candidacies. Even in that concession, however, Pelosi was able to save face, delaying the elections herself instead of actually letting the group force her into moving the date.
The California Democrat, the first and only woman to ever serve as Speaker of the House, has stayed atop Democratic leadership for so long for a number of reasons ― her ability to fundraise, negotiate with Republicans and read her caucus chief among them.
But the growing chorus of Democratic candidates running for Congress who pledge not to support Pelosi for speaker is hard to ignore. There are at least 20 candidates who say they won't vote for Pelosi to be speaker ― in varying degrees of wiggle room ― and unless Democrats flip something like 40 seats, Pelosi very well may have a daunting math problem to solve.
The Speaker of the House is elected on the House floor at the beginning of every Congress, and needs a majority of the House ― 218, if every member votes ― with all Republicans almost certain to vote for a GOP candidate. If Democrats take back the majority, Pelosi likely needs more than just a few seat majority, otherwise the candidates who have vowed to vote against her, coupled with reluctant members, will probably not bend. But even if Democrats won more than 35 or 40 seats, the composition of members who won would still matter, as Pelosi can't afford too many members who have promised to not support her for Speaker. And if Democrats don't take back the majority, Pelosi and the rest of the Democratic leadership might be in trouble anyway.
While Pelosi has been able to keep the Democratic caucus unified on most votes when needed, her hold over the members might be overstated at this point. She hasn't faced a Speaker vote where she's needed almost all of the Democratic caucus since the first days of 2009 ― the Minority Leader only needs a majority of Democrats behind closed doors ― and there are some current Democrats who look sure not to support her for another term as speaker, if Democrats do take back the majority.
But as one senior Democratic aide put it to HuffPost, you can never rule Pelosi out.
For one, it's unlikely that all of the candidates who say they won't support Pelosi will actually become members. Of the nearly two dozen candidates who have spoken against the California Democrat, maybe only a handful will win ― and maybe another handful could be convinced to go back on their word, particularly the ones who have left themselves that latitude.
Another point of strength for Pelosi could be the other open Democratic positions. With the current Democratic Caucus Chairman Joe Crowley (D-N.Y.) exiting Congress, that position will need to be filled, which could in turn trigger new elections for the vice chair position. If Democrats took back the majority, they'd also have an extra leadership position by virtue of being in the majority. (If the top three Democrats ― Pelosi, Minority Whip Steny Hoyer (D-Md.), and Assistant Minority Leader Jim Clyburn (D-S.C.) ― all moved up one rung, another Democrat could take the Assistant Minority Leader position that Democrats created for Clyburn when they lost the majority at the end of 2010.)
All those positions could act as a vent for the younger generation of Democrats who have fumed under Pelosi.
The current vice chairwoman of the Democratic Caucus, Linda Sánchez (D-Calif.), said last week that Democrats need a "generational change."
"I want to be part of that transition, because I don't intend to stay in Congress until I'm in my 70s," Sanchez said, a shot at Pelosi (78), Hoyer (79), and Clyburn (77).
But when HuffPost approached Sánchez, who is 49, to talk about Democratic leadership, she told us she didn't have anything further to add, and she announced this week that she would be running for caucus chairwoman, not a higher role.
Another potential speaker candidate, Rep. Barbara Lee (D-Calif.), was emphatic to HuffPost last week that she is also only running for caucus chairwoman.
That's another strength for Pelosi ― there is no longer a clear successor.
While Hoyer and Clyburn have also survived atop the House leadership ranks, the most viable successor to Pelosi was Crowley, who lost his primary in June to insurgent Democratic candidate Alexandria Ocasio-Cortez. And even though there's been some chatter of a "bridge speaker," someone like Hoyer or Clyburn who could help Democrats transition from their long-held leadership team to a new generation, it's far from a sure thing that either would actually mount a challenge.
If the conversations some Democrats are having behind closed doors are serious, they aren't quite making their way into the public.
One of the remarkable things about talking to nearly two dozen members and aides for this story was how careful Democrats were in speaking about Pelosi. Most lawmakers simply don't want to talk about leadership elections until after the midterms.
"Not one sport do we start talking about who the coach or the MVP should be in the middle of the game," was how Congressional Black Caucus Chairman Cedric Richmond (D-La.) put it to HuffPost.
"I'm keeping my powder dry and my dough wet," Rep. Al Green (D-Texas) said, whatever that means.
"What I think right now is we need to win, and until we win and know what the caucus looks like, we don't know who's going to be representative of the caucus," Rep. Marcia Fudge (D-Ohio) said.
Of course, Democrats ― publicly ― staying out of internal caucus politics and focusing on winning back the majority is never bad optics. But just how limited are the conversations about replacing Pelosi?
When HuffPost asked Rep. Tim Ryan (D-Ohio) why there wasn't more chatter about challenging Pelosi, he noted the high number of candidates who have said they won't support Pelosi, and seemed to channel a mocking tone for Democrats in Congress by predicting that they would answer that question by saying they're "focused on the election, and they don't want to take away from it, and blah blah blah."
Ryan was the last Democrat to actually challenge Pelosi, in a slapped-together race to be minority leader after the 2016 election. As quixotic as Ryan's run may have been, he still yielded 63 votes to Pelosi's 134.
To say Pelosi is facing her most serious threat is a bit misleading, unless you think an insurgent Minority Leader campaign from former Blue Dog Rep. Heath Shuler (D-N.C.) in 2010 or Ryan's try were real threats to Pelosi's 15-year rule.
But if Ryan's performance should have been more of a warning sign to Pelosi, Pelosi doesn't seem to have taken it that way. In a recent Rolling Stone interview, Pelosi called Ryan and his Democratic colleague Seth Moulton of Massachusetts "inconsequential."
"They don't have a following in our caucus," Pelosi said. "None."
Ryan, for his part, was mostly praising of Pelosi in an interview with HuffPost. "She's an incredibly skilled politician, no bones about it," he said. But he did take issue with Pelosi calling him and Moulton, who has been raising money and finding fellow Democratic veteran candidates to run for office, inconsequential.
"Making the determination of who's consequential and who isn't consequential is not the kind of servant leadership that we need," Ryan said.
He added that the message to regular people was that they, too, are inconsequential. "And that is the exact problem, that kind of elite comments, the arrogant kind of comments, the deplorable kind of comments ― that's what people don't like about the Democrats right now, and so it was disappointing to see that she would use that against her own members," Ryan said.

The eight-term Congressman isn't ruling out another run for a position in the Democratic caucus. (He's not ruling out a run for President either.) But with Crowley leaving, Ryan also seems to be pushing the bridge speaker idea, someone like Clyburn who could potentially excite Democrats as the first African-American speaker.
Still, unless Pelosi saw that she didn't have the votes to be speaker, it's difficult to imagine Clyburn effectively campaigning against her, though some lawmakers and aides told HuffPost that, if it's true that Ryan has no following and still attracted about one-third of the Democratic caucus to vote for him, then Pelosi should take the leadership threats more seriously. "If he can do that in two weeks," a Democratic aide said of Ryan, "imagine what someone could do with six months to backchannel and put together a real campaign."
But as another senior Democratic aide noted, "The fundamental problem for the Pelosi haters is they cannot beat her in the caucus."
The aide added that the dynamics following the 2016 election were much different than the dynamics would be if Democrats took back the House in November.
"People voted for Tim Ryan to express their dissatisfaction with the outcome of the 2016 election," this aide said. "Nancy Pelosi was not Hillary Clinton's campaign manager and did not tell her to not go to Wisconsin."
The idea goes that, if Democrats took back the House, lawmakers would be grateful for Pelosi's role in helping them ― particularly for the money she donates as a prolific fundraiser ― and they would reward her with another term as speaker. "Nancy Pelosi's donations buy her a lot of goodwill," one Democratic member told HuffPost.
Even if those Democrats voicing opposition to Pelosi actually did win their races, Democrats would have then likely taken back many easier districts, giving Democrats a truly robust majority that would further solidify Pelosi's position.
Part of Pelosi's strength now seems to be that the Democratic caucus has shifted more toward the left. While Pelosi has long been the face of Republican attacks on Democrats, she now seems positioned in the middle of the caucus, partly because the Blue Dogs who helped Democrats hold the majority are almost all gone, and partly because the country and the caucus have shifted more toward her.
"The attack line used to be 'Nancy Pelosi is for gay marriage,'" longtime Pelosi spokesman Drew Hammill told HuffPost. "Now, the country has moved to where Nancy Pelosi has been for 30 years, and only the extreme right-wing stands in opposition."
Hammill added that "the Republican attack machine" now has to find more subtle ways to "fan the flames of bigotry and misogyny."
On the other side of the shifting caucus, Pelosi's role as a centrist among Democrats has now opened her up to more attacks on the left. Ocasio-Cortez, coming from a safely Democratic district, has vowed not to support Pelosi, and the liberal left seems to increasingly have a stylistic problem with the former Speaker.
Part of Ocasio-Cortez's draw for liberals has been her approach of seeking action now. In that same Rolling Stone interview where Pelosi called Ryan and Moulton inconsequential, she also expressed support for a leadership system where people pay their dues.
The current Democratic committee system is one where lawmakers spend decades ascending to the top, at which point they never want to leave. Where Republicans have term limits for their chairmen, Democrats do not. A consistent complaint among Democrats seeking leadership changes was the seniority system in committees.
"Definitely needs to be some changes, and I'm leaning toward voting for someone who's going to help us reform the system and bring Congress back to the people," Rep. Kurt Schrader (D-Ore.) told HuffPost, adding that he wanted someone to be speaker who'd open up the floor rather than further constricting the amendment process.
Another Democratic aide charged that Pelosi had created a system "where you're not rewarded by skill or merit, but rewarded by seniority and your relationship with her."
Again, however, the system that has caused a younger generation of Democrats to chafe has also given the older generation of Democrats something to defend. Any Speaker candidate trying to shake up the committee system would likely find opposition among some powerful factions, including the Congressional Black Caucus.
In many ways, that's why the idea of a "bridge speaker" is far more viable than a clean slate. But unless you see Hoyer or Clyburn or another prominent Democrat suddenly talking openly about challenging Pelosi, the California Democrat could very well find herself as speaker once again.
There's little question that Republicans would not have tolerated years of lost elections and stagnation at the top of their conference. But it's also true that some of coups against former Speaker John Boehner (R-Ohio) and the plotting against Speaker Paul Ryan (R-Wis.) were politically driven, giving conservatives in far-right districts a way to win points with their base.
As freshman Rep. Raja Krishnamoorthi (D-Ill.) put it: "My voters aren't going to reward me for, like, political machinations against Nancy Pelosi."
Daniel Marans contributed to this report.
Popular in the Community