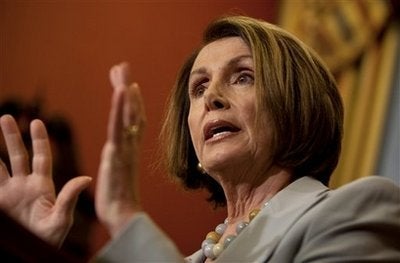 Republicans are calling on freshman Rep. Alan Grayson (D-Fla.) to apologize for denigrating their party's health care plan on the House floor, but Speaker Nancy Pelosi (D-Calif.) thinks they ought to look in the mirror instead.
"Apparently Republicans hold Democrats to a higher standard than they hold members of their own party," Pelosi told reporters at her weekly press conference on Thursday. "There's no reason for Mr. Grayson to apologize. If anyone should apologize, everyone should apologize."
Grayson has taken fire from Republicans since he said on the House floor Tuesday night that the opposition party's proposed health care reform amounts to "don't get sick" or, failing that, "die quickly." The Florida Democrat did not back down Wednesday, calling Republicans "knuckle-dragging Neanderthals" and expressing sorrow only that delays to reform cost more American lives every day.
"I think we should be on the offense, not the defense, and that's where I plan to stay," Grayson told reporters.
Pelosi said she holds everyone in Congress to a high standard of discourse, but she argued that health reform is too important to be "distracted" by Republican efforts to force an apology from Grayson.
"Points have been made. Now it's time to take the debate to health care," Pelosi said. "This is urgent and we won't be distracted from our course of action."
GOP Rep. Tom Price of Georgia filed a resolution Wednesday that would censure Grayson for his comments, but Republican leadership has yet to decide whether to pursue that course of action, according to a Republican Study Committee aide. If House leadership opposes the measure, it is unlikely to pass.