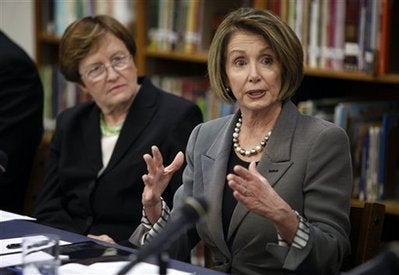 House Speaker Nancy Pelosi told the Huffington Post Thursday that a health care overhaul that did not include a public option wouldn't make it through the House because it "wouldn't have the votes."
At a press conference earlier in the morning, Pelosi had been asked if including a public plan that would compete with private insurance was "essential" to health care reform.
"Can you have effective health care reform without a public option?" a reporter asked.
The goal, she responded, was affordability and accessibility. "If you have another way to do that, put it on the table. And that's where we are. Everything should be on the table," she said.
The open-ended answer led some reporters after the press conference to wonder if she was backing off her statement to MSNBC Wednesday that a bill without a public option wouldn't get out of the House.
Not at all, she said. Asked by HuffPost if she would allow a reform package without a public option out of the House, she responded: "It's not a question of allow. It wouldn't have the votes."
The bill would lack the votes because the GOP generally opposes Democratic reform proposals, and the 77 member Congressional Progressive Caucus -- rarely heard from on the Hill -- has been particularly vocal in its commitment to oppose any reform that doesn't include a public option. The public plan's popularity extends beyond progressives and is broadly popular with the Congressional Black Caucus, Congressional Hispanic Caucus and even two-fifths of Blue Dogs, the conservative Democratic coalition.
Pelosi, during the press conference, also rejected a compromise proposal by Sen. Kent Conrad (D-N.D.) to create private, nonprofit, regional health care cooperatives instead of a national public option.
Pelosi wasn't having it: "Not instead of a public option, no," she said.
Popular in the Community