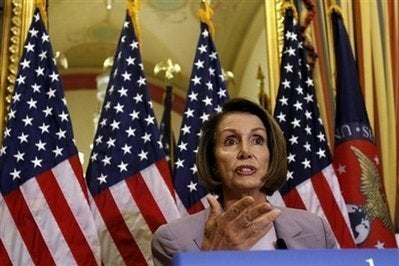 House Speaker Nancy Pelosi told reporters at a Thursday briefing that she was glad to see the Senate making progress on its version of health care reform but she emphasized that the House plan would look markedly different - by including a public option.
"I fully support the public option. The public option will be in the bill that passes the House," Pelosi (D-Calif.) said purposefully.
By including a public health insurance option in the House version, Pelosi will set up a confrontation between the House and the Senate when they meet in conference committee to hash out the differences between the two bills.
She demurred when asked to evaluate the bill unveiled by Senate Finance Committee chairman Max Baucus (D-Mont.), saying that she was watching how it progressed. She did not commit to a vote on the House floor on a health care bill before the Senate acts, saying that she was unsure of the upper chamber's schedule. She did say, however, that the bill would move before the end of the year.
The Baucus bill largely conforms to a deal that the committee, the White House and the pharmaceutical industry struck this summer. It doesn't allow for the government to negotiate with drug makers to lower costs or to re-import cheaper drugs from Canada.
"We have different things in our bill. We have the right to negotiate rates in the Energy and Commerce [Committee] bill," Pelosi told the Huffington Post after the briefing. "The Senate bill does not close the doughnut hole. We do," she added, referring to the period of time when Medicare does not cover prescription medicine for seniors. "And so we have some differences on those issues that relate to prescription drugs."
Popular in the Community