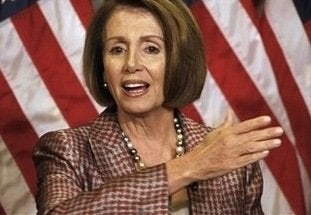 House Speaker Nancy Pelosi (D-Calif.) increased Democratic pressure on the health insurance industry Thursday, telling reporters that there is "tremendous interest" in the House in revoking the industry's anti-trust exemption.
The insurance industry recently declared war on the Democratic health care reform proposal, releasing two reports claiming that the proposal would raise the cost of premiums. Democrats hit back hard and independent analysts said that the reports cherry-picked data and ignored relevant portions of the proposal.
Democrats are also fighting back legislatively. "There is tremendous interest in our caucus, and, in fact, the Judiciary Committee has had a hearing on ending the exemption to McCarran-Ferguson, the antitrust bill," Pelosi said, unprompted, at her weekly press conference.
The insurance industry gained the exemption in 1945; in most parts of the country, a single insurer has monopolistic dominance and the ability to set prices.
On Wednesday, Senate Majority Leader Harry Reid (D-Nev.) gave rare testimony before the Senate Judiciary Committee, speaking in favor of ending the anti-trust exemption. Reid is considering removing the exemption in the merged health care bill he is currently writing with other Senate leaders.
Pelosi's push from the other side of the Capitol ramps up the pressure. The House Speaker has consistently been the most direct in her anti-insurance industry rhetoric and Thursday was no exception, saying that "it is well known to the public that the health insurance companies are the problem."
Pelosi said those companies won't like the final House bill.
"Now, there are some things that we want to see happen to the insurance companies that they may not like. I mean, there are some things that we are considering. The Senate has a flat fee on the insurance companies, $40 billion. That may be something we want to look at for our bill in terms of our pay-fors. There is in our bill 85 percent a medical loss ratio. That means they must spend 85 percent of every dollar that they collect in premiums on benefits. Many of them don't come anywhere near that now. They are using the money for their own purposes, not as a return, as insurance should be, to the beneficiaries," she said.
Popular in the Community