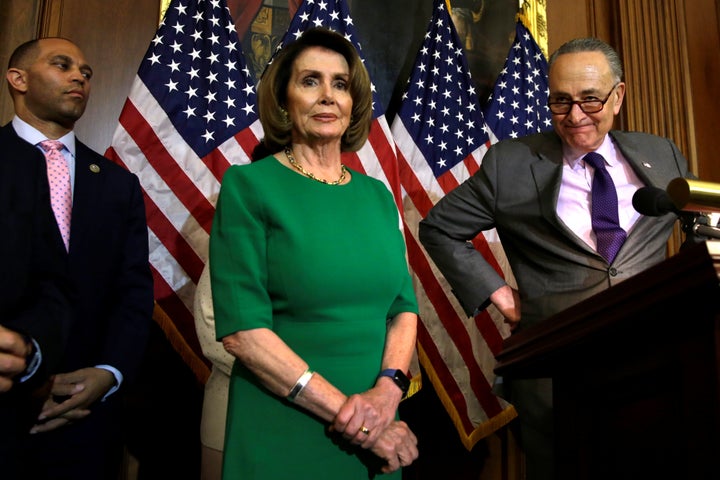 "Yeah they did," Pelosi told HuffPost in a Tuesday interview. "That's what happened."
Pelosi was among the Hill leaders who met with Trump last week to hash out a deal on raising the debt limit, funding the government and providing Hurricane Harvey aid. Senate Majority Leader Mitch McConnell (R-Ky.) and House Speaker Paul Ryan (R-Wis.) were pressing for an 18-month extension on the debt ceiling, which would put off the issue until after the 2018 elections. They don't like dealing with this issue since many conservatives won't vote to increase the debt limit without spending cuts, and they need Democrats to get it done. It's one of few areas of leverage Democrats have in the minority; Democrats could offer to help raise the debt ceiling in exchange for, say, a vote on the DREAM Act.
In other words, the more times Congress has to vote to raise the debt limit, the more times Democrats have an opening to push for concessions.
So when McConnell and Ryan urged Trump to support extending the debt ceiling for 18 months, Pelosi and Senate Minority Leader Chuck Schumer (D-N.Y.) proposed doing it for three months. Ryan said that idea was "ridiculous, irresponsible, stupid," recalled Pelosi. "And then, we went into a meeting where the president agreed to that 'irresponsible, ridiculous, stupid proposal.'"
Trump's decision to buck GOP leaders left McConnell on defense earlier this week, when he said Democrats were prematurely celebrating the short-term deal. He argued he actually outmaneuvered them, by including language in the newly passed bill that preserves the Treasury Department's ability to apply "extraordinary measures," allowing it to shift money within government accounts to extend the period of time before the next debt limit vote. That language means Congress won't have to vote on a debt ceiling again until well into 2018, he said.
The scenario still leaves GOP leaders with a debt ceiling vote ahead of next year's election, though. In fact, the closer it gets to the November elections, it's arguably an even more dicey vote for Republicans. 
Pelosi said she didn't know what McConnell was talking about. "He's cleaning up his act and you [reporters] are falling for it or something, I don't know," she told HuffPost. "That was like, what? Because he put extraordinary measures? No, we wanted extraordinary measures." 
She added that it was McConnell who "unwittingly, probably," gave Democrats the perfect opportunity to get a short-term spending deal. During the White House meeting, he proposed the idea of funding the government for three months, she said. Democrats weren't expecting that, she said, and responded that they should extend the debt ceiling for the same amount of time, bundle the two issues together and call it a day. Trump agreed.
McConnell spokesman Don Stewart disputed Pelosi's characterization of the meeting, saying that Democrats objected to keeping extraordinary measures in the bill and said the GOP leader did not set the bar for a short-term deal. He pointed to a statement that Pelosi and Schumer issued ahead of the White House meeting showing that they were planning to push for a three-month debt ceiling hike.
"She's giving you some revisionist history," Stewart said, referring to the idea that McConnell was the first to float the three-month timeline.
Asked how McConnell and Ryan reacted when Trump announced that he was with Democrats on the deal, Pelosi shrugged. "Silence, I think."
Calling all HuffPost superfans!
Sign up for membership to become a founding member and help shape HuffPost's next chapter
BEFORE YOU GO
PHOTO GALLERY
All The People Trump Attacks In His New York Times Interview