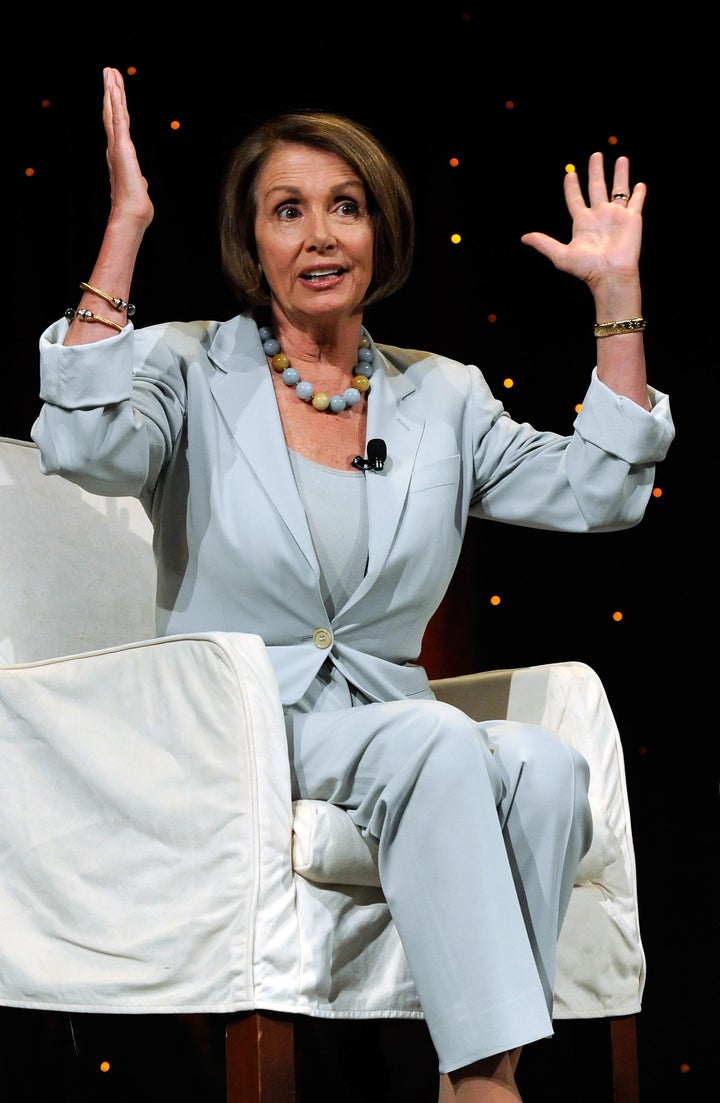 WASHINGTON -- House Speaker Nancy Pelosi (D-Calif.) will make a bid to be Democratic minority leader, she announced Friday via Twitter. "Driven by the urgency of creating jobs & protecting #hcr, #wsr, Social Security & Medicare, I am running for Dem Leader," she tweeted.
Pelosi has a broad base of support and her deputy, Rep. Steny Hoyer (D-Md.), saw much of his base of conservative Democrats wiped out on Tuesday. Hoyer has said previously that he would not challenge Pelosi if she decided to stay. For weeks, the national media have assumed, without evidence, that Pelosi would step down if Democrats lost the House.
Hoyer, Pelosi's second in command, will not challenge Pelosi for the top job but is considering a bid for minority whip. That clears the field for Pelosi, making her the presumptive minority leader.
"Hoyer has received a lot of support from members over the past several days urging him to stay as a part of leadership. He'll spend the next couple of days talking to members and getting their thoughts on him being minority whip," Hoyer spokeswoman Katie Grant told HuffPost.
If he decides to run, he'll face a challenge from the current number-three Democrat, Rep. James Clyburn of South Carolina, who is the majority whip. Clyburn declared his intention to run for the number two spot in a letter to Democratic colleagues Friday. Reps. John Larson (D-Conn.) and Xavier Becerra (D-Calif.) announced bids for the three and four spots, positions they currently hold, and have yet to be challenged.
Before she announced her bid, Democratic activists had begun a public campaign to persuade Pelosi, arguably the most progressive speaker in House history, to stay, with Americans United for Change thanking her for what she accomplished at thankyouspeakerpelosi.com. They have an ally in the House GOP, which also says it would like her to stay, but for the opposite reason. "The definition of insanity is doing the same thing over and over again, and expecting a different result. Of course, if House Democrats are willing to sacrifice more of their members in 2012 for the glory of Nancy Pelosi, we are happy to oblige them," said Ken Spain, spokesman for the campaign arm of House Republicans.
Conservative Democrat Dan Boren of Oklahoma and Rep. Albio Sires of New Jersey, a member of the Democratic Congressional Campaign Committee's leadership, announced publicly they would not support Pelosi for leader. DailyKos, meanwhile, is gathering support for a bid by Pelosi to remain Democratic leader. It is only the third petition the site has ever done.
MoveOn.org is also gathering support for Pelosi, asking members to call, Facebook or tweet: "RT @MoveOn: I want @SpeakerPelosi to lead Democrats in the new Congress. RT if you agree."
WASHINGTON -- House Speaker Nancy Pelosi (D-Calif.) is canvassing members of the Democratic caucus before deciding whether to make a bid for House minority leader, she told The Huffington Post in an interview Thursday. Though Pelosi has yet to reach and ask for support, she said, calls and emails of encouragement have come from House colleagues and members of the progressive community.
"I've gotten a positive response," said Pelosi, adding that she was "very encouraged and complimented" by her colleagues' reactions. "Of course, the ones you will hear from are the ones who want you to run ... Everything is very positive in what they say, complimentary about how I've kept the caucus together, complimentary about the fact that we won in the first place [in 2006] and increased our numbers [in 2008] and that we have to come right back in that regard. But I'll be very honest with you, it hasn't been something I've -- maybe tonight when I get home and after everybody goes to sleep and start reading the memos and calling people if it's not too late -- or at least I can call the west coast, then I'll have more of an appraisal of it."
Pelosi is still widely popular with the Democratic caucus, given credit for taking the House back from the GOP in 2006 and for using the gavel to push through as ambitious an agenda as any speaker in congressional history.
Conservative Democrat Heath Shuler (D-N.C.) has floated the prospect of challenging Pelosi for minority leader, but he is taken about as seriously by his Democratic colleagues as he was by secondaries when he was a bad quarterback in the National Football League.
Pelosi said that she was still focused on the remaining races that remain undecided and wouldn't make a decision until the verdicts are in. "We're still in the fray to a certain extent, and I have to keep my attention on that rather than on [my future], because that is time sensitive," she said. "Then I'll go to the next step. But I'm very encouraged and complimented by ... all of those people, whether it's emails or messages or whatever, it's encouraging."
Election Day, however, was a "very sad day for us," Pelosi said.
In her estimation, the jobless problem swamped their accomplishments. "We believe that there's a big distinction between Democrats and Republicans, but nine and a half percent unemployment is just such an eclipsing phenomenon that no message really can come through unless it's a message that says, 'Here's your job,'" she said. "From our standpoint, we have saved the country from eight and a half million jobs lost, from 14 and a half percent unemployment and the rest. But you don't get any credit for what you prevented from happening."
She warned Republicans not to think of the election as a validation of ideas that voters rejected in 2008. "The election was no ringing endorsement of Republicans," Pelosi said. "We do not accept their version of what this election means. It's not about rejecting what President Obama has done. It didn't go fast enough to create jobs. That's what it's about."
Pelosi is still House speaker until the 112th Congress is sworn in in January. While she still has the gavel, she said, she'll work to pass tax cuts for income under $250,000. She said she spoke to the president on Wednesday after his press conference and that he was clear that he did not support extending them for those at the top. Her second priority, she said, is to approve a $250 payment for Social Security recipients who did not get a cost-of-living adjustment for the second straight year. She also hoped to pass child nutrition and food safety legislation, depending on what the Senate could accomplish, she said. A food safety bill has been stuck on the Senate side for months.
Popular in the Community