House Speaker Nancy Pelosi (D-Calif.) on Wednesday said the House will not be considering proposed legislation to overhaul the National Emergencies Act — a move that could give cover to skittish GOP senators who are facing a tough vote disapproving of President Donald Trump's national emergency declaration on the border. 
"Republican Senators are proposing new legislation to allow the President to violate the Constitution just this once in order to give themselves cover. The House will not take up this legislation to give President Trump a pass," Pelosi said in a statement. 
The Senate is set to vote Thursday on a resolution bucking Trump on his declaration, which would let the administration divert billions of dollars from the Department of Defense to build his wall on the southwestern border. Four GOP senators have said they intend to support the resolution, and up to a dozen more are said to be privately weighing whether to do. Trump has threatened to veto the measure ― which would be the first veto of his presidency.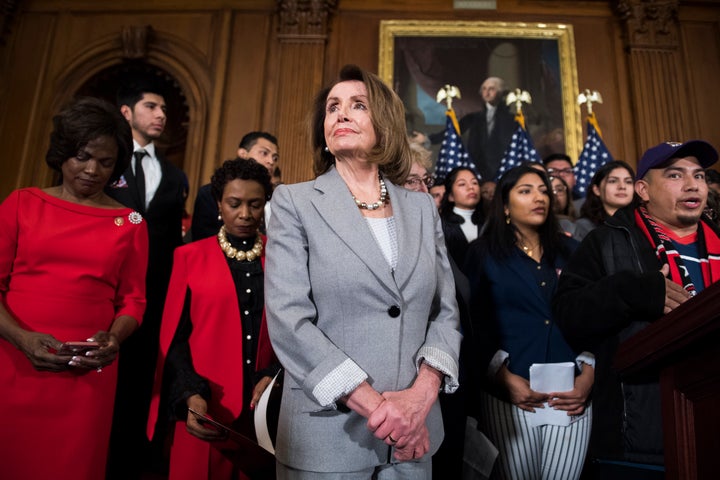 Republicans this week began serious discussions to claw back some powers given to the executive by the National Emergencies Act of 1976. A bill introduced Tuesday by Sen. Mike Lee (R-Utah) would automatically end presidential emergency declarations after 30 days unless Congress votes to extend the emergency. A vote on that bill could give undecided senators incentive to stand with Trump and oppose the disapproval resolution despite their concerns about his emergency declaration.
"It would certainly be an improvement," Sen. Ted Cruz (R-Texas), who remains publicly undecided on the vote, told HuffPost on Tuesday.
The White House has yet to endorse the proposal, however. Several GOP senators who expressed concern about the declaration on constitutional grounds met privately with Vice President Mike Pence about the matter on Tuesday, including Sens. Thom Tillis (N.C.) and Lamar Alexander (Tenn.), and Pat Toomey (Pa.). 
But even a pledge from Trump to back changes to the National Emergencies Act may not be enough to avert an embarrassing defeat in the Senate, thanks in part to members of his own party, according to Sen. John Thune (R-S.D.).
"I'd be really surprised on an outright vote that there would be votes to defeat [the disapproval resolution], but I think it might change a number of votes," said Thune, the No. 2 Republican in the Senate.
He added, "Obviously, the numbers ― the math matters here." 
And without House Democrats on board to make revisions to the law, skittish GOP senators would essentially be voting for a symbolic measure allowing them to say they support Trump on border security and also reining in the executive — just not this time.
Calling all HuffPost superfans!
Sign up for membership to become a founding member and help shape HuffPost's next chapter