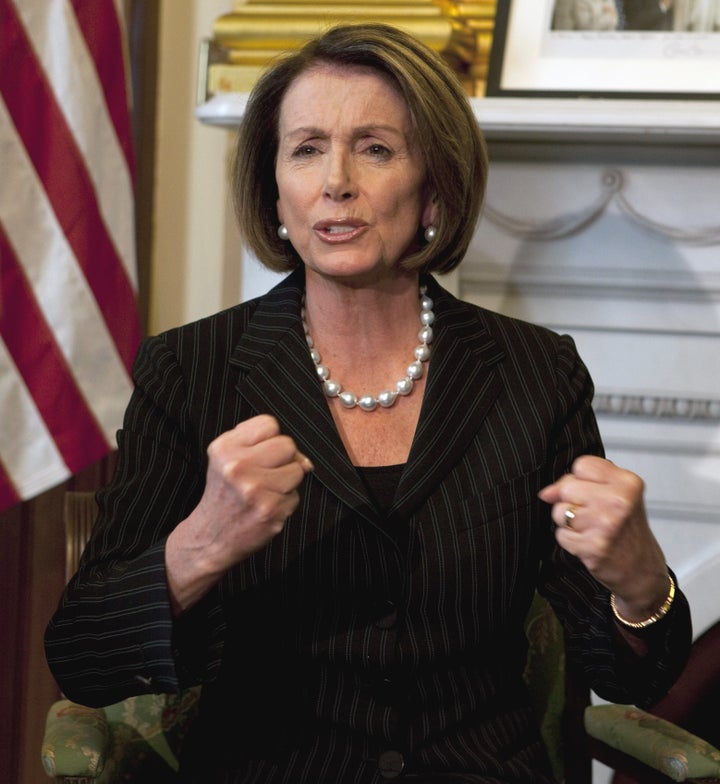 House Speaker Nancy Pelosi said Thursday that there's been plenty of time for amendments already, so neither her caucus nor members of the minority party should expect a chance to amend the health care bill when it gets to the House floor.
"I've considered all of that input as our amendment process," Pelosi said on a conference call with bloggers, citing "probably 78 caucuses on this subject where we've listened to members [and] 2,000 town meeting on this subject."
Opponents will still have a chance to register opposition, she said. "Everybody has options on the floor, whether it's the previous question, the rule, the motion to recommit," she said, referring to parliamentary options the minority has at its disposal. "It isn't as if the floor is without opportunity for people with another view but if the other view is not to have health care reform and just to put a poison pill there, then I'd have to take that into consideration."
So there's still a chance you'd allow amendments, Joan McCarter of DailyKos asked.
"I'd have to be talked into it," Pelosi said.
The speaker hopes to avoid divisive amendments on abortion, immigration or other wedge issues that could split her caucus. In denying her conservative wing, however, she may also deny progressives the amendments they've been pushing for on a more robust public option and on single-payer health care.
Rep. Anthony Weiner (D-N.Y.) had been publicly promised a vote on a substitute amendment to replace the entire bill with single payer. He said he still expects to get it. "As of this moment I've been told I'm going to get it," he said.
Joking with reporters, however, he seemed resigned that he might not. He recalled the story of an old congressman who let a young man in on an institutional secret: "You're a hard working young man. You really seem very earnest. You know all the right people, but I want you to know: this place ain't on the level," Weiner quoted the old congressman saying.
If he was denied his vote, he said, he "wouldn't be the first person to learn that this place wasn't on the level."
Rep. Dennis Kucinich (D-Ohio) was able to include a single-payer amendment in one of the three House bills that made the base of the bill Pelosi unveiled today. But it was stripped out of the final product.
His amendment would have allowed individual states to choose a single-payer system if they chose. "That's where single-payer is headed, to the state level," Kucinich told HuffPost.
"They took it out without any explanation. I'm trying to see if there's a way to get the amendment back in the bill," he said. "Insurance interests were careful to target that amendment. There's no question they were instrumental in knocking it out."
Kucinich fumed that the House bill doesn't go far enough. "They took single-payer off the table right at the beginning, because the table was set by insurance companies," he said.
Pelosi said that she told her caucus Thursday morning that she has been a single-payer supporter herself for 30 years, but wasn't sure if she'd allow the amendment to come up for a vote. Besides, she said, it would need to be scored by the Congressional Budget Office, which could take quite some time.
And Pelosi is in a hurry. "We'd like to get [the floor vote] done before we go home for Veterans Day," she said. "Next week or the week after is when we will be voting on the bill under the best of circumstances."

Calling all HuffPost superfans!
Sign up for membership to become a founding member and help shape HuffPost's next chapter