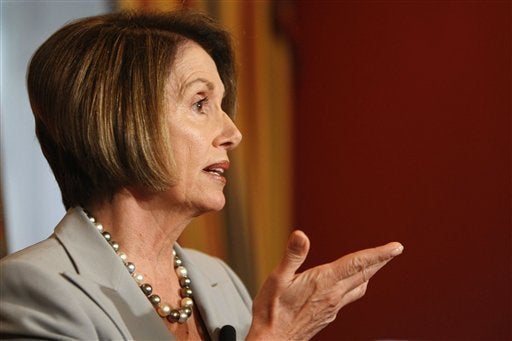 As President Obama proposes expanding the power of the Federal Reserve, the movement against its closed process continues to grow stronger in the House of Representatives.
The Ron Paul-sponsored bill to audit the Fed picked up another dozen cosponsors over the last several days, with Rep. Louis Slaughter (D-N.Y.), chair of the Rules Committee, marking the 234th signer -- 16 more than needed for passage -- and the 67th Democrat.
House Speaker Nancy Pelosi (D-Calif.) reflected on the growing anxiety people feel about the Fed at her weekly news conference Thursday.
"The fact is that the American people want to know more of the secrets of the temple," said Pelosi, referring to the William Greider book. ("It was required reading in my day," she said.)
Pelosi recounted that when Fed Chairman Ben Bernanke came to Congress to tell its leaders that American International Group needed $80 billion, they wondered where the money would come from.
"Many of us were, shall we say, if not surprised, taken aback when the Fed had $80 billion to invest -- to put into AIG just out of the blue. All of a sudden we wake up one morning and AIG has received $80 billion from the Fed," she said. "So of course we're saying, Where's this money come from? 'Oh, we have it. And not only that, we have more.' So a balance has to be struck as to what is required to run the Fed in a responsible way, but what transparency there should be so that as the Fed even assumes more power, as indicated by what the president had to say, that the American people have more knowledge about it."
It's House leadership's willingness to confront the Fed -- or at least continue to say they'll confront it -- that has persuaded Paul, a Republican from Texas, not to file a "discharge petition" that could force a vote on the House floor.
"People are bugging me -- my supporters are mad at me because I haven't pushed the discharge position," Paul told the Huffington Post on Thursday afternoon.
He had no immediate plans to do so, he said, because Financial Services Committee Chairman Barney Frank (D-Mass.) is continuing to work with him. And a major financial regulation reform package coming from the White House could also be a vehicle to include his measure, he said.
"Some hearings [are scheduled for] next Wednesday and following that there may be some more and there will be a big reform bill. And I think they're open to my suggestions," he said.
"The other side of the coin is the powers to be don't want it. They'll put a lot of pressure on both Republican and Democratic leaders. They'll probably try to get the political benefit of supporting my efforts, while at the same time putting some loopholes in there where we'll not find out what the Fed's really doing. The Fed's powerful," he concluded.
Pelosi, while sympathetic to Paul's bill, added that she wasn't familiar with the details. Paul said he'd take care of that.
"I might catch her up to date," said Paul, smiling and heading back on to the House floor to look for the speaker.
Popular in the Community