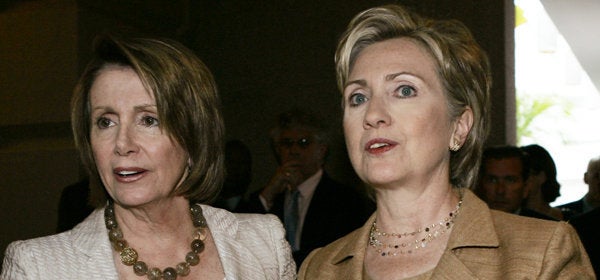 House Speaker Nancy Pelosi urged disaffected backers of Hillary Clinton to support Barack Obama's choice for vice president, even if he picks a female candidate not named Clinton.
"I don't think we should be making an issue after the primary is over about who should be vice president. That would have been up to Hillary Clinton and would have been up to Barack. And it is up to Barack," said the Speaker, when asked about the possibility. "The only one thing important right now is party unity. None of us can afford the luxury of 'my candidate doesn't win the nomination' or 'my candidate wasn't chosen as vice president, I'm taking my marbles and going home.' The future of our planet is at stake: our budget, the constitution, the safety of our troops, everything is at stake in this election."
Pelosi's remarks to the Huffington Post come amidst growing concern that should Obama choose as a running mate a woman other than Clinton - say, Kansas Gov. Kathleen Sebelius - he would anger the New York Democrat's backers, many of whom see the gender glass ceiling as hers to break. On Sunday, the New York Times reported on these concerns in addition to breaking the news that Clinton was officially being vetted for the post.
"I'm respectful of those who have a preference, and hopefully their wishes will prevail," Pelosi said of the possibility of a backlash. "But if they don't there is nothing compared to the choice we have between John McCain and Barack Obama."
The highest-ranking Democrat in Congress and the first female Speaker of the House of Representatives, Pelosi preemptively declined to suggest whom Obama should pick as his number two, though she continued her advocacy for Rep. Chet Edwards of Texas (a centrist Democrat with little likely shot for the vice presidency). But in a wide-ranging interview, she did touch on several issues pertinent to the race for the White House and offered some sharp words for Sen. John McCain.
"McCain's campaign is an old way of doing things," she said, "endless money, no commitment to the fact and denial about the situation as it exists in our country and overseas. That has been the modus operandi of the Bush campaign, and now of the McCain campaign. This administration has been a failure in every respect," she went on. "And the very identification of the Bush people and, for example, Rove and his protégés [in reference to newly elevated campaign manager Steve Schmidt] in the McCain camp says that we are in for more of the same: same campaigning tactics, same policy for our country."
Speaking shortly after Al Gore addressed a surprised crowd at Netroots Nation, Pelosi used the appearance of the former vice president to highlight the broad importance of the general election. "I think about [what could have been] all the time," she said. "I like to say this first seven and a half or eight years of this century are ones we just might have to have a fresh start from. Let's start the century over."
A fresh start, Pelosi acknowledged, is ultimately determined by the prerogatives of the voters. And the California Democrat laid out a plan for expanding Democratic numbers in Congress -- what some (but not Pelosi) would refer to as a permanent Democratic majority. "I'm talking about a predictable, competent, bipartisan Congress," she said, offering an alternative label with a smile.
"I had a plan going into '06, that we would win in '06. Now we must solidify that victory by reelecting those members. It is no small feat. These are very difficult races." Moreover, she hinted at the reality that 2010 could be tough cycle for Democrats across the country, with several potentially vulnerable Democratic senators and governors up for reelection, and a traditionally negative climate for incumbents during midterm elections. "[We must] withstand whatever they do in 2010 and be ready for a new map in 2012."
Popular in the Community