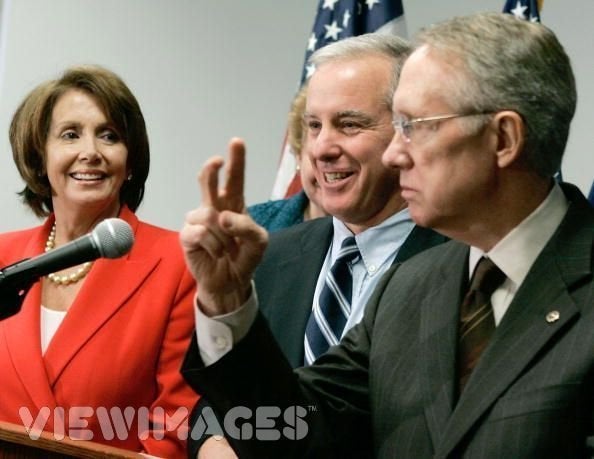 Updated With Statement Below
In the absence of a concession speech from Sen. Hillary Clinton on Tuesday night, top figures in the Democratic Party went public, urging all uncommitted officials to declare their presidential affiliations.
Senate Majority Leader Harry Reid, House Speaker Nancy Pelosi, DNC Chairman Howard Dean, and an official with the Democratic Governors Association released a public statement on Wednesday morning requesting that the party close its ranks and prepare for the race against Sen. John McCain.
The move, which had been anticipated but seemed unnecessary following Obama's clinching of the nomination on Tuesday night, is an indication that few figures beyond Clinton's utmost loyalists are willing to stomach a prolonged vacation period for the New York Democrat to make up her mind.
Obama, regardless of how the remainder of uncommitted officials come down, has declared the mantle of presumptive Democratic nominee. And it seems, at this point, that he is willing to put Clinton behind him in his efforts to focus on the general election match-up.
But during her speech in New York on Tuesday, Clinton offered scant indication that she was fully committed, at this juncture, to getting behind the Illinois Democrat.
"Now the question is, where do we go from here," Clinton said, "it's a question I don't take lightly. This has been a long campaign, and I will be making no decisions tonight. But this has always been your campaign, so to the 18 million people who voted for me and to our many other supporters out there of all ages, I want to hear from you. I hope you'll go to my website at HillaryClinton.com and share your thoughts with me and help in any way that you can."
Wednesday's statement by Democratic leadership seems designed to preempt any thoughts of a continued primary challenge. It declares that Democrats will be united heading towards November, and stresses the need of uncommitted superdelegates to declare their support for a candidate.
The text of the statement is as follows:
"We have come to the end of an exciting primary and caucus process - the voters have spoken. As the Democratic leaders of the Senate, House of Representatives, the Governors and the Democratic National Committee we commend all of the participants of the 2008 primary process, especially Senators Hillary Clinton and Barack Obama, for making this such a transformational election. Because of the enthusiasm our candidates have inspired, our party has brought record numbers of voters to the polls, gained millions of newly registered Democrats and now has advantages in states many thought were difficult to win. We are grateful to the millions of Independents and Republicans who have crossed over to vote for a Democratic candidate for President.

"Democrats must now turn our full attention to the general election. To that end, we are urging all remaining uncommitted super delegates to make their decisions known by Friday of this week so that our party can stand united and begin our march toward reversing the eight years of failed Bush/McCain policies that have weakened our country.

"We once again congratulate all of the candidates for their leadership and dedication to providing this country with a New Direction. We look forward to working with them and with all Democrats to win the White House, congressional seats and state capitals so we can deliver the change the American people deserve and demand."
Popular in the Community