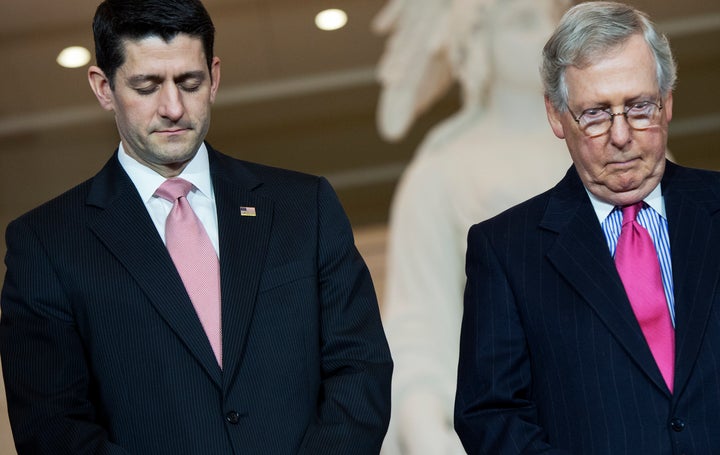 WASHINGTON ― The failure of Republican leaders to denounce Donald Trump's refusal to abide by a potential electoral loss is worsening the damage the GOP presidential nominee is already doing to America's democratic system, House Minority Leader Nancy Pelosi (D-Calif.) charged Thursday.
Trump has infamously been declaring that the election is rigged against him. When asked point blank in Wednesday night's debate if he would accept the results of the vote in November, Trump refused to say he would, instead saying people would see when it happens and that he prefers to have suspense.
Some of Trump's surrogates said he didn't really mean it, and some Republicans have ripped Trump for threatening more than two centuries of U.S. electoral stability and tradition.
Yet, the two top-ranking Republicans in the United States ― Senate Majority Leader Mitch McConnell (Ky.) and House Speaker Paul Ryan (Wis.) ― have been entirely quiet.
Neither office had anything to say to HuffPost's repeated queries on the subject, although Ryan's spokeswoman, AshLee Strong, pointed to what she said on Saturday: "Our democracy relies on confidence in election results, and the speaker is fully confident the states will carry out this election with integrity."
Pelosi essentially called the GOP leaders cowards, and declared it was time for them to speak up.
"Last night, Donald Trump once again threatened the foundation of American democracy itself, and Speaker Ryan and Sen. McConnell can't find the courage to stand by the sanctity of our electoral system," Pelosi said.
"The deafening silence of Speaker Ryan and Sen. McConnell only worsens the lasting damage that will be caused by this unprecedented assault on our values as a nation," Pelosi said in a statement. "Silence is complicity. Evasion is unacceptable. Speaker Ryan and Sen. McConnell must make it unequivocally clear that they reject Trump's horrifying attack on our elections."
Her counterpart in the Senate, Minority Leader Harry Reid, gave a similar challenge Wednesday night.
"Donald Trump's refusal to accept the results of the upcoming election is horrifying," the Nevada Democrat said.
"Every Republican leader must immediately join Democrats in denouncing Trump's utter contempt for our democracy," Reid added. "At long last, it is time for Republican leaders to put their country ahead of their party."
McConnell and Ryan have both criticized some of Trump's statements in the past, but neither have withdrawn their endorsements of the ill-tempered mogul. Their reluctance may owe to Trump's strong standing among Republicans. Indeed, a Bloomberg Politics survey released Thursday found 51 percent of Republicans think Trump's views best match their vision for the Republican Party, compared to just 33 percent who feel that way about Ryan.
This post has been updated with more background on the relationship between Trump and GOP leaders.