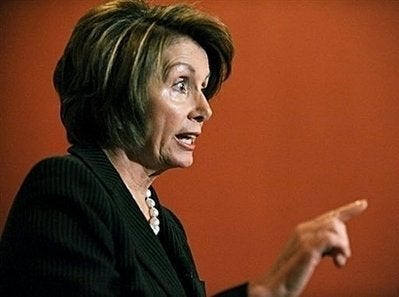 Sen. John McCain is traveling west on Monday for a fundraiser in San Francisco. And while it's hardly rare for a major politician to raise money in the city by the bay -- campaign fundraising is a bit like bank robbing, you go where the money is -- it is nevertheless notable. GOP officials are more accustomed to using San Francisco as a political boogeyman than as an ATM.
Earlier in this election cycle, for instance, Missouri GOP Rep. Sam Graves put out an attack ad against his Democratic opponent, accusing her of partying it up with current House Speaker Nancy Pelosi at a -- you guessed it -- San Francisco fundraiser. The spot included a colorfully dressed black male dancing it up with two scantily clad female counterparts -- a previously unachieved synthesis of gay baiting, race baiting and thinly veiled innuendo of devious sexual acts.
The Huffington Post recently had the opportunity to ask Pelosi what it was like to have her home city so often impugned. Her response to the GOP: get over your envy.
"San Francisco values to me means that every child in our city has health insurance until they are 25 years old. San Francisco values say we don't have a minimum wage, we have a living wage. In San Francisco we respect the dignity and worth of every person and respect is the order of the day there. Issues like protecting the environment aren't issues for us -- they are values and ethics.

"I think they highlight them because they are the forces that are fighting health insurance for our children... they are the forces that are fighting increases in the minimum wage. So when they sort of use their winks and nods about San Francisco values, they are talking about the fact that we respect our gay, lesbian, bisexual and transgender community. But what they are really afraid of is economic justice.

"Someone showed me a letter they sent out the other day -- this is how pathetic they are -- on the cover in bold black pen, like a quarter of an inch thick, across the page of this fundraising letter, it said 'Nancy Pelosi Wants You To Die.' It looks just like a letter. Imagine if you were to get something like that in your home. It is very threatening. They are bankrupt. The Republicans are bankrupt. They have no ideas about the future, they are agents for the status quo, thank god there are a few of them that vote with us on the issues."
Popular in the Community