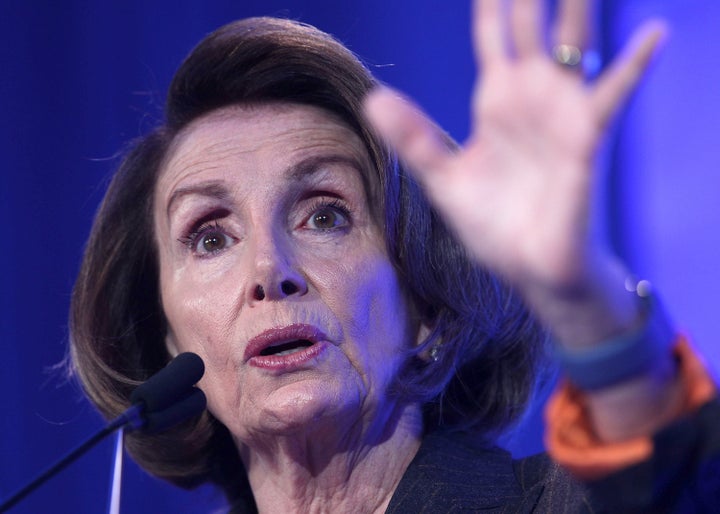 WASHINGTON ― Minority Leader Nancy Pelosi (D-Calif.) on Sunday gave her most direct call yet for Attorney General Jeff Sessions to remove himself from an investigation into President Donald Trump and his campaign's ties to Russia.
"The attorney general must recuse himself," Pelosi said on ABC's "This Week."
"You have seen a flurry of activities that are completely inappropriate," Pelosi said. "Encouraging lawmakers, encouraging intelligence officials to say that something is one way or another. Let's have the investigation and find out the truth."
Pelosi was referring to recent reports about the Trump White House enlisting intelligence officials and key lawmakers, like House Intelligence Chairman Devin Nunes (R-Calif.) ― the lawmaker who would normally hold a congressional investigation into this matter ― to counter the narrative about Russian interference and inappropriate ties to the Trump campaign.
Republicans have repeatedly deferred questions about Russia and Trump to the intelligence committees in Congress and the Department of Justice.
But considering Sessions' role in the Trump campaign, Pelosi and other Democrats want a special, independent investigation outside of the DOJ. And given Nunes' ties to the campaign, as well as his apparent willingness to take direction from the White House, congressional Democrats are doubting the ability of their Republican counterparts to seriously look into the matter.
DOJ ethics guidelines prohibit employees from being involved in investigations in which they have a "personal or political relationship with any person or organization substantially involved in the conduct that is subject of the investigation or prosecution, or who would be directly affected by the outcome."
Responding to questions about how appropriate it would be for someone like Sessions, who was so involved in the Trump campaign, to oversee an investigation into the Trump campaign, White House deputy press secretary Sarah Sanders said Congress had the power to investigate these questions, and any probe into Trump and Russia would start with Congress and the intelligence committees.
"We're extremely confident that whatever review, they're all going to come to the same conclusion that we had no involvement in this," Sanders said.
But, again, Nunes himself is looking incapable of an impartial investigation, and Democrats believe the matter rises above a normal congressional inquiry.
Pelosi noted that there are now more than 100 Democrats ― "plus one Republican" (Walter Jones of North Carolina) ― calling for an outside commission into Trump's "personal, political, and financial" ties to Russia, and she renewed her call for Congress to pass a bill establishing that investigation.
Popular in the Community