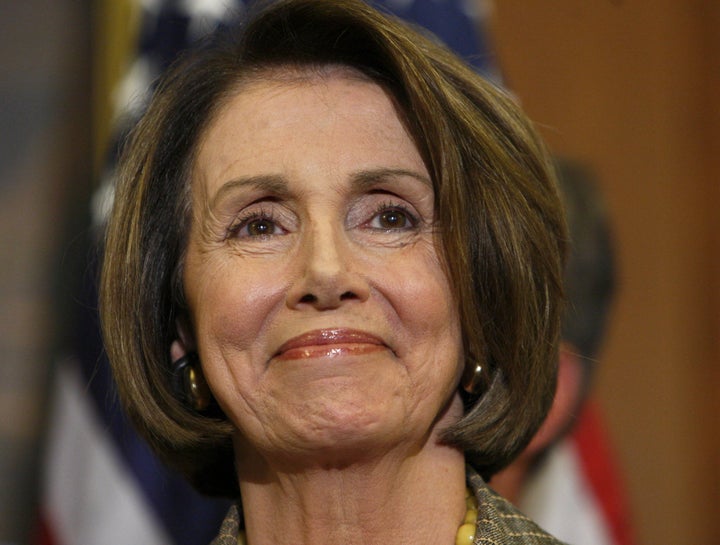 An amendment to allow states to pursue single-payer health care without incurring insurance-industry lawsuits was stripped from the House bill, Speaker Nancy Pelosi (D-Calif.) said Thursday, adding that it would break President Obama's commitment to people keeping their current insurance plan if they like it.
She also said that she had yet to decide whether to allow a vote on a separate amendment from Rep. Anthony Weiner (D-N.Y.) that would replace the entire health care bill with a single-payer system. "We are probably going to be addressing some of those issues in the next 24 hours," she told HuffPost.
Weiner is outwardly optimistic he'll get a vote. "She made a commitment back when the consideration of this bill was first contemplated. She agreed to have a vote on single payer then because we didn't have it in committee. I'm looking forward to it," he said. "She's an honorable person and she's a good Speaker and she supports single payer. She says it over and over again."
The amendment to allow states to individually implement single-payer was sponsored by Rep. Dennis Kucinich (D-Ohio) and passed the Education and Labor Committee's version of the health care bill. There were shenanigans involved, with Republicans joining Kucinich not because they supported the bill but because they wanted to create mischief. (Asked about the GOP position, Rep. Mike Pence (R-Ind.) said that the party's opposition to single-payer health care trumps its support of states' rights.)
"The three chairmen blended the bills; that was in one of the bills. And in the harmonizing of the legislation, the decision was made not to go forward with that," Pelosi said of the Kucinich amendment. The Ways and Means and Energy and Commerce Committees also passed versions of the health care bill.
Kucinich tells HuffPost that his amendment was scored by the Congressional Budget Office and that it is deficit neutral. The amendment would prevent insurers from suing states after they enact single-payer.
Pelosi said, however, that it was unclear what the overall effect of it would be. It's hard to know, of course, whether and when states would enact single-payer systems.
"All of our decisions are based on what we have to be answerable for in terms of the Congressional Budget Office, about what the cost will be," she said.
"And what does that mean? What does it mean to Medicare? What does it mean to others: If you like what you have now, you can keep it. The President made that commitment and our legislation honors that commitment."
Kucinich, told about the Speaker's comment, said he hasn't given up. "The Speaker's a friend of mine. The president's a friend of mine. I talked to the president about this on several occasions, including last week. This is a decision that has to be made by Congress. And I'm hopefull we'll be able to get the Kucinich amendment reinstated," he said.
The president, Kucinich said, didn't commit one way or the other to his amendment, but understands how important it is to progressives.
"There's a national movement behind us. There's tens of thousands of calls that have been directed into this Capitol in the last few days in support of protecting the right of states to pursue their own single payer plan," Kucinich said, pledging to continue the pressure. He had a meeting scheduled with the Speaker for one p.m. Thursday, along with other progressives, he said.
House leadership may not have realized, Kucinich ventured, how important the amendment was to securing the support of a number of progressive members. If those votes are needed to move the bill to the president's desk, he said, the amendment could come back in play.
"There's still a chance that it could get back in the bill," he said.

Popular in the Community