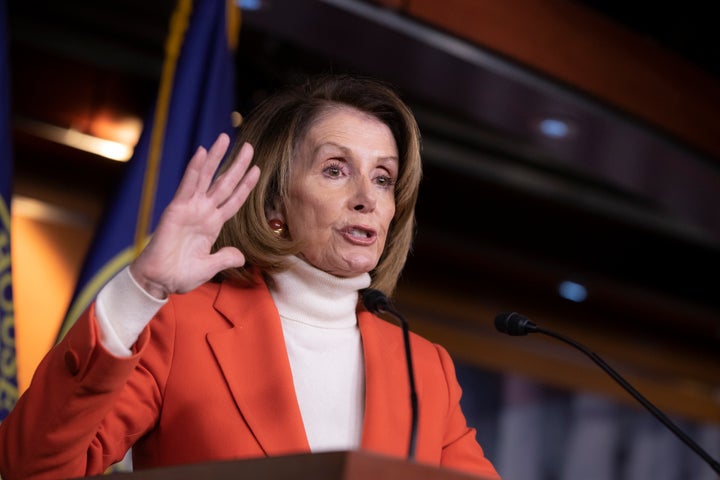 WASHINGTON ― Nancy Pelosi (D-Calif.) insists she's still on track to be the next speaker of the House, telling reporters Thursday she has the "overwhelming" support of the Democratic caucus. While she may indeed have the vast majority of Democrats, she doesn't quite have the number needed to be speaker, 218 ― at least not yet.
Her math problem at the moment is this: There are 17 seemingly intractable Democrats signed on to a letter pledging to oppose her, and there are a handful of other Democrats ― at least six, sources told HuffPost ― who say they won't support her on the floor. With about 234 Democrats expected in the House in the next congressional session, she can lose only 16 of her members, if everyone votes.
On top of the 17 opposing her, there are nine moderate Democrats in the so-called Problem Solvers Caucus who say they won't vote for Pelosi unless she pledges ― in writing ― to back a slate of procedural changes for next Congress by Friday.
While she has asked the incoming Rules Committee chairman, Jim McGovern (D-Mass.), to address those proposals, she still hasn't signed on, and one of the leaders of the group, Josh Gottheimer (D-N.J.), told reporters Thursday that "nothing's changed."
Staffers from the offices of two prominent Democrats have reached out to HuffPost in the last two days to say members have been urging their bosses to run for speaker.
Hardly anyone on Capitol Hill thinks those nine Democrats are a real hurdle to Pelosi, but it's becoming clearer by the hour that the Democrats publicly opposed to Pelosi could be ― with an even larger group of freshman Democrats who haven't said one way or the other whether they will support her.
In short, there are a number of Democrats who could oppose her and already a critical number who look likely to.
But Pelosi has plenty of tricks at her disposal.
For one, she is largely in control of committee assignments, potential campaign dollars and a whole host of other goodies. There was even some talk of creating yet another leadership position ― an assistant majority whip ― though that seems to have been shot down by some members, including the last Democrat to have a position made for him, current assistant minority leader, Jim Clyburn (D-S.C.), who is running to stay at the No. 3 spot in Democratic leadership as the majority whip.
Pelosi continues to meet with incoming and some incumbent Democrats to discuss their speaker vote. Ron Kind (D-Wis.), one of the incumbents the anti-Pelosi group is trying to woo, told HuffPost he was meeting with her soon and wouldn't be able to say where he stands until after that meeting.
She could make a number of promises to secure the speaker's gavel again. She could vow to make this her final term as speaker. She could say she'll serve only for a year as speaker in a transitional role. Or she could set stricter rules in the caucus, binding Democrats to vote for the party's speaker nominee or try to get commitments from her closest allies that they will support only her for the position.
But Pelosi's detractors are betting that Democrats will want to avoid the possible dysfunction of a knock-down, drag-'em-out speaker's race. They don't think she would go to the House floor on Jan. 3 if it's clear she doesn't have the votes ― and they think prominent Democrats in the caucus will begin campaigning in the shadows right away if it's clear that's the case.
That shadow campaign has already started in some ways. Staffers from the offices of two prominent Democrats have reached out to HuffPost in the last two days to say members have been urging their bosses to run for speaker and that they are well positioned to mount a campaign if Pelosi steps down.
Publicly, Democrats seem to be sticking with the story that they're running for their prospective leadership positions and back Pelosi. That's what Clyburn and Hakeem Jeffries (D-N.Y.) — who has thrown his hat in the ring for the No. 4 spot, caucus chair — told HuffPost on Thursday. But Clyburn also said that if she doesn't have the votes, "We'll see what the Lord has in store. That's how we say it down South."
At least one Democrat, Marcia Fudge (Ohio), seems to be shedding some of the pretense and openly discussing a possible challenge to Pelosi. Fudge told HuffPost on Thursday morning during a sit-down interview that she takes offense that Pelosi has not endorsed Clyburn to be whip and that Pelosi takes Congressional Black Caucus support for granted in general.
Fudge, who has signed the letter opposing Pelosi, is a welcome ally for the anti-Pelosi members as they push back against criticism that it's mostly white moderate men who are looking to dethrone Pelosi. (Two of the effort's ringleaders, Seth Moulton (D-Mass.) and Tim Ryan (D-Ohio), have said they would prefer the next speaker to be a woman, pointing to Fudge.)
But Fudge may be hobbled by her past refusal to co-sponsor the Equality Act, which would extend federal civil rights protections to people on the basis of sexual orientation and gender identity. She is one of two House Democrats who refuse to sign on to the legislation.
She told HuffPost that her opposition simply stems from not wanting to open up the Civil Rights Act to amendment and that she would happily support the legislation if it is introduced as a standalone proposal. But that answer might still be unpalatable for a lot of Democrats. One senior Democratic aide suggested to HuffPost that it wasn't a "tenable position for a leader in the Democratic Party to be in opposition to extending civil rights protections to the LGBTQ community," though Fudge would almost certainly disagree with that characterization and has challenged anyone to find a vote in which she didn't stand up for LGBTQ rights.
While the anti-Pelosi group looks satisfied to not present any alternative candidate, satisfied that blocking her would be enough to eventually spur a race, she seemed happy to have Fudge in the race.
Asked about Fudge during her press conference Thursday, Pelosi said, "Come on in. The water's warm."
Calling all HuffPost superfans!
Sign up for membership to become a founding member and help shape HuffPost's next chapter