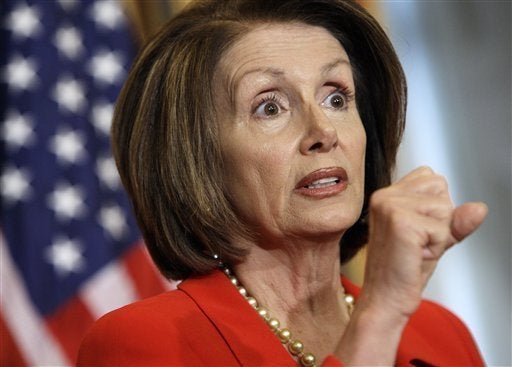 Members of Congress are growing increasingly concerned about the expanding role of the Federal Reserve System as it obligates trillions of dollars to address the financial crisis while at the same time being immune from congressional oversight.
On Thursday, House Speaker Nancy Pelosi (D-Calif.) told reporters that the House would "address...Fed authority" when it returned from the Easter recess.
But lawmakers are treading lightly around the powerful institution. Pelosi told the Huffington Post after the press conference that a specific approach had yet to be hashed out. "That's something we have to develop. That's why I didn't say 'to increase' or 'diminish,' just 'to address.'"
Rep. Darrell Issa of California, the highest ranking Republican on the Oversight and Government Reform Committee, said that his oversight panel should push the Fed for more transparency.
"The Fed is very opaque...In a nutshell, we want the Federal Reserve to have sufficient independence, but when Bernanke stands with the president as part of the president's agenda, we have to question whether we should be denied oversight," Issa told the Huffington Post.
"It's not a matter of having Bernanke in front of our committee on some quarterly basis. It's a matter of getting our questions answered and having transparency," he said. "It's not a question of their authority to commit [money], it's a question of oversight. So if we need to stop them, which would be our right, we could at least author a bill with knowledge."
A spokesperson for Rep. Ed Towns, chairman of the oversight committee, said Towns wants to work cooperatively with the Fed before upping pressure.
Rep. Paul Kanjorski (D-Pa.), a subcommittee chairman on Financial Services, said that members are concerned but patient because of the current crisis. "This isn't a time when we want to set up any confrontation on some of these principles, but I've heard thoughts and discussions that there should be a more open disclosure of information," he said.
"I think that's going to be their intention," he said. "We're not going to deviate anymore from the direct interest areas of opening credit and getting the economy back in shape."
Rep. Alan Grayson (D-Fla.), an outspoken freshman on the Financial Services Committee, wants four reforms made to the Federal Reserve. Grayson want an independent auditor, wants Freedom of Information Act requests to apply to the Fed, wants Board of Governor terms trimmed from fourteen to four years and wants all positions appointed by the government rather than banks.
Sen. Bernie Sanders, a Vermont independent, is pushing in the Senate for more Fed transparency. A similar bill in the House, authored by Rep. Ron Paul (R-Texas), has more than 50 cosponsors, including House Energy and Commerce Committee Chairman Henry Waxman (D-Calif.).
"The Constitution says we have to appropriate all dollars, which means technically the IOUs they are writing in fact aren't valid unless we later pay them if they come due," said Issa. "So this full faith and credit that they have does have to be looked at in that sense. And I'm not trying to change the status quo of these institutions. But when you look at 2, 3, 4, 7, 8 trillion dollars, all these things, you say 'Wait a second here.'"
As long as the Fed acts in concert with the administration, said Issa, it should be treated as part of it. "It is not surprising that there would be coordination between the central bank and the treasurer of the country," he said. "The question is: Is that coordination subject to oversight?"
REAL LIFE. REAL NEWS. REAL VOICES.
Help us tell more of the stories that matter from voices that too often remain unheard.