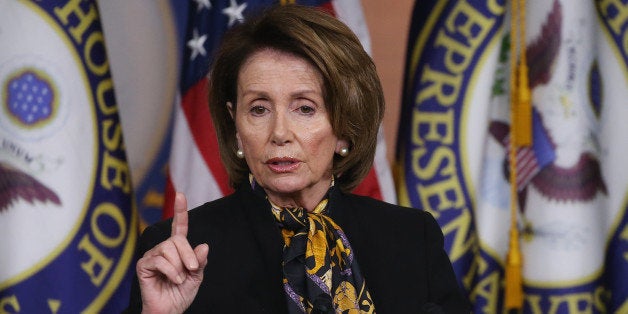 WASHINGTON -- House Minority Leader Nancy Pelosi (D-Calif.) said she doesn't plan on rallying Democrats to vote for legislation that would give President Barack Obama fact-track authority to speed trade deals through Congress, and instead punted the responsibility to House Speaker John Boehner (R-Ohio).
"[It's] absolutely the speaker's responsibility. He has the majority and it's his responsibility," Pelosi said Thursday in some of her strongest words to date.
"I have confidence in him," she said. "I think he can deliver 200 of his members but it's not my responsibility. ... It's the awesome power of the speaker."
She wouldn't give a hard number on how many Democrats she thinks will join Republicans in granting Obama expedited powers to shepherd trade deals like the Trans-Pacific Partnership -- which he is currently negotiating with 11 Pacific nations -- through Congress.
"[Republicans] probably have a dozen and half on the Democratic side so far. I don't know where everybody is," Pelosi told reporters, adding that more Democrats might cross the aisle for the vote.
Republicans are optimistic they will have the votes to pass fast-track but a chunk of their conservative wing opposes trade, or simply doesn't want to be seen helping out the president.
Pelosi hinted at the possibility of a complicated vote tally Thursday.

"I don't know why, if they want this so much -- they have the majority -- there is even any question they can deliver their vote," she said.
Making matters more complex is a rider -- which made it into the Senate-passed bill -- that bars Malaysia from joining the TPP due to its slavery record. The White House has called the rider "a poison pill."
Additionally, progressives within the Democratic caucus are pressing Pelosi to fight Republicans on a funding mechanism they are pushing to pay for the trade adjustment assistance bill, which helps workers displaced by trade. To pay for the assistance, the GOP is looking to cut Medicare funds.
"Our members are taking this very, very seriously. We have many members who are not supporting this -- who have over time always supported trade initiatives -- that just don't think that this reaches the standard that we need to go forward with 11 different kinds of countries," Pelosi said. "It is a very large number in our caucus that is not supportive of it."
Pelosi's comments won't be taken lightly at the White House, which has said in the past that it has confidence in the president's relationship with her and Democrats. Still, the White House is working overtime to get the votes, talking often with Republicans.
Boehner noted that he spoke with Obama on Wednesday about the trade bill.
"We are working to get the trade promotion authority finished. I've been meeting with members over last few days. I'm going to continue to meet with members," Boehner said. "Talked to the president yesterday. He's got some work to do, too."

Calling all HuffPost superfans!
Sign up for membership to become a founding member and help shape HuffPost's next chapter
BEFORE YOU GO
PHOTO GALLERY
Scenes From 114th Congress And Capitol Hill