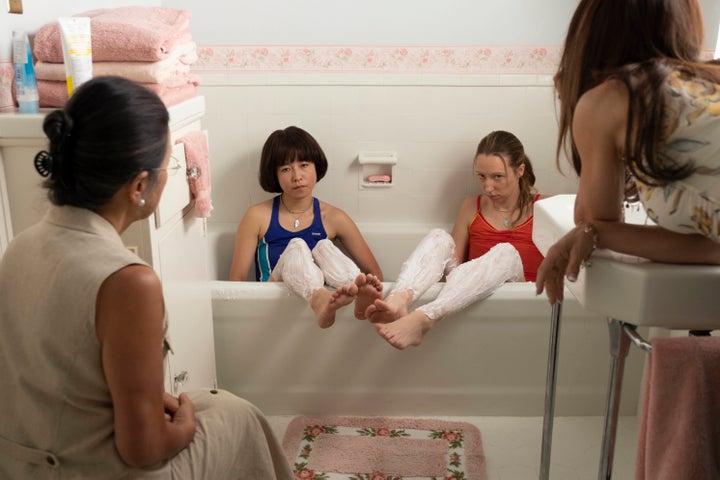 The show dredges up some of most poignant and awkward moments of those hormone-driven teen years: There's the struggle to sign on to dial-up internet and settle on an AIM screen name that truly encapsulates you. And who could forget middle school dances and the hope that maybe, just maybe you might get to second base? (Our protagonists Maya and Anna get there, simultaneously, with one boy in a closet.)
Nearly every moment in the half-hour, 10-part series is relatable and cringey. But there's another part of the show that's just as relatable for many viewers: Maya's experience of growing up with an Asian parent.
Maya's mom, Yuki, played by actress Maya Erskine's real-life mom Mutsuko Erskine, is an immigrant who makes sure her home is as Japanese as possible: The family use chopsticks to eat traditional foods at dinner, they rarely have American snacks in their pantry and they have a dedicated shrine set up for their dearly departed Ojichan (Maya's late grandfather).
But beyond those aesthetic and surface nods, "PEN15" goes deeper, giving us a pop cultural Asian mom we've been hoping to see for years. Yuki is a first-generation mom who ― given that label ― is as strict as you'd expect. But there's more to her than that: Yuki is quietly the emotional heart of the whole show.
With motherly grace, Yuki teaches Maya to shave ("once you start, you can never stop!"), rights her haircut wrongs (albeit by giving her a classic Asian bowl cut, but A+ for effort), offers spot-on friendship advice and reminds her that she'll "always be her little girl" at just the right time. (Maya had just gotten her period and really needs the assurance.)
Sure, you might say she's just acting like a mom, but that alone is almost revolutionary given how monochromatic portrayals of Asian parents tend to be in movies and TV.
Maya's mom is different, though. Sure, she's not as effusive in saying "I love you" as a white mom might be, but she demonstrates her love through her expectations and actions. It's a nuanced, realistic characterization that's hitting home for many Asian-American viewers.
"The love Asian parents have for their kids often gets lost in translation when viewed through an American lens. That's how we end up with the emotionless, one-track-minded 'tiger parent' stereotype."
"The show really shows how complicated Asian-American familial relationships can be," said Monica Chu, a media designer and illustrator living in Boston. "I often tell my friends, half jokingly, that I can probably count the times I heard 'I love you,' or 'I'm proud of you' on my fingers."
But as Chu admits, that joke isn't telling the whole story: In Asian cultures, love is shown, not necessarily told. (Or as Maya Erskine's real mom Mutsuko Erskine told Vulture recently of her parenting style, "In Western culture, you're more expressive, and we are more subtle.")
"The love Asian parents have for their kids often gets lost in translation when viewed through an American lens," Chu said. "That's how we end up with the emotionless, one-track-minded 'tiger parent' stereotype."
In the show, Maya struggles with wanting a more showy version of parental love. When she sees her mom babying Anna in the midst of Anna's parents' divorce, she lashes out in jealousy. Why can't her mom be more like that toward her and drop the bad cop parenting act? (Her dad, a jovial white drummer who's usually off touring, is, of course, the god cop.)
Later that night, her mom Yuki gives into that wordless plea, embracing her daughter and falling asleep in her room, sweetly side-by-side.
"I love how at the end of that episode, Maya breaks down, worried that she's 'not a little girl' anymore in her mom's eyes," Chu said. "And rather than being dismissed, her mom holds her and sings her a childhood lullaby. It's such a tender moment that really reflects reality."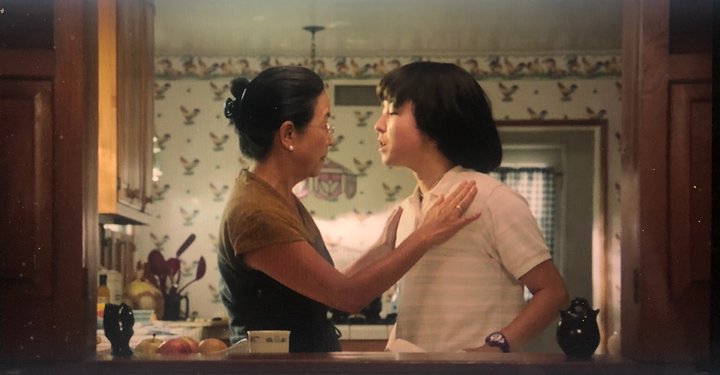 That moment also hit home for comedy writer Mark Kramer. When Kramer was growing up in the early 2000s, his Filipina mother fawned over his friends, while he got a more brusque treatment. Watching Maya throw a temper tantrum while experiencing the same thing was like "looking into a funhouse mirror," Kramer told HuffPost.
"My frustration with her tough love was only compounded when I saw her act so accommodating towards guests," he said.
These days, he sees her in a more forgiving light. For a certain generation of Asian immigrants, stressing straight As and remaining somewhat stern as parents was meant to steer their kids toward a specific kind of success, namely, the American dream that was never an option for them growing up. Kramer's mom and so many others left their countries so that their kids could live better, less constrained lives.
"Now I think mom's attitudes toward the STEM subjects and steeling your feelings weren't born from a tiger mom stereotype, they came from the fear of the unknown as an immigrant," he said. "If I checked these boxes ― perfect student, piano whiz, med school ― there'd be no uncertainty."
Kramer continued, "That strict, quantifiable blueprint for success ensured I'd 'make it.' Our definitions of 'making it' were just different."
Most Asian moms will adapt to the goals and needs of their kids, though ― and Maya's mom is a relatable reflection of that, said Jules Crisostomo, a Filipino-American student and vice president of the Asian Student Association at Appalachian State University.
"I just think that the tiger parenting stereotype in media completely erases the reasons why Asian moms can be strict. The type paints them as uncaring and neglectful but as 'PEN15' suggests, there's so much more behind it."
"My mom constantly asks for my plans after graduation and talks about how she knows I'm going to make a lot of money one day," Crisotomo said. "But I think what's different is that while she does encourage me to go into high-paying jobs, they didn't have to be jobs Asian parents stereotypically want their kids to go into, like doctor or engineer."
When Crisostomo's mom heard her daughter wanted to be a mental health counselor, she encouraged her dreams. She's equally supportive of Crisostomo's younger sister, who aspires to be an animator. True to Asian mom form, she shows it through her actions rather than her words.
"My mom buys her high-quality markers, sketchbooks, and even once bought her a tablet for her digital art," she said.
In the end, Asian moms, tiger or otherwise, simply want the best for their kids.
"I think that the tiger parenting stereotype in media completely erases the reasons why Asian moms can be strict," Cristotomo said. "The type paints them as uncaring and neglectful but as 'PEN15' suggests, there's so much more behind it."
Support HuffPost
A No-B.S. Guide To Life
Popular in the Community