When Georgetown received its UNESCO listing in 2008, this reignited the world's interest in the tropical island of Penang and its diverse cultural heritage. While the capital's historic shophouses and colonial architecture remain timeless attractions, increased tourism is changing Georgetown, as appreciation of the old encourages investment in the new.
Once a sleepy isle off the west coast of Malaysia, Penang became part of the British East India Company empire in 1786, and remained under British colonial rule until 1957, when Malaysia gained independence. Georgetown's influences have included a multicultural mix of Malay, Indian and the dominant Hokkien-speaking Chinese, combined with more than 500 years of trading and exchange between East and West in the Straits of Malacca.
Penangites love to eat, drink and talk, and Penang is regarded as the street food capital of Malaysia. Unsurprisingly, many new ventures have revolved around increasingly sophisticated venues for chatting and snacking.
Though surrounded by water, until now central Georgetown lacked a place where the views could be appreciated. Thankfully that was recently rectified when the Three Sixty Sky Bar (4pm to 1am) opened at the Bayview Hotel, in conjunction with a welcome refurbishment of its revolving restaurant to give it a more glamorous contemporary look. A sunset mojito outside on the deck watching clouds, boats and heritage rooftops is refreshing in every way.
For abundant ocean vistas, at least of the strip of water separating Penang from the mainland, head to the seafront promenade of Gurney Drive, where there is a large hawker food centre (try hokkien mee and char koay teow) though mainly this area is a skyscrapingly prime strip of luxury condos, and glossy malls that are very popular with the locals.
Of the many places to stay, the quirkily award-winning g Hotel is the only place on this island where you can sit on a Marc Newson chair in its funky lobby. Unusually amongst style-conscious establishments, g Hotel has a sense of humor, welcoming guests with an ice cream, while the non-alcoholic minibar is complimentary, its door stating in orange: "Minibar is free ... Omg!!"
The executive floor is a wondrous place for those who travel a lot and need to get things done, with a lounge full of coffee, printers and a relaxed DIY cocktail session each evening at 6. When tired of plastic chairs at hawker stalls, the hotel's restaurant, Soy + Sesame, is listed in Malaysia Tatler's 2012 best restaurant guide, which describes it as "chic and sleek", rightfully recommending the signature wagyu beef cheeks, and gula Melaka crème brûlée and chocolate soufflé for dessert.
Malaysians tend to think walking is a strange activity, but an unhurried pace suits taking in the details of the core heritage area (and the heat). Armenian Street is Georgetown's refurbished heart, and a great place for the visitor to see a vibrant fusion of old and new. Beginning at the western, Lebuh (street) Carnavon end, on the right there is the tiny park where the popular "Thieves' Market" bustles most evenings. Opposite is the Sun Yat Sen Museum, a preserved shophouse where Dr Sun Yat Sen spent some time in exile, planning the 1911 revolution that saw him become the founding father of modern China.
Across the intersection those weary of walking can rent a bicycle for RM10 (about $3.30) from the Chin Seng Leong shop at number 55 (+60125533553 or email tanteikleong@gmail.com) just before you reach a new outlet for traditional batik, now on glass, with other collectibles, at number 78.

Just past this was once a tiny café called Amelie with four tables and recycled jam jars - it's recently moved to a larger space around the corner on Lebuh Pantai (Beach St) called Cozy in the Rocket. The pasta dishes reflect the owner's devotion to celebrity chef Jamie Oliver.

For the best cakes in Penang (housed in three heritage buildings divided into 14 spaces) it's a dash across Lebuh Pantai to ChinaHouse with its eclectic interiors. In the café the caramelized nut-coated Tiramisu gateau reigns supreme - up to 40 can be sliced and consumed there on a busy carb-craving afternoon.
Fuel the heritage tour with more caffeine by wandering up the "Street of Harmony", once known as Pitt St and now called Jalan Masjid Kapitan Keling after its historic mosque, which is notable for the range of religions represented along it. Turn left at the Goddess of Mercy temple into Lorong Stewart, and refresh at Café 55 with an iced latte or even some of its appealing tapas.
Head left to pulsing Lebuh Chulia and left again onto Lebuh Carnavon for a pit stop at a new addition to this strip of restaurants, The Daily Dose Café & Wineshop. It offers a fabulous creamy doubleshot latte, wine by bottle or glass, and a daily menu that includes bagels and a touch of Mexican.
Plenty of kedai (shop in Malay) also serve the local brew, or kopi, which has a distinct flavor. I like it strong and sweet from Kedai Kopi Seng Thor (corner Lebuhs Kimberley and Carnarvon). Here a kopi peng (Hokkien for cold coffee with condensed milk) costs RM1.50 and is served in a plastic bag of ice with a straw and a string to carry it. Impress the staff by saying cumsiah (thank you in Hokkien). At night Kimberley St is full of lively hawker stalls.
Trends may come and go, but makan (eating) will never go out of style in Penang; the locals are devoted to feeding, and feeding well, up to six times a day.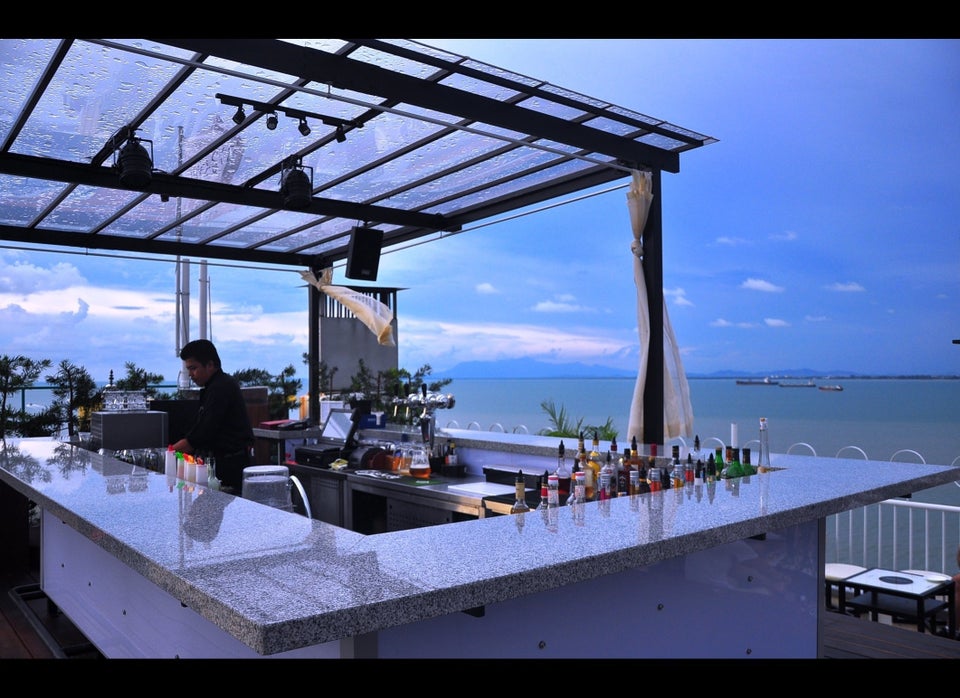 Georgetown: Heritage and Evolution
Popular in the Community