Have you heard of Penang? If so, it's probably because you're a foodie. Often referred to as the "Food Paradise of Asia," Penang does offer amazing eats, but it also plays host to a number of other delicious experiences. We spent over two weeks on this small Malaysian island, which meant we explored it end to end and dish to dish.
Whether you have two days or two weeks, the place to base yourself is Georgetown. Settled by the Brits in 1786, what makes Georgetown unique is its ability to celebrate the old and new, as well as several different cultures and religions. Influences from the British times, like Fort Cornwallis and the Eastern & Oriental Hotel, share space with Chinese-style shophouses from the 19th and 20th centuries, Muslim mosques, Chinese clan houses, and Hindu temples.
There's tons to do in Penang, but here are five of our favorite things:
Explore Georgetown's Art-Filled Alleys
The Georgetown area of Penang is a UNESCO Heritage Site and Penang's most photogenic neighborhood. A perfect way to spend an afternoon is to get lost here for a few hours, either on foot or by bicycle. Start out at the Clan Jetties by the pier, where you can get a sense of how early Chinese migrants lived when they first moved to Malaysia.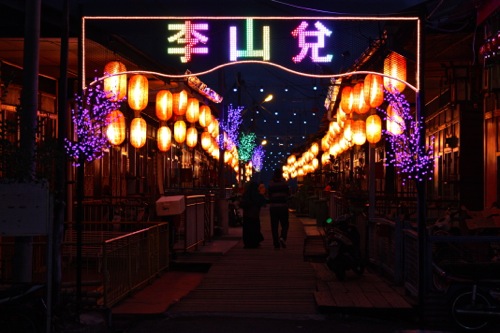 From the jetties, follow the Art Walk through the historic part of Georgetown and discover the many murals that decorate Georgetown's beautiful old buildings. Many are the work of Lithuanian-born Ernest Zacharevich, who came to Penang for vacation but ended up staying much longer. Watch out for the kids on a bicycle and the girl swinging from shingles!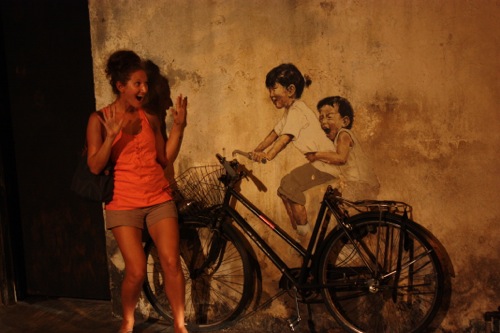 Found all over the city, Chinese and Malay hawker stalls serve a mix of noodle and rice dishes that range from the ordinary to the, "oh, wow!" Two must tries are char koay teow and penang laksa.
Char koay teow is made from flat rice noodles fried in a super hot iron wok. The higher the heat, the more delicious the dish. The goal is to make the noodles smoky, the garlic crunchy, and then add in the prawns, egg, sausage, and cockles to top it off. If you order from a hawker, the dish will cost about $1.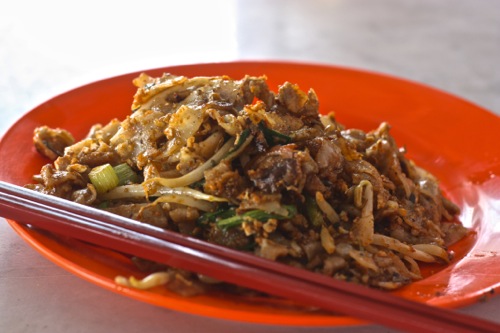 Penang laksa, my favorite dish, has a fish-based broth made from poached mackarel stewed for hours with chili peppers, lemongrass, and tamarind. It's served with thick rice noodles and garnished with cucumber, onions, lettuce, and sometimes pineapple. The slightly sour taste is off-putting to some, but I couldn't get enough! A big bowl is about $1.25.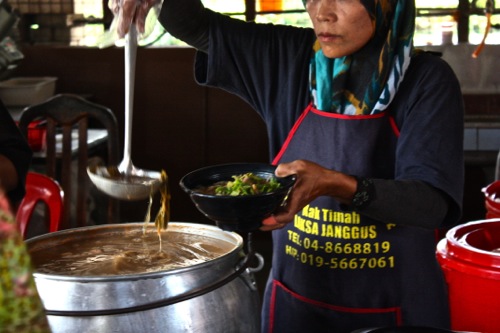 There are tons of other famous hawker dishes, including fried oysters, curry mee, duck rice, and ice kaicang. You'd need at least four days to try them all!
Go Back in Time at Eastern & Oriental's High Tea
The complete opposite from streetside hawker food is high tea at the Eastern & Oriental Hotel, a historic property set alongside the ocean at the edge of Georgetown. Built in 1885 by the Sarkies brothers of The Raffles fame, the newly restored and updated E&O brings you back to the days when Georgetown was visited by traders from all corners of the world, the British way of life was the life, and the hotel was the centerpiece of the town's social scene.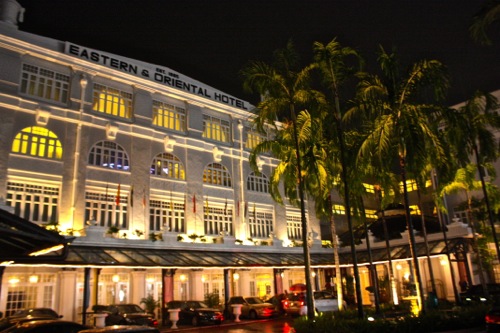 High tea takes place in 1885, not the year, but the restaurant. You're escorted into the well appointed dining room by one of the professional waiters, who'll pull out your chair and help you get settled. On your table, you'll find a silver spoon-like sifter that makes it easy to pour your tea without letting the tea leaves into your cup and a napkin with a buttonhole. Pinky up, anyone?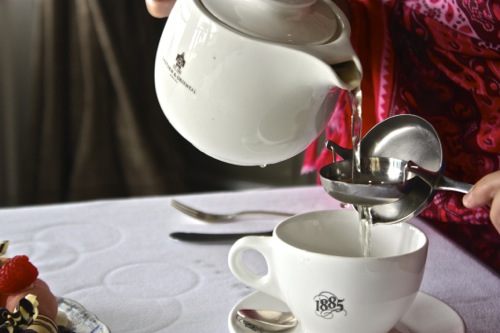 You pick your tea from a wide selection of flavors and sit back as the staff brings out a variety of beautiful tea sandwiches, scones with clotted cream and strawberry jam, and a whole plate of desserts. If you can't afford a stay at the E&O, having high tea will at least let you experience what life was like for the well-to-do in the 20th century. That said, if you can afford a stay, it's well worth it! (E&O hosted our stay.) The rooms are stunning, the infinity pool has an ocean view, the breakfast buffet offers sushi and dim sum, and the lounge has a complimentary nightly happy hour.
Discover Multiple Cultures on the "Street of Harmony"
Even though Malaysia is predominantly Islamic, what makes Georgetown and Penang unique is the continued influence and presence of other religious and ethnic groups. Taking a walk on the "Street of Harmony," otherwise known as Jalan Masjid Kapitan Keling, will take you past a mosque, Chinese and Hindu temples, a church, and several Chinese clan houses. It's a fascinating mix of cultures and religions, coexisting peacefully on one street.
If you go north to south, the first religious building you'll pass will be St. George's Church, which was built in 1816. It's the first Anglican church in Southeast Asia and its prominent placement showcases how important the British colonial times were to Penang's history.
Continuing south, you'll find (and smell the incense from) the Chinese Goddess of Mercy temple, though you may be confused to see both Chinese and Indian locals praying outside of it at the small Hindu shrine. That's the beauty of Penang, and what makes this island so unique, not just in Asia, but in the world.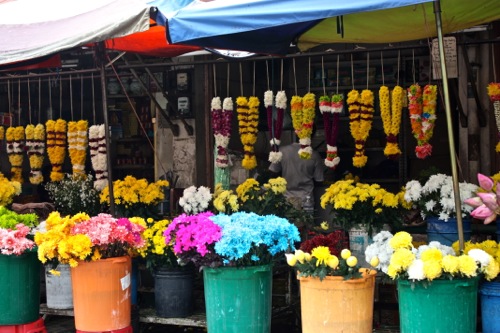 Next up is the Hindu temple of Sri Maha Mariamman Kovil, which is almost directly across the street from the Kapitan Keling Mosque. This temple was built in 1833, making it the oldest Hindu temple on the island. Its ornately carved tower, covered in statues of the gods and goddesses, is typical of Hindu temples of the Dravidian style. Interestingly, the mosque, with its black-domed roof and mix of architectural styles was also built for the Indian immigrant community, though it was of course for those of Muslim rather than Hindu faith.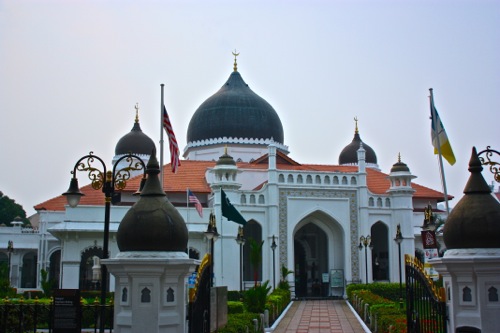 Work Off the Pounds in the Jungle
If all that eating is taking a toll on your waistline, consider some active pursuits outside of Georgetown's heritage zone, such as a hike and swim in Penang National Park. Only 25km from Georgetown, the park has three accessible but hidden beaches and tons of trails for trekking. Whether you do the easy hike to Monkey Beach or the more challenging trek to Teluk Kampi (past Turtle Beach), allow a few hours to explore. We saw tons of monkeys, and a turtle crossing the trail. If you're lucky, you can also see baby turtles hatching at Turtle Beach!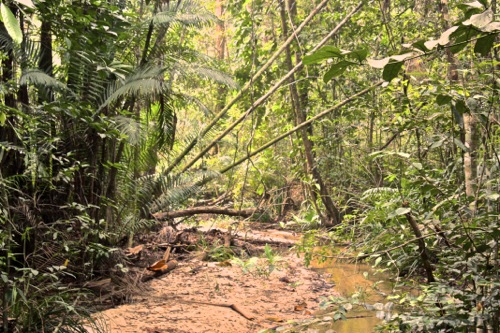 Your other active option is a hike up to Penang Hill, which used to be home to a British hill station. The Hill provides grand views over the rest of the island, but the real attraction for hundreds of daily visitors is the cooler air. You'll meet some locals along the way who'll be happy to point you in the right direction if you're lost, but mostly you'll be on your own, with the grand views of Georgetown all to yourself.