Vice President Mike Pence addressed Christian leaders gathered in Washington D.C. for the World Summit in Defense of Persecuted Christians on Thursday. In his remarks, Pence reiterated a common belief among conservative Christians in the U.S. that they are among the most persecuted people of faith in the world.
"The Bible tells us: 'All who desire to live a godly life in Christ Jesus will be persecuted,'" the vice president said, quoting from 2 Timothy.
He continued by saying that the Christians "are emblematic of millions across the world" who have "persevered through the crucible of persecution."
"You refused to be conformed to this world," he told those gathered for the summit, which was organized by the Billy Graham Evangelistic Association and reportedly brought together hundreds of Christian leaders and victims of Christian persecution.
"You have chosen instead to be counted with those outside the city gate for your faith. And by your life, you bear witness to the truth that brings us together here at this summit."
There's an element of truth to Pence's sentiments. Around the world, in places like Iraq, Pakistan and China, Christians have experienced high levels of violence and harassment.
According to a recent analysis of data collected by Pew Research Center, both Muslims and Christians face persecution in many countries around the globe.
Pew measures persecution by several factors, including government restrictions placed on a faith group. These can entail efforts to ban particular faiths, prohibit conversion, restrict preaching or give special treatment to one or more religious groups.
Other factors used to measure persecution include social hostilities by individuals, organizations or groups in the society. These may entail religiously-motivated armed conflict, terrorism, mob or sectarian violence, harassment regarding religious attire or other faith-based intimidation or abuse.
Pew found that the greatest amount of government harassment toward religious groups took place in the Middle East and North Africa, where Christians are in the minority. But the countries that witnessed the greatest increase in persecution toward religious groups in recent years were in Europe, where anti-Muslim violence and hostility have spiked in recent years.
In the U.S., where Pence ― a devout Christian ― helps run one of the most powerful governments in the world, religious persecution looks very different.
According to 2015 FBI data, the majority of religiously-motivated hate crimes in the U.S. ― roughly 52 percent ― are anti-Jewish. About 22 percent of hate crime victims in the U.S. are Muslim. Catholics, Protestants, and members of Eastern Orthodox churches also experience violence at much smaller percentages.
But many conservative Christians in the U.S., like Pence, sincerely believe that Christianity is under assault in America. President Donald Trump's recent executive order on religious liberty aimed to hand increased political power over to churches, which according to him have been "targeted, bullied [and] silenced."
In an op-ed last year, prominent minister Franklin Graham wrote: "We Christians are not just simply tolerated — we are under constant, unrelenting assault for our beliefs and practices."
According to televangelist Pat Robertson, Christians have lost ground in the U.S. due to a liberal cultural shift ― which Robertson blames on LGBTQ people who have "dominated the media" and "infiltrated the major universities."
It is true that same-sex couples can now legally get married across the country, and conservative Christians may be taken to court for denying goods and services to people whose identities they disagree with. But this does not count them, as Pence suggested, among those who face real threats to their lives and livelihoods around the globe.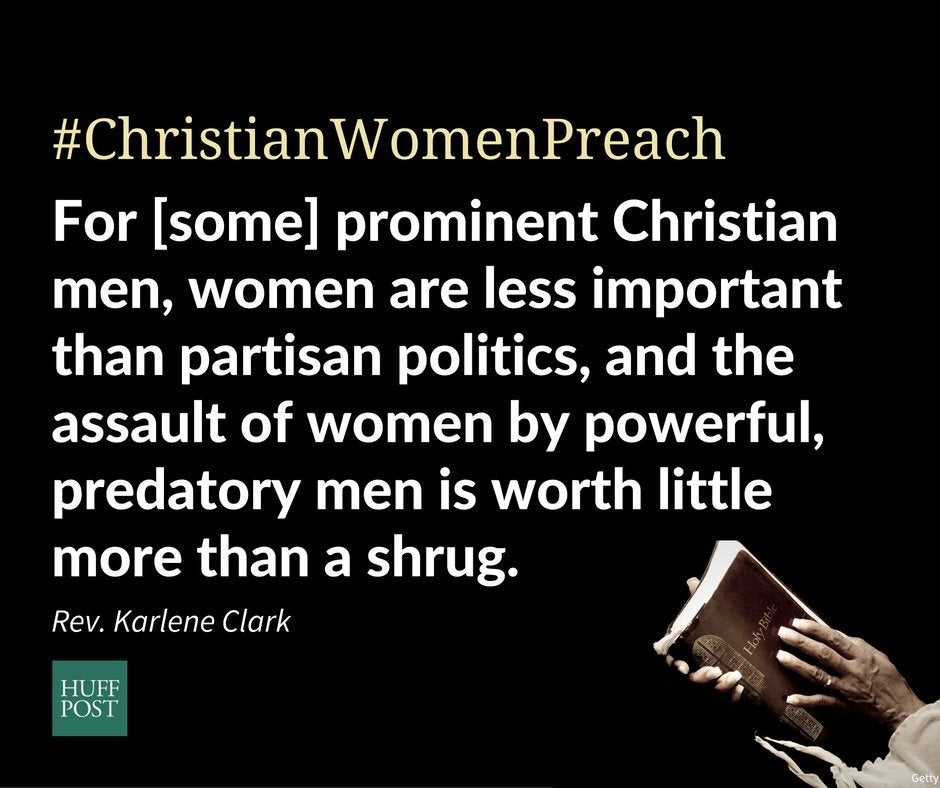 Christian Women Preach
Popular in the Community