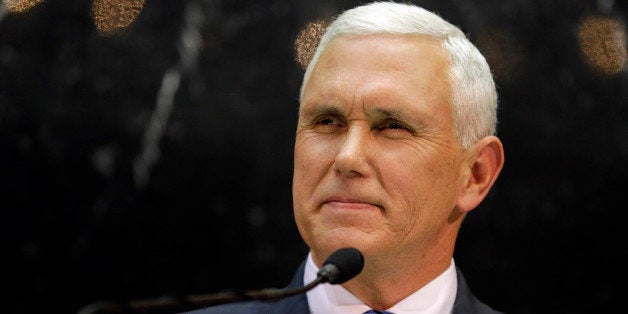 Jan 29 (Reuters) - Indiana Governor Mike Pence said on Thursday he was terminating immediately a planned media website following concerns from Democratic lawmakers and media experts that it blurred the lines between public relations and news.
Pence, a potential Republican presidential candidate, said the not-yet launched JustIN website was to be a one-stop spot for reporters and the public to find press releases from multiple state agencies under the governor's control.
In a letter to agency heads, Pence said he was terminating the development of JustIN after a review of the planning for the site and careful consideration of the concerns raised.
Using internal Pence administration documents, the Indianapolis Star reported that the website would feature breaking news and personality profiles in a news format, staffed by two full-time journalists and Pence's communication team acting as an editorial board.
Democratic state representatives said on Thursday they planned to add amendments to current bills aimed at halting taxpayer funding of the planned website due to concerns it would provide administration propaganda. Democrats hold a minority in the Indiana House, but they said their efforts prompted the governor to terminate the website.
"This week's actions by Governor Pence show us that his ambition and desire to tell us what we should believe overrides the transparency and trust we should expect," Indiana Democratic Party Chairman John Zody said in a statement.
Pence said a current online calendar of news releases would be updated and expanded in place of creating the new site. (Reporting by Mark Guarino in Chicago; Editing by Mohammad Zargham)
Calling all HuffPost superfans!
Sign up for membership to become a founding member and help shape HuffPost's next chapter