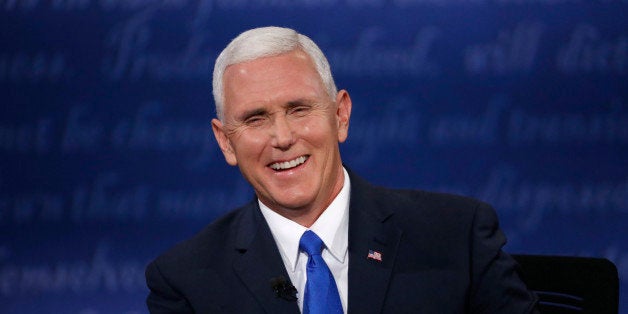 Republican vice presidential candidate Mike Pence said he was shocked when he saw a video of Donald Trump using vulgar terms to talk about kissing, groping and trying to have sex with women because Trump had told him he was a "good Christian."
During a press conference Thursday, Pence, a born-again Christian, said he remembered a conversation he had with Trump in July when the GOP presidential candidate was talking to the Indiana governor about becoming his running mate.
Pence said he asked Trump if he was a Christian.
"Trump told me he was a great Christian," Pence recalled, "He said he was one of the greatest Christians. He said he was the best Christian ever."
Pence then asked Trump if he had found Jesus Christ.
Trump, Pence said, did not appear to recognize the name.
"If that Jesus guy was that famous, he would've done business with me," Pence remembered Trump telling him.
Pence said his Christian faith taught him to forgive Trump for the deplorable comments he made about women on the video.
"I believe in forgiveness," Pence said, especially, he added, when it meant "the possibility of me becoming vice president."
Pence denied that he ever considered resigning from the GOP ticket after the release of the video, contrary to media reports.
"What am I going to do - go back to Indiana?" Pence said during the press conference, rolling his eyes, "Yeah, sure."
Nevertheless, Pence said he was proud of his record as governor, saying that under his leadership, Indiana's quality of life was now 45th in the country. When told that 45 was actually near the bottom of the 50 states, Pence shrugged and asked, "Really?"
Pence said his actions were clearly consistent with his religious beliefs.
"I'm pro life but only for the unborn," Pence said. "After birth, you're on your own. I think the Bible is clear on that."
Pence was asked what he would do if he was not elected vice president on November 8. Pence said it was too early for such conjecture, but said he would like to escape the scrutiny of a presidential campaign.
"I would like to do something where I can make a lot of money without having to worry about whether what I say is factual or hypocritical or whether it makes any sense," Pence said.
He then paused and added:
"Perhaps I'll be a commentator for Fox News."
REAL LIFE. REAL NEWS. REAL VOICES.
Help us tell more of the stories that matter from voices that too often remain unheard.