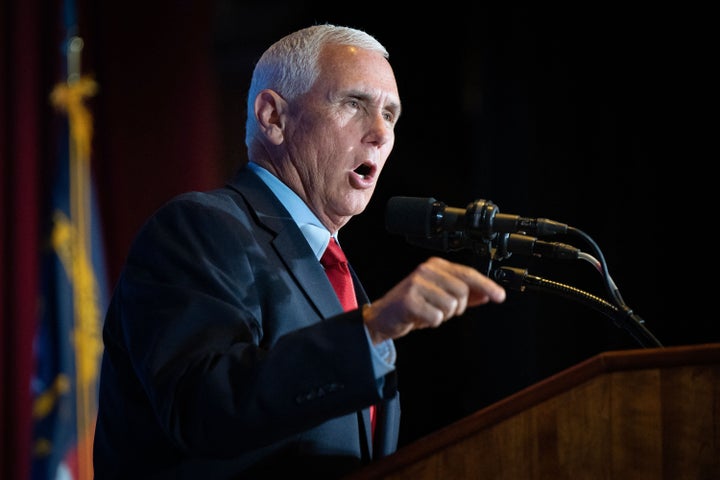 GREENSBORO, N.C. — Former Vice President Mike Pence on Saturday criticized the Department of Justice, rather than Donald Trump, for a devastating 37-count indictment accusing his former boss of conspiring to hide top-secret documents from authorities seeking their return.
"The American people have a right to know the basis of this decision," Pence told North Carolina Republicans gathered for their state convention, where Trump was scheduled to speak just hours later. "Attorney General Merrick Garland, stop hiding behind the special counsel and stand before the American people and explain why this indictment went forward."
Pence, as he was leaving following his 40 minutes on the stage, ignored repeated questions from reporters asking if he had read the indictment and if he believed it would've come had Trump turned over improperly retained classified documents when the FBI requested them.
Pence's choice to blame prosecutors for charging Trump with a crime — rather than Trump for refusing to turn over hundreds of the documents, even in the face of a subpoena — aligns him with most other candidates running for the 2024 GOP presidential nomination against Trump.
Biotech entrepreneur Vivek Ramaswamy went so far as to promise to pardon Trump on his first day in office, should he win.
Only former Arkansas Gov. Asa Hutchinson and former New Jersey Gov. Chris Christie have said Trump is to blame for his own troubles and that his behavior made him unfit for the presidency.
After the FBI searched Trump's Florida country club following his failure to turn over all the classified documents in his possession last summer, and after aides to Joe Biden also discovered files at the Democratic president's home, Pence looked through his own residence and similarly found classified material. He called in the FBI, resulting in further searches. The DOJ announced recently that its investigation into Pence had been closed with no charges.
"I took full responsibility, and I was pleased the Department of Justice concluded it was an innocent mistake," he said at a campaign stop Friday in New Hampshire. "But it was a mistake. We must secure our nation's secrets."
Pence was nearly killed during Trump's Jan. 6, 2021, coup attempt in Washington. A mob, brought to a boiling rage as Trump criticized Pence for lacking the "courage" to help overturn his 2020 election loss, came within yards of encountering Pence at the Capitol. Many of Trump's followers chanted, "Hang Mike Pence," as they roamed the halls looking for him.
Despite this, Pence has remained measured in his criticisms of Trump. Only in his campaign announcement last week did Pence say, for the first time, that Trump's behavior after the 2020 election through the Jan. 6 insurrection disqualified him from being president again.
He has echoed that belief in subsequent appearances, and did so again Saturday in North Carolina.
"Anyone who puts themselves over the Constitution should never be president of the United States," Pence said in his remarks. Republicans at the Sheraton ballroom in Greensboro offered polite applause as Pence explained his actions on Jan. 6, when he refused Trump's demands.
Melissa Crespo, a delegate from the Lincoln County party committee, said she absolutely could not support Pence.
"I feel like he should not run against Trump. I just feel like that's disloyal," she said. "He's betraying the people who supported him as vice president."
Pence's "First in Freedom" luncheon brought in 600 convention-goers, who paid $75 each to attend the fundraiser. His was one of three ticketed meals the party is holding. A dinner featuring fellow GOP hopeful Ron DeSantis attracted about 900 attendees who paid $150 a ticket, while a Saturday night dinner with Trump sold nearly 1,000 tickets at $150 each.
Popular in the Community