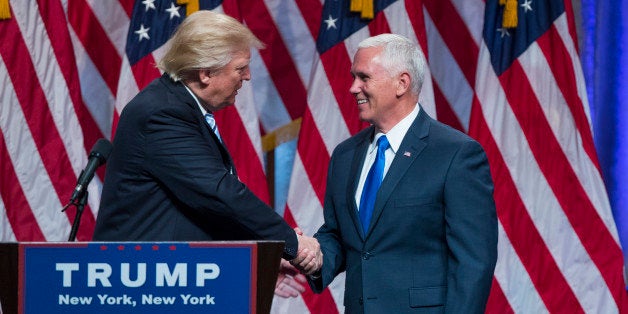 Still, Trump has tried to contend that there's at least one unshakable principle for which he's fighting: since the early 1990s, he's opposed free trade agreements on the grounds that they ship jobs overseas, violate U.S. sovereignty and betray our national interests. He's been consistent in his criticism of NAFTA and recently described the TPP as "insanity". This constancy in combatting trade deals is perhaps the candidate's strongest selling point. In the all-important Industrial Midwest and across the country, Republican and Democratic voters are in agreement that the TPP is a bad deal.
So why did Donald Trump just choose one of the country's foremost free trade cheerleaders as his running mate?
Over the course of his career as a congressman, radio talk show host and governor, Mike Pence has been a genuine evangelist for NAFTA-style free trade agreements and the ideology that underlies them. In Congress, he voted for every single trade agreement that came before him. Whereas Hillary Clinton has at times garnered criticism for her evolutions on trade policy, she crucially showed backbone by voting against the most consequential deal during her Senate tenure: the Central American Free Trade Agreement (CAFTA). Pence proudly whipped House votes for it -- just as he did for the pacts with Colombia, South Korea, Panama, Peru, Oman, Chile and Singapore. Adding to the awkwardness, Pence directly contradicted Trump's proposed tough-on-China policies, voting for a variety of trade preferences for the rising superpower.
While this may be par for the course for most Congressional Republicans, what's notable about Pence is that his free trade zealotry has extended beyond his time on Capitol Hill. As governor of Indiana, Pence proactively lobbied members of the state's Congressional Delegation, urging them to support the TPP as well as the Trans-Atlantic Trade and Investment Partnership (TTIP) with Europe. This is in spite of the fact that most independent research shows the agreements costing Indiana and the nation more manufacturing jobs.
Trump's Pence pick reveals more than an inconvenient and unsightly policy disagreement. It reveals a fundamental fissure that the candidate is unwilling or unable to address.
For the first time in memory, both major parties declined to promote the free trade agenda in their official platforms. This is a reflection of deep public distrust in a policy framework that prioritizes the interests of Wall Street investors and big multinational corporations above everyone else: incentivizing the offshoring of jobs, allowing the importation of unsafe products and food, and even enabling foreign companies to sue U.S. taxpayers in unaccountable tribunals outside the regular legal system. The country is as divided as ever, but people across the ideological spectrum oppose the backroom deals, corporate power-grabs, and threats to jobs and wages inherent in the trade deals. It's only the Mike Pence political class -- beholden to big money and discredited economic theory -- that's keeping the corporate trade agenda alive.
Trump has proven adept at "the art of the flip-flop". But explaining the outrageous contradiction inherent in his VP pick will require his greatest rhetorical acrobatics to date.
Popular in the Community