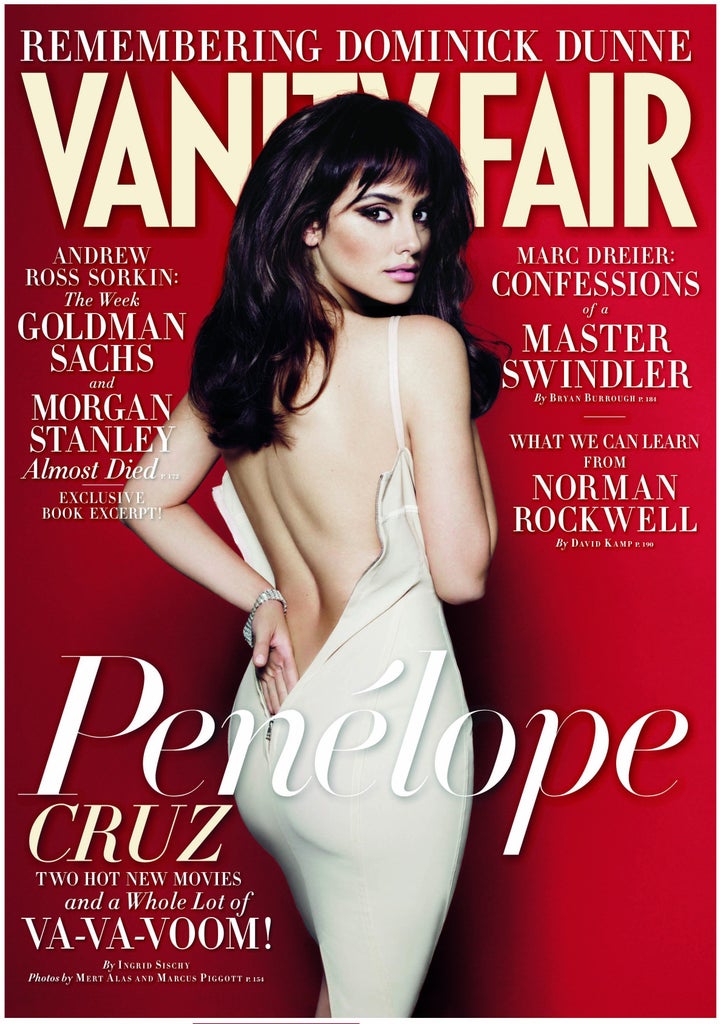 Penelope Cruz appears in the November issue of Vanity Fair. The new issue hits newsstands in New York and Los Angeles on September 30 and nationally on October 6.
The press release with juicy excerpts from her cover interview with Ingrid Sischy is below, the whole profile is here.

PRESS RELEASE:
NEW YORK, N.Y.--Penélope Cruz, notoriously private and press-shy, tells Vanity Fair contributing editor Ingrid Sischy in a rare revealing moment that she is not pregnant with boyfriend Javier Bardem's baby.

"My most nosy Parker question--one that I felt it was my duty as a reporter to ask--was whether the widespread rumors that there was a wee Bardem-Cruz on the way were true," writes Sischy. "Here, unlike before, there was no telling silence from Cruz. Instead she answered no but in a rather baroque, roundabout way, detailing how [director Pedro] Almodóvar had tried, to no avail, to put that rumor to rest when a journalist asked him about it on a red carpet."

Normally mum when it comes to her relationship with Bardem ("It's more that she is protective of their privacy to a point that is striking even for performers who don't like to kiss and tell," Sischy writes), when Sischy brought up a U2 concert that she and Bardem had attended in Paris, mentioning that she'd heard Cruz was playing air guitar during some of the songs, Cruz squealed with delight, saying, "Javier is even better at air guitar!"

Sischy asks Cruz who was a better kisser: Scarlett Johansson, with whom she shared a famous make-out session in Vicky Cristina Barcelona, or Charlize Theron, whom Cruz smooched in the 2004 film Head in the Clouds. "No matter how I answer that I will be in trouble," she says. "Both were pretty beautiful partners."

Sophia Loren--Cruz's co-star in the upcoming film Nine--tells Sischy that Cruz "has become a real friend. We talked a lot about life and our careers. I talked about De Sica, she talked about Almodóvar. When it was my last day she came to my dressing room. She was crying, and I was crying. This is the first time that I have left a film crying because we got so upset about leaving each other."

Sischy writes that Cruz's anxiety is fascinating, coming from someone who is so fearless on-screen. "I've always been a worrier," says Cruz. "Since I was a little girl I've always felt that if I had a moment of peace I'd wonder: Are you sure you can afford to feel like this?"

Growing up in Alcobendas, Spain, outside of Madrid, Cruz and her sister, Mónica, hung out at their mother Encarna's hair salon every day. "It was my first acting school," she tells Sischy. "I would pretend to be doing my homework, but I was real­ly observing the women. I found their behavior mesmerizing--what they were hiding, how they left feeling a little different after they'd been helped to become a little more like whom they wanted to look like. They treated the place a little bit like a psychologist's office. They would share all their secrets."

Mónica tells Sischy there were early indications that her sister would become a star: "Now, when we watch videos from when we were little we fall about laughing because it was so obvious. Whenever Penélope appeared in front of the camera she was acting or singing or dancing or all of them at once."

Woody Allen, Cruz's director for Vicky Cristina Barcelona, is effusive in his assessment of her ability, but tells Sischy, "I never thought about her as a person, because when I work I'm not interested in the person except as a performer. When she turned out to be lovely, that was nice, but I would have been O.K. if she had been a bitch." Regarding her beauty, he adds: "I don't like to look at Penélope directly. It is too overwhelming."

On the set of Nine, director Rob Marshall remembers, "She'd be the last one in that soundstage working, and I'd have to say, 'Penélope, it's over.' The day we were shooting her big song, 'A Call from the Vatican,' she was out there working so hard. In the middle of the number she does all this work with ropes--she was swinging on them and it was scary and she had formed calluses and her hands were bleeding. Daniel [Day-Lewis] was screaming to her from the back of the soundstage that she is a warrior. We had told her she should wear gloves, but she was like, 'No, no, no--I have to feel it.' There's this huge sheath of pink satin that she slides down on. When we finished the number she had disappeared behind the satin and was in tears. I said, 'Are you unhappy with what you did?' She said, 'No, no. It's that it is over, and I loved every second. I want to install ropes in my bedroom so I don't have to let go of it.' "
Calling all HuffPost superfans!
Sign up for membership to become a founding member and help shape HuffPost's next chapter