Among many other things, the end of Downton Abbey this March will wrap up one of TV's most charming buddy relationships, between Maggie Smith's Dowager Countess Violet and Penelope Wilton's Isobel Crawley.
Wilton says she'll miss it, too - and while she's at it, she would also like it to be remembered for its substance, not just its entertainment value.
Fans have come to cherish the friendship, despite its comparatively modest amount of screen time, because what began as a beautifully played verbal duel between Isobel and Violet has been enriched by a deep and growing mutual respect and affection.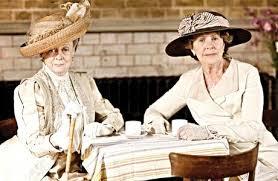 Violet (above left) comes to their exchanges as the aristocrat, conscious and protective of her social status and that of her class. She sees most change, accurately, as the enemy of the world in which she lives.
Isobel (above right) comes from the distant fringes of royalty and identifies more with the folks outside the gates of Downton.
The tone for the relationship was established early and underscored by an enduring exchange from the fourth episode of season one.
"You are quite wonderful, the way you see room for improvement wherever you look," Violet says to Isobel. "I never knew such reforming zeal."
Replies Isobel, "I take that as a compliment."
Violet turns her head slightly and murmurs, "I must have said it wrong."
The relationship has subsequently followed a long and winding road, paved with droll one-liners. Yet at the same time the two women have become regular companions and even semi-confidantes - a rapport that accelerated after the death of Isobel's son Matthew (Dan Stevens) at the end of season three.
"She became much closer to Violet at that point," says Wilton. "Violet was someone she found she could turn to after Matthew's death."
Still, it's not all tea and crumpets here. The upcoming season six, which launches Jan. 3 on PBS, starts with a situation that puts Isobel and Violet at direct odds and doesn't make either one clearly right or wrong.
"It would be boring if Isobel were saintly all the time," says Wilton. "She can be quite sharp, and I like that. It makes her human."
Much of the nuance in the relationship between Isobel and Violet has from the beginning been conveyed wordlessly, confirming that both veteran actors are skilled at body language and subtle or not-so-subtle expressions.
Toward that end, says Wilton, she and Smith have tried to play their scenes spontaneously.
"We didn't rehearse them," she says. "That seemed a better way to see what we were getting at."
And what they were getting at was not, she says, just comic relief or incidental interludes between the real stories. If they didn't exactly form a Greek chorus, they helped the audience take a step back and see the unfolding events of the show in a larger context.
"I hope people see that our characters aren't just delivering witty remarks to cheer things up," says Wilton. "Violet and I are the older generation, so our characters have the perceptions of experience. We're commentating on what's going on."
Beyond that, Isobel herself represents one side in the show's most critical tug-of-war: whether the Old Britain of lavish aristocratic estates would endure or a new order incorporating the middle and working classes would gradually assume much of the ruling power.
Isobel's views are progressive and more democratic than those held by most of the Crawley family. She champions women's rights, for example, though she doesn't march in the streets.
"I felt Isobel would lead the drive toward where the country was going," says Wilton. "She brought a European view to things."
Wilton, who has appeared in hundreds of television, movie and stage productions over a career that spans more than four decades, notes that her Downton role was "the longest thing I've ever done on television."
"I've very much liked it," she says. "When you work with the same group of people this long, you develop a shorthand. And everyone is familiar with the quality of [Julian Fellowes'] writing. You don't change the writing.
"I'm delighted to have been associated with it."
Popular in the Community