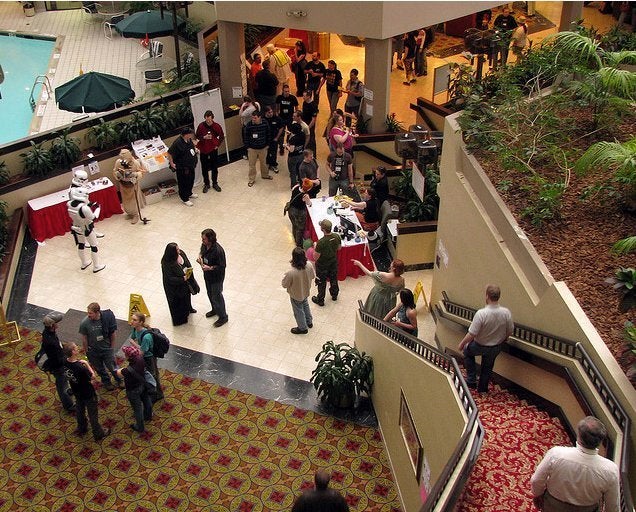 Penguicon, an open-source software and science fiction gathering that expects to draw more than 1,200 fans to the Regency Hyatt hotel in Dearborn this weekend, is a great example of a convention that breaks with convention.
The decade-old Peguicon (named for Tux, the Linux penguin mascot) started out as a gathering of fans with crossover interests in computer programming and speculative fiction, but in recent years it's opened up its umbrella to include foodies, costumers, musicians, gamers, microbrewers and others.
Conference-goers will also have the opportunity to join a zombie walk through the hotel, to go gothic belly dancing, to make liquid nitrogen ice cream, to engineer a customizable marble roller-coaster, to parade around in a drag show and even to take a quick trip to the shooting range with a group called Geeks with Guns.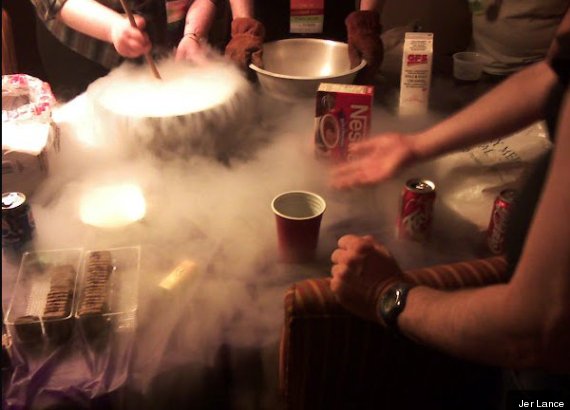 Penguicon participants make liquid nitrogen ice cream (Photo courtesy of Jer Lance).
Considering that Penguicon is a celebration of open-source software, it's not surprising that the event has branched out to include other DIY fields, nor that it's run by a not-for-profit team of collaborators.
"I think first and foremost, 'open source' means run by the fans," said Christine Bender, head of operations for Penguicon 2012. "Every person that works on Penguicon is a volunteer. We all do it because we love it."
Bender said the convention is an opportunity to meet with inspiring creators. "When are you going to get a chance to hang out with them for a whole weekend? You might play a board game with them or have a beer at the bar," she said. "It's an interaction you might not have with them any other way."
Penguicon begins Friday at noon and runs through 4 p.m. Sunday. The gathering takes place at the Hyatt Regency Hotel at 600 Town Center Drive (at the Fairlane Town Center) in Dearborn, Michigan. Hotel Registration is now closed, but admission can be purchased at the door. For more information see www.penguicon.org.‎
BEFORE YOU GO