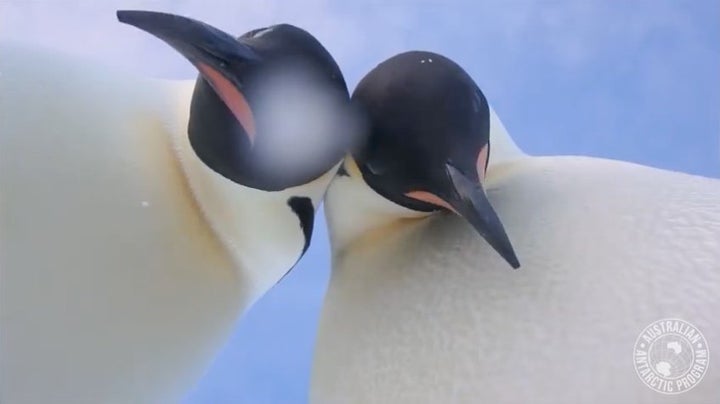 Two emperor penguins in Antarctica have waddled their way into the international spotlight thanks to an unintentional video "selfie."
The inquisitive creatures were captured on film investigating a camera left behind by the Australian Antarctic expeditioner Eddie Gault at the Auster Rookery. 
"It didn't take long for the naturally curious birds to seize the opportunity for a selfie," the Australian Antarctic Division wrote in a Facebook post about the video.
In the brief footage, one particularly nosy bird walks over to the camera and kicks it so that the lens faces up, giving humans a view of the animals typically reserved for the birds' prey, the Antarctic silverfish. 
Another penguin shuffles into view soon after. Both animals spend some time peeking at the lens over their long beaks before their attention drifts away.
The video, not technically a "selfie" since the camera was rolling before the birds commenced their inquiry, captured the interest of thousands online. The Australian Antarctic Division posted the video to its social media channels Wednesday, calling it a "penguin selfie." It has accumulated more than 132,000 Facebook views and more than 6,000 retweets. 
REAL LIFE. REAL NEWS. REAL VOICES.
Help us tell more of the stories that matter from voices that too often remain unheard.
BEFORE YOU GO