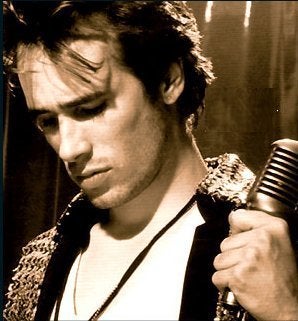 Finally, a film about the late Jeff Buckley is set and ready for production. But will fans say "Hallelujah" at the top casting choice?
Smuggler Films announced late Monday that "Gossip Girl" star Penn Badgley has won the right to play the late rocker in the upcoming film, "Greetings From Tim Buckley." The movie will follow the journey Jeff Buckley took in grappling with the legacy of his late musician father, Tim, leading up to and culminating with his legendary 1991 performance of his father's songs.
Buckley, whose one proper album, "Grace," stunned audiences and made him a cult sensation, drowned in 1997 while swimming in the Wolf River of Tennessee.
Speculation had been rife over who would win the part; based on looks, some thought it might go to James Franco, while Robert Pattinson offered the brooding musician prototype that fit Buckley's public profile.
Instead, it goes to Badgley, a 24-year old who, in addition to his starring role in "Gossip Girl," has appeared in films such as "John Tucker Must Die," "The Stepfather" and "Easy A."
This film is not the one announced in April, which is/was to be directed by Jake Scott and produced by Buckley's mother.
The press release from Smuggler films follows.
New York, NY (June 20, 2011) – Smuggler Films announced today Penn Badgley will star in the much anticipated film Greetings from Tim Buckley. He will play Tim Buckley's son Jeff in the first film to be made about the musicians. There has been much speculation regarding the casting of Jeff Buckley as many of Hollywood's hottest stars were interested in playing one of the most remarkable music artists of his generation. Greetings from Tim Buckley was written by Dan Algrant, Emma Sheanshang and David Brendel and will be directed by Dan Algrant (People I Know, Naked in New York).

Greetings from Tim Buckley follows the true story of the days leading up to Jeff Buckley's eminent 1991 performance at his father's tribute concert in St. Ann's Church. Through a romance with a young woman working at the concert, he comes to understand the father who abandoned him. Culminating in a cathartic performance of his father's most famous songs, Jeff's debut stuns the audience and launches his career as one of the greatest young musicians of his time.

Penn Badgley said, "To play a man who was singularly gifted as an artist, greatly misunderstood & mythologized as a human being... It's something very special and sacred. I'm going to give all I can to this project."

Patrick Milling Smith of Smuggler Films. "In its purest form this is a father and son story, a rite of passage that is made possible by a romantic journey Jeff finds himself on. We see Jeff accepting who he is to become and laying to rest the ghost of his father while ultimately finding his voice. We had been searching well over a year for an actor that can come close to Jeff's spirit while also having the serious musical chops required to authentically tell this story. Penn's audition blew us away and we knew we found our star."

Greetings from Tim Buckley is in preproduction and will start shooting this August in New York City. Production entities behind the movie are SMUGGLER Films, A-Z productions and Second Chance productions. The film is being produced by Patrick Milling Smith, John N. Hart (Revolutionary Road, You Can Count On Me), Fred Zollo (Quiz Show, Mississippi Burning). Executive Producers are Brian Carmody, Jill Footlick (Boys Don't Cry, The Private Lives of Pippa Lee) and Ben Limberg. Director of Photography is Andrij Parekh (Blue Valentine, Half Nelson). Casting Director Avy Kaufman.