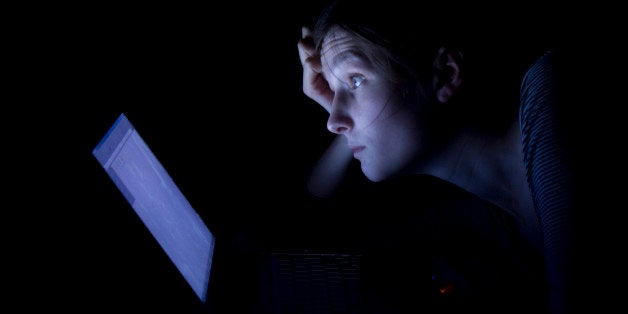 I'm a tour guide at the University of Pennsylvania, meaning it's my responsibility to show off our campus to caffeine-fueled, high-achieving high schoolers who often struggle to keep their eyes open on their seventh college tour of the week. The question I get from the crowd most often?
"I mean, are people really as happy as they look in that brochure?"
My response is pretty straightforward: "If you look around Locust Walk or in Huntsman Hall, you'll see students who are learning just as well as they are living. Student wellness is a priority here." That's the average dialogue, give or take a few variations. And although much of it is true, I always find myself unsure about that last part. Is sleep and wellness really a primary concern at Penn?
If I wasn't smiling at fifty eye-wandering visitors, my answer would be a little...different: "If you look around Locust Walk or Huntsman Hall, you'll see some students in suits and some in sweatpants with a hoodie. But if you ask any of them how they're really feeling, I'd bet nine times out of ten that you'd get the same response: "Good, but tired as hell."

"Is sleep and wellness really a primary concern at Penn?"

I feel bad pointing my finger at the institution which has already given me so much on its Ben Franklin statue-riddled campus. At the same time, though, it seems as if Penn continually neglects one of the core values that I describe on my tour. Perhaps it's not even a Penn thing. I'm no expert on the subject, but sleep deprivation is a plague that spreads far beyond Philadelphia. For us Quakers, justifying how little sleep we get each night is almost always part of our everyday side chats--I did it just a few hours back. Where we fall short, though, is in finding ways to make sure we don't keep repeating that same conversation.
So, here I am, standing up to face the empty bed epidemic.
Of course, I'm a bit of a hypocrite as I'm writing this at 4 a.m. after a four hours of class, a three hour rehearsal with my a cappella group, and a few hours of open rush at handful of fraternities. But that is my choice. When I'm standing in front of College Hall monologuing to visitors about how I spend my time, I often find that they're surprised, even confused about how I manage to get in those eight precious hours at night. I reply by explaining that at a place like Penn, students are as dedicated to class as they are to their non-academic commitments. If I was to be brutally honest on my tour, I'd explain that kids here prioritize stuff, for the most part, over sleep.
Whether it's an actual lack of knowledge or some blissful ignorance that spurs this attitude I'm not so sure. It feels as if both Penn and its students choose to tune out potential solutions to the problem of sleep deprivation even though we regularly obsess over it. Perhaps it's because the situation is a personal one. Maybe we're skeptical of the adjustments that would have to be made in order to accommodate a different routine. Or maybe it's escalated to a point beyond our control. Exhibit A: In my writing seminar, our class was tasked with completing six substantial assignments just over Thanksgiving break. The first question my professor asked upon our return was, "Who's feeling totally rested?" One out of eighteen hands went up.

"It feels as if both Penn and its students choose to tune out potential solutions to the problem of sleep deprivation even though we regularly obsess over it."

So sleep may not be first in line of Penn's priorities, and that's not a crime. But if it isn't, we need to stop pretending that it is. No more school-wide emails. No more "get more sleep" signs in The Quad. No more expectations that we're all rested after a travel-and-essay-ridden weekend.
If sleep is one of Penn's top priorities, then we should stop contradicting ourselves and improve. How students and professors spend their nights perhaps deserves a bit more thought, as does Penn's faulty culture of self-regulation and time management. What should replace it, you ask? I'm all ears. It must start here and now, though, with some simple conversation.
On my next tour when the student health question comes up, I'll tell the group that I'm happy and well, because I am. When it comes to sleep, though, I'll say that my best friend is the two hour flight to and from Philly--I'm hoping that by the time I graduate, I can do without that last part.
This post is part of our series on sleep culture on college campuses. To join the conversation and share your own story, please email our Director of College Outreach Abby Williams directly at abigail.williams@huffingtonpost.com. And you can find out here if the #SleepRevolution College Tour will be visiting your campus, and learn how you can get involved. If your college is not one of the colleges already on our tour and you want it to be, please get in touch with Abby.