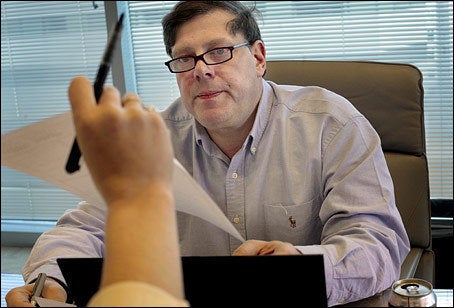 Mark Penn, who resigned over the weekend as the Clinton campaign's chief strategist, went into full damage control mode on Monday, hosting a conference call with Burson Marsteller's managing directors to persuade them that the fallout from his resignation was both overblown and would soon pass.
Peppered with questions from colleagues -- one mentioned her "pretty panicked client," another asked bluntly, "Ultimately did you think that it was the best thing for the company [to work for Clinton's campaign]?" -- Penn insisted that "the situation has played itself out."
But he confirmed that while his title with the campaign had changed -- and his work load would undoubtedly decrease -- he still would play a direct advisory role for Clinton.
"I think you've heard that I made the decision to step down as chief strategist of the Clinton campaign. Penn Schoen and Berland is going to continue to poll for it and I'll continue to play a role advising Senator Clinton and former President Clinton as well as the rest of the leadership of the campaign," he said.
Later, he added: "The title, the position of chief strategist tended to be one that drew a tremendous amount of attention. And, number two, yes, I will have more time. We will continue - Penn and Schoen will continue to do the polling and I will be advising, but the net of it will still be that I will have more time than I otherwise would have had so that definitely is going to be the case."
The Huffington Post was able to listen to the roughly 25 minute call, in which Penn defended his decision to meet with Colombia's ambassador to the U.S. to discuss a free trade agreement that Sen. Clinton opposes. Told that junior staff members were wondering why he would risk the appearance of a conflict of interest, the Burson CEO responded by saying the meeting was merely a "courtesy call," and indicated that he had held similar meetings before.
"It's an interesting question," he said. "As I said, it was someone I worked for -- remember, we had the contract for a year before it was even about the free trade agreement, and periodically, maybe, I would have a check-in breakfast every six months. So it did not catch - it's interesting, because somebody working on the account was well versed in politics and it just didn't occur to anybody. I would have to say that it just didn't get flagged."
Suggesting that he had been the victim of a double standard, Penn cited Charlie Black's presence on Sen. John McCain's presidential campaign. Black had served as chair of BKSH & Associates, a lobbying firm associated with Burson-Marsteller, up until leaving the post in March 2008.
"It is interesting Charlie Black was the chief strategist for McCain and he left only after McCain got the nomination. So I have to look back and see whether or not - in the end, hindsight is foresight, but I think it's a question," said Penn. "If you look at the McCain-Charlie Black experience versus mine - obviously, the press just gave considerable more attention to what goes on overt at the Clinton campaign."
On Sunday evening, the Clinton campaign announced that Penn would be stepping down from his role as the campaign's chief strategist following the fallout from his meeting with the Colombia ambassador. Since then, however, there had been debate over exactly what involvement the pollster would have with the campaign. On Monday, Marc Ambinder reported that Penn would "remain a key member of the campaign's senior staff."
Later in the day, Ben Smith quoted an anonymous Clinton aide saying: "Its a change. He went from being in charge to being one of the important voices."
On the conference call, Penn addressed this issue early on, not deviating much from the campaign's talking points.
"While I will continue to advise the Clintons on the campaign, I obviously will have in this other role more time for what I do best, working here," said Penn
The call was meant to address "particularly, I think, what the message should be in our conversations with our clients, our prospects, [and] our staff." Saying he had three call this morning from prospective clients now eager to sign up with the firm, Penn pledged that the controversial meeting would "cycle through the news as these things do."
"There will probably be another day," he said, "but there really is only a one two three to the story but not really much more."
Popular in the Community