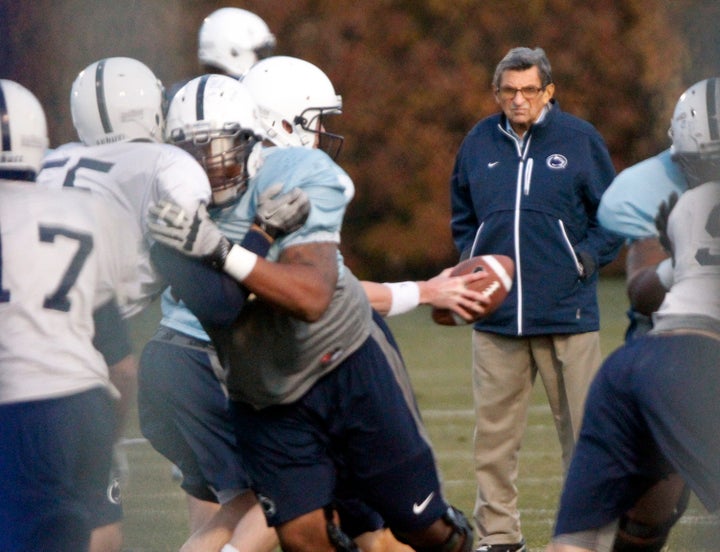 All you need to know about the Penn State Board of Trustees is that they had an envelope delivered to Joe Paterno's house Wednesday night approximately 15 minutes before their scheduled press conference to announce his firing. According to ESPN sources, there was a note inside the envelope with a phone number. When Paterno called the number he was told, "you are relieved of your duties."
Whether or not you believe Paterno got what he deserved for failing to more aggressively pursue the child sexual abuse allegations against one of his former coaches, there is little doubt about the right way to break up with someone you've been hitched to for 46 years: face-to-face. With your head held high and strength in your convictions. Not over the phone, by text message or by changing your Facebook status. Because if you want football coaches, administrators and janitors to have the courage to do the right thing when the situation warrants, then you have to set the example yourself.
No doubt the Board of Trustees thinks that's what they did in firing Paterno and university President Graham Spanier. But the board's handling of Paterno's dismissal (we know next to nothing about Spanier's case) raises very serious questions about their understanding and capacity for leadership, the lack of which is precisely what got Penn State into this mess in the first place.
As troubled as I am by their conduct, both Spanier and Paterno should have been afforded an opportunity to meet with the board to discuss their roles in this sordid tragedy. It is possible they did, but since we only saw Paterno driving to and from the football building, all we can do in the information vacuum the board created is assume that he did not. The end result should have been the same, but doing so would have sent an important message about the values the university strives to uphold. Which hopefully include due process, fairness and transparency, all of which are the building blocks of justice.
An even greater failure was the lack of any clear explanation for why these men were fired, leaving everyone to draw to their own conclusions. Virtually nothing was said beyond, hey, we fired these guys because "it's in the best interests of the university." That's not leadership. That's a cop out.
It is not sufficient to assume the reasons they were fired are obvious. In the board's view, did they display conduct unbecoming to the university? Did they engage in a willful cover-up? Did they fail to carry out their contractual duties? Are they scapegoats? What exactly are the "best interests" of Penn State? And why fire Paterno but not the coach who witnessed a boy being sodomized in the team showers and decided to walk away?
It's a simple question, really -- why did you do what you did? If a student answered a question on a test with a non-answer like, "it's in the best interests of the university," the professor would tell him to study harder the next time.
Most shocking (and perplexing) of all, there was no expression of regret for what is alleged to have occurred. And I am not speaking only of the alleged sexual abuse of minors, but also of what can only be described as the ensuing cover-up. It should have been the very first thing out of board vice chairman John Surma's mouth. We are deeply saddened. We are angry that this matter appears to have not been pursued with the urgency it warranted. To the victims and their families, on behalf of the entire Penn State family, I offer our sincere, heartfelt apology and pledge to you that we will do everything humanly possible to expose the truth and ensure that what is alleged can never happen again.
The board did not directly address the students or the Penn State alumni, faculty and staff. Nor did they speak to the legions of fans in State College and around the country. They did not ask for forgiveness. They did not articulate what values guide their actions and decisions. What conduct they expect from their faculty, staff and students. What they will do from this point forward. They could not explain why two individuals criminally charged in this matter -- the former athletic director and a former vice president in charge of campus police -- were not fired but allowed to take a leave of absence and retire, respectively (with the university picking up the tab for their legal bills).
In other words, when it mattered most, they acted but failed to lead.
No doubt their actions and words were subject to the advice of legal counsel. It's ironic, of course, because Joe Paterno did everything he was legally obligated to do and they fired him for it because it wasn't enough. I think.
Calling all HuffPost superfans!
Sign up for membership to become a founding member and help shape HuffPost's next chapter