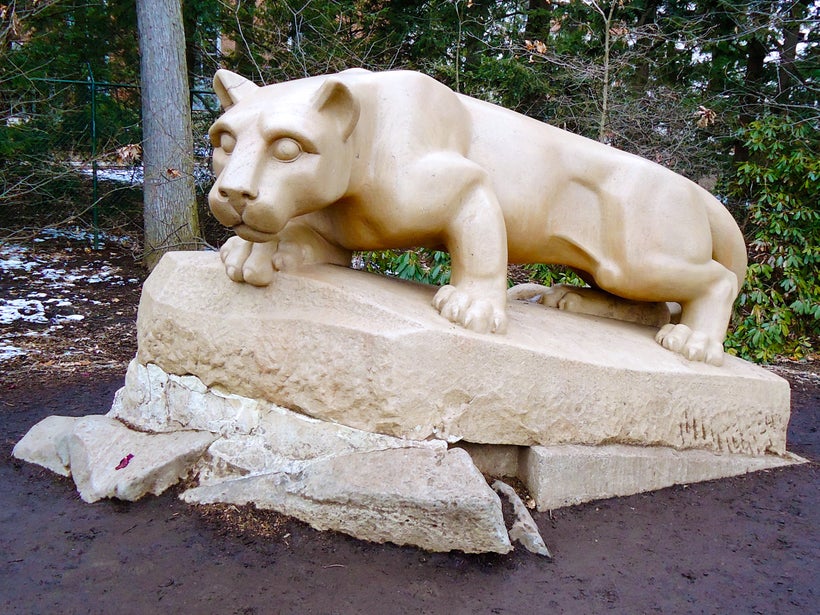 The news media has widely reported last week's federal findings against Penn State University for their handling of the Sandusky child sexual abuse scandal, and a proposed record fine of $2,397,500 as yet more fallout from this incident. The reality, however, is these findings and penalty have far less to do with that case, which merely prompted the review, than findings of years-long systemic non-compliance with the federal Jeanne Clery Act campus safety law enacted in 1990. Reviewers wrote that "Penn State has substantially failed to develop and implement an adequate Clery Act compliance program since the Act's inception."
"For colleges and universities to be safe spaces for learning and self-development, institutions must ensure student safety – a part of which is being transparent about incidents on their campuses. Disclosing this information is the law," said U.S. Education Under Secretary Ted Mitchell. "When we determine that an institution is not upholding this obligation, then there must be consequences."
The ED review, formally called a Campus Crime Final Program Review Determination, restates many longstanding principals, notably that Clery Act compliance is an institutional obligation rather than a police or security department responsibility alone, as well as signaling clearer expectations for how institutions need to meet their compliance obligations.
Only $27,500 of the fine, for failure to issue a public warning, is directly tied to the Sandusky case. As the most detailed Clery review ever undertaken, however, there are significant lessons for the higher education community to learn about the expectations of the U.S. Department of Education (ED), which enforces the Clery Act. In many respects, the Penn State review may be as important for practitioners as ED's The Handbook for Campus Safety and Security Reporting, 2016 Edition, released earlier this year.
While this review covered a larger period of time, 1998 to 2011, than any previous one, the single largest proposed fine of $2,167,500 stems from a finding of failure to properly classify and disclose 331 crime reports from 2008 to 2011, a typical review period. This is the first major fine action following rulings in 2012 by then Secretary of Education Arne Duncan that the maximum fine, $27,500 for the period covered by this review, should be imposed for each violent crime that goes unreported, and reflects a significant change in the enforcement stance of the Clery Act's core reporting requirement.
The review, in finding Penn State lacked sufficient administrative capability, explored the type of resources and structured policies and procedures needed to effectively comply with Clery. "With regard to the Clery Act, such impairment may result in an institution's systemic failure to provide students and employees with important campus crime information and services that are essential to their safety and security," ED found. This sends a clear message that institutions will be expected to devote adequate resources and institutional support to compliance efforts.
Revisiting the precedent setting guidance from 2007's Virginia Tech mass shooting case, ED reinforced that a "reasonableness" standard will be applied when they evaluate whether or not timely warnings should be made and other compliance decisions. They held "the reasonableness of the institution's decision can be reviewed by the Department or a court." The report contains several case-by-case examples that shed light on what ED considers reasonable.
One of the other most serious violations identified was a failure to collect crime report information from campus personnel other than the University Police. Since the inception of the Clery Act it has been widely recognized that many other officials, such as Deans of Students or Team Coaches, frequently are who students and others report campus crimes to. As a result, the Clery Act requires collection of information from them.
ED found that Penn State was unaware of this requirement until members of the University Police attended a training program in 2007, and that even upon attempting to implement a collection system from these officials known as Campus Security Authorities (CSAs) they were stymied by lack of institutional support until the Sandusky scandal broke in 2011. "Due to the University administration's systemic failure to identify and train its CSAs regarding their Clery reporting obligations, and its failure to put into place an effective reporting mechanism, the full extent of this violation is unknowable and will never be known," ED concluded.
Additional findings addressed issues with the public crime log, discrepancies in statistics published on campus and those submitted to ED, omitted required policies including those dealing with sexual assault from their annual report, failure to meet guidelines in publishing the annual Clery report, and failure to comply with the Drug-Free Schools and Communities Act in what is the first extensive description of ED's expectations for modern compliance with this Clery related requirement.
"While regrettably we cannot change the past, today the University has been recognized for significantly strengthening our programs since 2011," Penn State said in a statement. "Today, Penn State has robust Clery training and collection processes in place. We have many initiatives, including 18 focused on fighting sexual assault and misconduct, with the creation of new positions, mandatory employee training, a universal hotline and many others."
Penn State has until November 25th to challenge the fine in writing or to formally appeal to an administrative law judge. If not challenged the fine becomes due then. If challenged the fine amounts are typically reviewed, and may be reduced or eliminated. The Secretary of Education has the final say in the appeals process which can last for several years.
Calling all HuffPost superfans!
Sign up for membership to become a founding member and help shape HuffPost's next chapter
This post was published on the now-closed HuffPost Contributor platform. Contributors control their own work and posted freely to our site. If you need to flag this entry as abusive,
send us an email
.